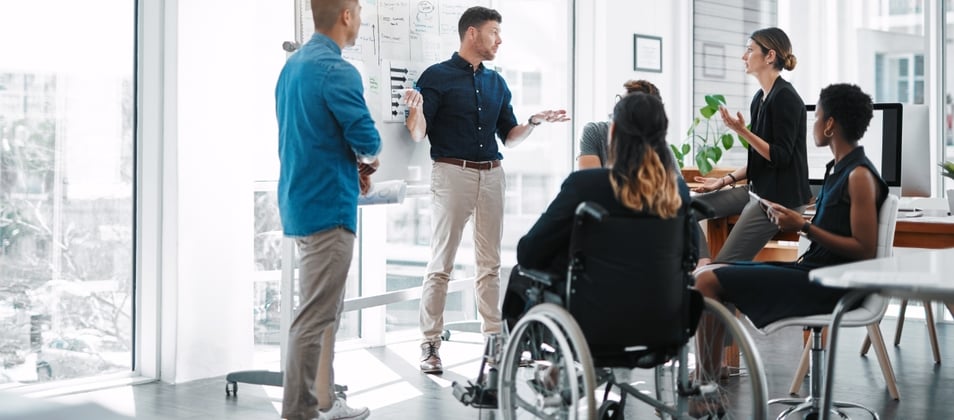 The Current State of Diversity, Equity, & Inclusion in the Workplace
Diversity, equity, and inclusion (DE&I) initiatives are not new to most workplaces. However, the progress is often slow, which can be incredibly discouraging for employees who feel marginalized as well as for the people trying to make improvements to DE&I policies in their workplace. One thing is clear though, DE&I is becoming increasingly more important, especially to younger generations entering the workforce as evidenced in a new report from Tallo. It found that a whopping 99% of the more than 1,400 Gen Z survey respondents identified workplace DE&I as important, with 87% responding that it is very important. Additionally, in a poll run by Glassdoor in September 2020, 76 percent of employees and job seekers responded that a diverse workforce was important when evaluating companies and job offers.
So, it appears now is a good time to start progressing those DE&I initiatives. But it's not just because DE&I is meaningful to employees and new recruits – it can also improve your corporate reputation and drive organizational performance.
The Impact of DE&I on Return-to-Work Planning
As organizations ramp up return-to-work plans and people begin heading back to the office, it's a good time to re-examine your DE&I practices, especially with the increased awareness of social, racial, and economic barriers highlighted by the pandemic and recent social movements. Of course, DE&I is not just about making people feel included in the office, but organizations now have to consider hybrid or remote workers as well.
In recent return-to-work research by Perceptyx, we found equity was one of the most important factors in willingness to go back to an office environment, especially for women of color. Women of color are 12% more likely to want to return to an in-person workplace if they believe all employees are treated fairly. This was noted as a key driver for this demographic, yet did not impact other groups' desire to return.
When you consider additional factors, such as officism, bias against at-home or hybrid workers from their in-office colleagues, it can be even more impactful to already marginalized groups.
"If we're concerned about officism and concerned about an equity strategy in an organization, we know that anything that creates a bias creates essentially a double bias for groups who are already disproportionately impacted," Emily Killham, client data researcher at Perceptyx.
Interestingly, even with the potential for officism and that double discrimination, a survey by Future Forum, a research consortium created by software maker Slack Technologies, found more black respondents want a fully or mostly flexible schedule compared to white workers. Likely, because, according to that same survey, there is a 26% increase in black respondents reporting that they are "treated fairly at work" from just one year ago, which is directly attributed to working from home because it's created a level playing field. They don't feel as excluded as they did when in the office environment.
The Perceptyx research also found that employees of color are almost seven times more likely to strongly agree with staying at their employer for at least 12 months if they work in an environment of trust and respect. This is also true for white employees, but the magnitude of the impact is only about one-third as it is for people of color.
Additionally, employees of color are nearly twice as likely to strongly recommend their organization to friends and family as a great place to work if the company has a record and plan for recruiting and retaining a diverse workforce. White employees aren't nearly as impacted by this statistic with the desire to refer friends and family only being half as strong as their minority counterparts.
Employers who are perceived to be making DE&I improvements by their employees are seeing rewards. Perceptyx found that organizations free from discrimination reduce burnout for all demographic groups across the board. Employees in these environments are twice as likely to look forward to going to work and half as likely to be physically or mentally exhausted after the workday. Therefore, DE&I programs are working when implemented and are proving to have benefits for employees and the businesses. But there is still a lot of work to be done.
What Organization Are Doing to Make Strides in DE&I
In our recent DE&I virtual forum attended by more than 30 senior HR leaders, members of the Perceptyx research and professional services teams led a discussion on what organizations are doing and what they hope to do in the future to improve DE&I the workplace.
From the open conversations among attendees and facilitators, it quickly became evident that companies are prioritizing DE&I, but each organization is unique in its approach and its progress. Some organizations are just launching their initiatives while other programs are more mature. Still others had established initial program plans but were forced to transition their tactics in response to the pandemic and other disruptions. However, there are many consistencies in strategy as well.
A number of organizations have DE&I employee resource groups or cross-functional councils that are focused on education, gathering information, recommending ideas, and helping to progress company initiatives. Tracking demographics and noting trends in employee listening data; training employees on diversity, equity, and inclusion best practices; and programs focused on recruiting more diverse workers are also becoming commonplace in many organizations and industries.
Attendees also expressed the need for greater communication around these initiatives. It's not enough to just create the task forces, programs, and initiatives, you also have to communicate effectively about their overall goals and vision. It's important to make sure employees hear about what is being done to achieve DE&I goals in a consistent and conversational manner – not in corporate or marketing speak. Another main point of discussion was centered around the importance of leadership and C-level buy-in. There is real concern about programs falling by the wayside or being misunderstood when senior executives are not involved to serve as champions. But there is real accountability and a trickle-down effect of greater buy-in when executives are active advocates and participants in the program.
As the world continues to change so will the conversations around DE&I. But having these conversations is a great starting point and the best way forward to drive real change.
Learn more about how Perceptyx can help your company accelerate its DE&I strategy with an employee listening program.