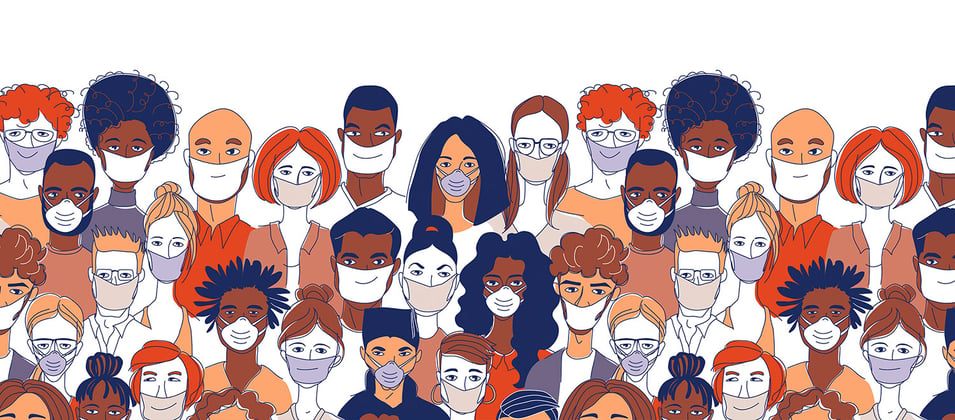 DEIB in Healthcare: Is Your Organization Doing Enough?
Diversity, equity, inclusion, and belonging (DEIB) is vital for all organizations, but it may have even more significance in healthcare because it affects not just the employee experience but the patient experience as well. And providing the best care for their patients is paramount for all healthcare institutions.
While as singular entities, diversity, equity, inclusion, and belonging are important, it is together as a whole that can greatly impact a culture. Diversity is just representative of demographics – it's numbers based. While it can tell you a lot about your organization's makeup, it doesn't dive deep enough into the soul of DEIB. The equity, inclusion, and belonging parts of the equation are the emotional elements behind the numbers, and this is what makes a difference in the employee and the patient experience. By focusing on DEIB together, healthcare organizations will be better equipped to meet the needs of all of their staff, patients, and visitors and designed to serve all of them with dignity, respect, equity, and compassion.
DEIB at Work
Taking into consideration the impact that DEIB has in healthcare, Perceptyx wanted to understand how healthcare systems are handling it. Partnering with the Healthcare Voices at Work Consortium, an active learning forum where leaders from more than 50 organizations come together to understand critical topics, we were able to compile data from 93,000 respondents across 14 academic health systems. These members conducted organization-wide pulse surveys focused on DEIB and collected 600,000 unique responses.
The pulse survey questions included:
Fairness and Respect
People I work with treat me with respect.
I have the same opportunities for professional success as my colleagues.
Valued and Belonging
I feel encouraged to bring my whole and authentic self to work.
I feel like I belong in our organization.
Safe and Open
I feel comfortable speaking up when I see intolerance, mistreatment, or bias in actions.
My opinion is valued by my team.
Empowered and Growing
Our organization is a place where I am able to perform up to my full potential.
I feel recognized for my contribution to our organization.
Demographic filters, ranging from racial, ethnic, and gender orientation, to age and clinical versus nonclinical patient care settings, were applied to the survey, and the results are now guiding leaders in developing effective DEIB priorities and actions for their organizations.
The overall results show respect is a positive aspect for the vast majority of respondents. 82.7% of those surveyed said that their co-workers treat them with respect, which, as Dr. Brett Wells, director of people analytics for Perceptyx noted in a recent webinar, "is a key foundation to overall DEIB in healthcare and provides a sound platform for accelerated and sustained improvement for some of the lower scoring areas" of the survey. Additionally, 76.5% of people feel like they belong in their organization and nearly 73% feel as though they are encouraged to be their whole, authentic self at work, which are also high indicators of a successful DEIB culture.
However, only 62.7% of respondents feel as though their contributions to the organization are effectively recognized. From prior research, we know that recognition is a large indicator of employee engagement and a driver to retaining top talent. While recognition has a relatively low cost, it carries a high impact and provides the needed motivation that employees need to continue giving their best to the organization and, more importantly, their patients.
Perceptyx broke the data down by demographics and discovered the recognition element differs greatly by groups. For instance, only 50% of female, black clinical healthcare staff feel they are recognized for their work, while 75% of white mail non-clinicians noted appropriate levels of recognition.
Therefore, recognizing workers is an area ripe for improvement for consortium members – and likely an area for other healthcare organizations to pay attention to, as well.
Key Takeaway: The Power of Appreciation

Over the last four years, one Consortium member found that African American/African/Black team members consistently averaged 12 percentage points lower in employee survey response rates relative to White/Caucasian team members. African American/African/Black team members were also less likely to be highly engaged, and this effect has been widening over time. As a result of connecting engagement data with employee recognition data, this consortium member found that receiving electronic recognition (e.g., e-cards) significantly increased not only the response rate, but also overall engagement for African American/African/Black team members. It was a simple gesture with a big payoff.
DEIB Perceptions are Socially Contagious
Additionally, the survey found that overall females, minorities, and younger employees answer less favorably to questions of DEIB than older, white, male counterparts. Very concerning is the fact that the odds of black employees viewing DEIB unfavorably versus favorably is 85% greater than white staff members.
But even more interesting is the ample evidence of social contagion in employee experience and DEIB perceptions. Social contagion refers to the idea that emotions, attitudes, beliefs, and behaviors can spread within groups. This is true of both positive and negative opinions, so groupthink is something to be aware of and to look out for.
One Consortium member dug deeper in this area and found that managers set the DEIB tone, both favorable and unfavorable, for the teams they lead. There is a 25% increase in the odds of team members viewing DEIB favorably when reporting to a manager who views DEIB favorably. Interestingly, this effect is more than twice as large for white/Caucasian employees reporting to managers of color. There is a 52% increase in the odds of a white team member viewing DEIB favorably when reporting to a manager of color who views DEIB favorably.
The good news is that DEIB beliefs are not static. The consortium data also looked at training and education and found that there is an 85% increase in the odds of viewing DEIB favorably when participating in training and education or having fireside chats or tough conversations around DEIB.
What Can Your Organization Do to Focus on DEIB in Healthcare?
With the data we've gleaned from the Healthcare Voices at Work Consortium members, we believe there are many things healthcare organizations are doing right when it comes to DEIB, but also things that could be done better.
From this research, we believe healthcare organizations should consider building programmatic focus around recognition. As noted above, recognition is a great way to build employee engagement and retain talent. Additionally, organizations should take what we've learned here and apply to their own data. Look at why your organization may be scoring less favorably by demographic groups and focus on ways to improve those scores.
Another area to focus on would be developing a psychologically safe culture where all employees feel empowered to voice their ideas and concerns. This is foundational. It will help you create the basis on which to build a successful DEIB culture. Consortium members are creating this culture by seeking out, listening to, and acting upon staff feedback. This gives employees evidence that their ideas are valued, and that expressing their concerns is safe.
By developing a solid culture of DEIB, employees will feel more respected, more recognized, more accepted, and therefore, will be more engaged, which, in turn, leads to better productivity and a better patient experience.
If you are interested in learning more about the Consortium, reach out to healthcare_consortium@perceptyx.com. If you want to learn more about Dialogue and crowdsourcing employees' ideas and expertise to shape a better future for your organization, reach out to Perceptyx.