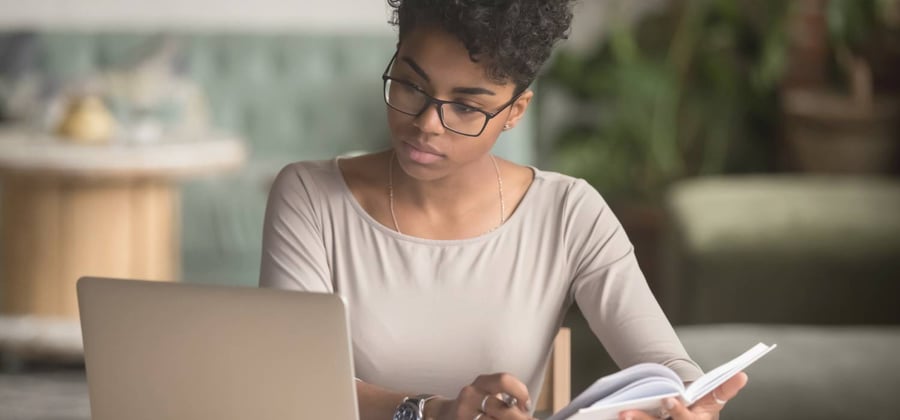 Learning And Development: A Key Focus For Employee Engagement Strategy

If you are interested in learning more about organizational response specific to COVID-19, visit our COVID-19 Response page for resources, research, and insights about helping employees navigate this unprecedented situation.
Employee engagement has been a holy grail for business over the past several decades. Articles, tips, and listicles with advice for improving employee engagement abound—many of which miss the mark entirely due to a focus on quick fixes.
Our experience at Perceptyx is that there is no easy "fix" for engaging employees; we recognize that engagement is an outcome. To achieve it, organizations must do the hard and continuous work of improving the employee experience. What is the employee experience? It is everything the employee experiences in their relationship to their job and their employer, all of which shapes their perception of the organization. One of the most important elements in an effective employee experience strategy is providing opportunities for employee learning and development (L&D).
In this article, we'll examine the major impact that effective L&D programs can have on the experience—and in turn, engagement—when L&D is a main focus of the organization's employee experience model.
Learning & Development As A Key Focus Of Employee Experience Strategy
Learning and development opportunities have a huge impact on employee perceptions. Availability of these opportunities (or lack thereof) influences whether an employee views their job as a stepping stone to advancement or a dead end. As such, availability and access to L&D opportunities can help reduce attrition—and just as importantly, nurture talent to move up through the ranks.
Beyond the employee experience, L&D also pays dividends to the overall organization.
Just consider what we saw at the beginning of 2020, as the COVID-19 pandemic abruptly upended work routines. L&D was critical to the rollout of new policies, new tools and processes for safety, and new work routines for businesses that reduced employees per shift. Information and training needed to be disseminated in the moment to get everyone on the same page with regard to new standards. For many companies, there was a sort of L&D triage that they hadn't previously imagined they would ever need; now everyone knows it needs to be part of their L&D framework.
In a more normal context, L&D not only represents an investment in existing talent to meet the current business needs of the organization, but also in building a pipeline for talent the organization will need in the future. Building employee capabilities and competencies is a win-win: It gives the employee a path forward while at the same time increasing the organization's talent reserves. The L&D strategy needs not only focus on triage situations as we've seen with the pandemic response. It needs to ensure the organization has in place the knowledge capital, skills, expertise, and abilities that will be needed five or 10 years in the future, and it should be a part of the employee value proposition as well.
An organization leveraging L&D to improve the employee experience, for example, might decide to invest in manager development. Potential employees will be attracted by the idea of training and development, especially if they are new in their career or looking to make a transition. The existence of such a program also shows the company is committed to providing good managers who have been vetted and will be supportive of employees. When we think about the changes that are coming post-pandemic, both employers and employees will have more options thanks to the shift to virtual workplaces. In this environment, L&D will become crucial for organizations that want to attract the best talent.
Get tips on how to develop an employee experience strategy from our free guide, The Employee Experience Playbook.
Making Learning & Development Access Equitable
Another trend out of 2020 is equitable access—making sure L&D is available where, when, and to whom it's needed in an equitable way, so everyone feels invested. This sends a message to employees that, if they go through the paces to develop certain skills, they can advance at work.
On the question of equity, it's important to consider: Are L&D opportunities fair and accessible for everyone? Diversity and inclusion will continue to be an important part of the employee experience framework. In the wake of the pandemic, many employees need help recovering from career turbulence. Many have to rebuild and find their way again. If you're asking people to do something differently, you have to tell them at the same time how you'll support them in doing it. You need to provide training and resources, best practices, recommendations, and mentoring, as well as resources such as books and videos that will help build people's abilities.
Listening To Uncover L&D Needs & Opportunities
A comprehensive listening strategy is both the trigger and the key for the L&D strategy. Surveys uncover issues that need to be addressed through L&D; they also pinpoint where the L&D opportunities lie. Is the issue a unique, one-off problem? Does a certain manager not know how to do something, or do certain employees not have the resources they need or know how to use them effectively? Do some employees not understand a particular process? Or is the issue systemic (as with the challenges posed by COVID-19)?
Learning and development can help address all these issues. If a survey reveals communication silos, L&D can prescribe active listening or collaboration training. If there's a communication breakdown at the middle-management level, where communications from the top are not filtering down, L&D programs can help develop those soft skills.
Listening to uncover issues and implementing L&D programs to address them are problem-solving strategies, not just philosophical exercises. When you survey, you're asking questions about where improvements are needed—surveys will reveal issues and provide context through open-ended comments and recommendations about what employees want to learn, so you can get to the nitty-gritty very quickly. L&D is there to address the problems that may exist and build the road map to solving them.
Listening Throughout The Employee Lifecycle
L&D opportunities exist throughout the employee lifecycle; listening is the key to uncovering those opportunities at every stage of the employee journey. Aligning L&D and your listening strategy with the employee lifecycle is critical to the success of the organization's employee experience strategy:
Onboarding: Training is particularly important for new employees. Providing the L&D new employees need to fulfill their job role and to feel invested in the organization sets them up for success. Onboarding surveys can identify areas where new employees need help in leveling up their skills.
Mid-career: Other opportunities for L&D emerge with employees who are in the mid-career phase of their journey with the organization. It's common to see engagement dip and attrition rise among employees who have been with a company for three to seven years. The cause is frequently a perception on the part of the employee that there is no room for advancement. Employees in this phase of the journey are looking for traction and handholds to pull themselves up to the next level in their careers.
By listening through surveys, the organization can identify and understand the pain points—who is experiencing them and what are they related to? For employees who are ready to either move up or move out, investing in training can keep them onboard and prepare them for assuming a new role in the organization. Other opportunities might include a rotation program to familiarize employees with other aspects of the organization's operations, or pairing them with a mentor.
Transition: Listening after an employee has transitioned to a new role is equally important, to identify areas where they may benefit from L&D to hone the skills required for success in the new position. The same holds true for employees who may have joined a new team or a new collaborative effort.
Organizational change: Although they aren't a predictable part of the employee lifecycle, big changes in the organization or the way it does business represent a big event in the employee experience. Pulse surveys during periods of change allow the organization to understand in the moment what people need, so L&D can step up and provide the training employees need for success and safety in the new work situation.
Exit: Exit surveys can help pinpoint areas of the experience that failed departing employees. If people are leaving, you want to know why. There are L&D opportunities around voluntary attrition related to unsatisfactory aspects of the employee experience. Examples include manager training and career growth opportunities. Did the employee leave due to a poor relationship with the manager? Manager training to develop better communication skills may be helpful. Are people leaving because they don't see a career path in the organization? Employees want to know where they're going and feel they have some control over their destiny. Making L&D opportunities available and accessible can help employees form a positive perception about their future with the organization.
L&D opportunities communicate to employees that there is a future with the organization, and they can help dictate it. Opportunities for L&D foster employees' perception that the extent to which they take advantage of those opportunities will impact how they're seen as a candidate for promotion. Whether all employees who undergo training are ultimately promoted or not, L&D still offers them opportunity for growth, and any skills they acquire will benefit both the employee and the organization.
In addition to listening at the various stages of the employee journey, ongoing census, pulse, and ad hoc surveys are critical for keeping the radar map active for areas of L&D opportunity—whether there are specific or systemic issues to address. An "always on" listening strategy will identify emerging trends and persistent needs, as well as the employees associated with them. Knowing who is just as important as knowing what, so your responses to problems will adequately assist employees with different backgrounds and needs. Effective L&D needs to address access barriers to create a perception that employees have some career path control; that will help them feel more confident in their future, as well as build a better talent pipeline for the organization.
Listening To Measure L&D Effectiveness
Listening is just as important for measuring the effectiveness of L&D programs as it is for identifying needs. Learning and development programs require a lot of time and money, so it's important to monitor whether they are actually working.
Surveying, and then slicing and dicing the data to determine the impact of L&D, will either validate your efforts or signal when things aren't working as planned. Compare the metrics of high performers with the training they've taken, and compare those metrics with those of lower performers who perhaps haven't had the same training. Look at the scores of managers who have gone through training, and their teams' scores. The expectation is that those scores should be higher. Are they? If not, the training may need to be retooled. Looking at what was done, tracking it over time, comparing with other groups, and identifying best practices completes the circle.
In the long run, if something doesn't work, it's more important to know why you failed than to succeed and not know why. You want to be able to replicate success. Listening and L&D need to be in a continuous feedback loop to make sure that the resources going into training are moving employees and the organization in the direction you need to go.
Permission to fail
In the context of L&D, what does agility look like? For organizations that focus on learning, it essentially means having permission to make mistakes, or to ask for feedback without feeling vulnerable. Listening doesn't always involve surveys. An environment of open and honest communication goes hand in hand with a culture of learning, innovation, and agility. Employees must know that they have support for trying new things, and that they won't be punished if some ideas are not successful.
Make Learning & Development A Central Focus Of The Employee Experience Framework
One of the most powerful aspects of a robust L&D program is that it gives employees a "north star"—a way of orienting toward what good looks like. Transparency is crucial for realizing the maximum benefit; employees must be aware of the L&D opportunities open to them. This gives employees a road map for improvement and advancement, and clears the fog employees perceive when they don't know what good looks like and what's expected. When expectations are clear, people view the process as fair, which engenders confidence and trust. They perceive a performance culture rather than favoritism when the organization is clear about what it wants and how employees can get there.
L&D must be conceived as an ongoing investment, not a one-off. If the organization has a lot of L&D opportunities but doesn't give employees time to take advantage of them, then learning isn't going to happen. The culture of the organization has to support giving employees access to L&D. Continually communicating the importance of learning and development to employees—and making sure employees know they can access those opportunities—must be a central focus.
Most importantly, keep listening at the center of your overall employee experience strategy. Listening continuously, throughout the employee lifecycle, not only identifies opportunities for learning and development and tracks the effectiveness of L&D—it also identifies other friction points and opportunities for improvement. Not every issue needs to be addressed with L&D—but all issues that impinge on the experience are important to address. By adopting an "always on" listening strategy—and making a commitment to take action on what you learn—your organization can maintain a cycle of continuous improvement on all issues impacting the employee experience. This pays dividends on multiple fronts; continuous improvement in the organization leads to higher employee engagement, lower turnover, and increased recruitment opportunities—as well as increased productivity and profits.
See the way forward to higher engagement.
The Perceptyx platform gives you the flexibility to develop a listening strategy that fits the needs of your organization and identify the barriers blocking engagement. Combined with support from our employee listening and people analytics experts, our platform can help you keep your finger on the pulse of your people's perceptions, so you can provide the support they need to become fully engaged. Get in touch to see how we can help your organization increase engagement—and profitability.