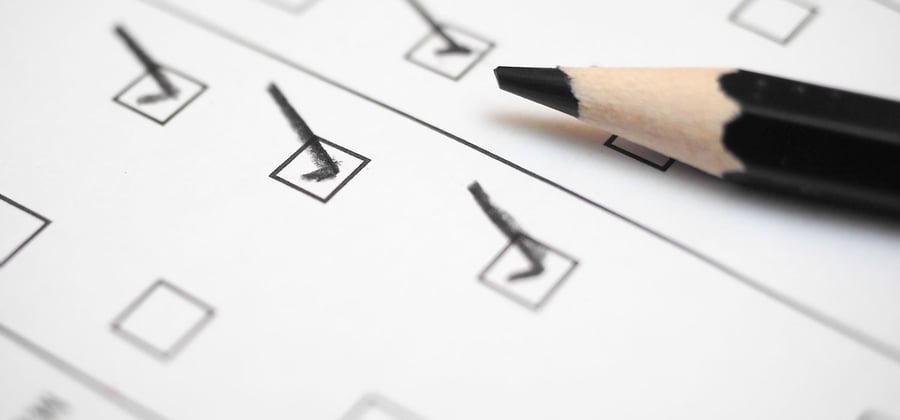 Employee Survey Methodology: What's The Right Approach For Your Company?

Many organizations make the mistake of determining their employee survey methodology before they've identified their goals or strategy.
Each organization is unique, with its own culture, vision, strategy, challenges, and opportunities—which is why no one survey methodology will meet every company's needs or objectives. Survey programs should be customized to fit each organization's unique needs. We recommend that our clients focus on their strategic priorities and what they need to gain from their survey program, and then help them to design a methodology to get there. In this article, we'll look at the main factors to consider when designing an employee survey methodology for your organization.
For more information on identifying the right employee survey methodology for your company, download our free guide, Continuous Listening: Developing The Right Strategy For Your Organization.
Considerations For Determining Your Employee Survey Methodology
Purpose: Why are you doing a survey in the first place? What information do your leaders need?

Stakeholder interviews with leaders are a key aspect of defining the strategic priorities for the survey approach and content. Identifying the specific opportunities and challenges leaders are facing—and what information they need from employees to inform their strategy and make decisions—is a critical first step. Determining why specific employee insights are needed provides valuable context for designing an effective survey program.

Survey strategy should also be flexible, and evolve with the needs of the business. For example, a survey program may start with just one annual census survey, and as new priorities emerge additional surveys can be incorporated to provide customized insights. The survey strategy should reflect what is going on in the organization in real time.

Timing: When do leaders need those insights? How often should you be surveying employees?

Continuous listening is a hot topic and leads many to wonder if they are surveying frequently enough. Continuous listening is useful, but only to the extent that companies can act on the data they collect in a timely manner. It's not the cadence of data collection that matters most—it's the cadence of communication and action.

Most companies leverage an annual census survey as the foundation of their continuous listening program with pulse or lifecycle surveys in between their annual survey administrations. This provides the depth and breadth of insight needed for robust analytics and effective action plans, but also provides timely insights on key topics as needed. The timing of the pulse or lifecycle surveys varies drastically between organizations, and each uses the methodology best suited for gaining the specific insights they need.



Pulse Surveys

Pulse surveys are great for collecting data quickly on emerging topics, to follow up on census survey findings, or for tracking specific elements of the work experience that fluctuate frequently. They provide a less intrusive and high-stakes experience for both HR and employees compared to an annual census survey.

There are risks with this approach as well. Response rates tend to be lower, and, depending on sampling methodology, there may be limitations for reporting at the manager level or for smaller business units.

Pulse survey approaches may include:

Seeking deeper insight around key focus areas to inform adjustments to leaders' action plans, or a deep dive into key topics from the census survey.
Surveying during the moments that matter to the organization: acquisitions, strategic initiatives, reorganizations, and other critical times in the business cycle.
Surveying at the moments that matter to the employee: promotions, participation in programs or training, etc. These surveys can be administered to the appropriate individuals at the appropriate time and may not have a regular cadence.




Census Surveys

Census surveys provide a point-in-time measure of the entire organization; because these surveys tend to have more questions and represent the full population, they produce a deep and robust dataset.

Census surveys yield enough data for manager reports—critical for informing and enabling action at the team level. These deep and wide surveys provide a robust database for analytics and linking multiple data points together. Over 85% of our clients conduct an annual census survey.

Census surveys are usually more labor-intensive for HR than pulse surveys, but they yield a stronger response rate and create an opportunity to start a company-wide conversation. The high visibility of the survey creates accountability for managers and sends a message that engagement and employee feedback are important to leaders.

The downside of an annual census survey is that there are longer gaps between administrations, which can make tracking progress and gaining fresh insight more challenging.

Neither a pulse survey nor a census survey approach is right or wrong, and in fact they can be used quite successfully together. Your strategy should be informed by what you are trying to accomplish. The key thing to remember: Survey methodology doesn't matter if you don't do anything with the data. (Tweet this!) If surveying doesn't drive change in the organization, then who you survey, when, or how, is beside the point.

Content: The content for both census and pulse surveys should be aligned to strategic priorities. Start by considering the data already in hand; what metrics do you have to link with the survey feedback? What data do you still need to collect to answer leaders' questions? A census survey should provide a well-rounded understanding of the employee experience and have enough data to identify barriers to performance and engagement. Pulse surveys can be much more targeted, but, regardless of the methodology, the survey should focus on measuring the moments that matter to both the organization and to employees.

Reporting: What do you plan to do with the data? How will you report the data and analyze it? Who will act on it? How will they be held accountable for communicating results?

Many leaders don't have the capacity to continually review, respond, and act on a continuous drip of survey data. This should be considered as the pulse survey strategy is defined. Think about the big picture: How will multiple surveys and data points be linked together? How will you connect survey insights to what is going on in the organization? Focus on getting good quality data as opposed to getting massive quantities of data that don't drive improvement. If you don't have time to communicate the survey results and establish an action plan, don't do a survey.

Also, think about the participant experience. How often do they want to provide feedback? Who do you need feedback from? Do you need to survey all employees? Are there specific groups you need unique insights from? Consider not only who you need to survey to gain the desired insights, but also how employees who are not included in the survey might perceive it.
Putting It All Together
Once you have determined your strategic priorities and the information you need from employees, you can begin to develop your continuous listening approach. The most important thing is to take action on the insights you gain, regardless of the employee survey methodology you use. Doing the groundwork first ensures that you are asking the right questions of the right people at the right time, to get the specific data you need to inform decisions related to your organization's strategic objectives—and drive improvement in your company.
Need help identifying the right employee survey methodology for your organization?
At Perceptyx, helping companies gain insight into ways to achieve their strategic objectives is our goal. With custom surveys paired to our people analytics platform and expertise in all aspects of survey design, strategy, and communication, we can help you get the information you need to address your company's biggest challenges. Get in touch and let us show you how.