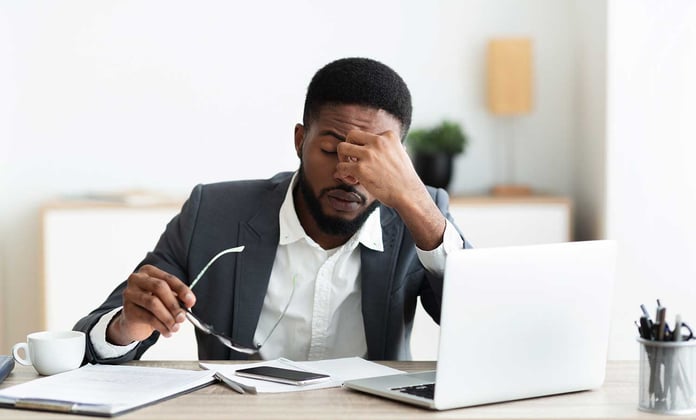 Employee Turnover Cost: What's The True Impact?

Even during times of high unemployment and an unfavorable job market, turnover is still a possibility, and the costs associated with it are higher than you might think.
Businesses everywhere are taking multiple hits in the current environment—reduced customer visits, market saturation, new technology implementation and scaling, remote work eating into productivity or innovation, and a global job market turned on its head. Many employers are just trying to get by, paying little attention to the issue of turnover. However, your top talent will always have a place to go -- top performers and critical roles are always at risk, regardless of the job market. Your business can't afford to be distracted from retention.
The financial "hit" from losing top talent is much higher than one might initially expect, and something employers would likely have a harder time absorbing (and rebounding from) in the current environment. There is no guarantee an employer would be able to fully recover the value a top performer takes with them if they leave, especially when you consider that the cost to fill that seat goes beyond that employee's paycheck.
Expected & Unexpected Costs
So what contributes to the sticker-shock many employers experience when good employees leave? Let's break down some of the costs associated with employee turnover and hiring:
Employee salary
Recruiting costs to attract new talent
Lost productivity during the interview process
Lost productivity as the remaining team struggles to carry the workload of the vacant position
Reduced engagement from remaining team members as morale dips from being overworked
Sign-on bonus for new employee, or higher salary payout as a result of negotiations or incentives (such as enhanced benefits)
Cost of backfilling roles if hiring internally
Other fixed vs. variable costs
Here is an example of basic turnover costs for a bedside nurse. Many organizations fail to correctly anticipate all of their turnover costs.
Example of turnover costs in a hospital: The mean cost of turnover for a bedside RN is $44,375, with the range spanning from $33,300 to $56,000, according to the 2020 NSI National Health Care Retention & RN Staffing Report. As a result, the average hospital loses $4.9 million per year.
Where It Really Gets Expensive…
The above costs are present for all vacancies created by voluntary turnover, but amplified when trying to replace a high performer or an employee considered to have high potential (HiPo):
High performers vs. low performers: High performers are individuals who produce the majority of the company output and should be checked in on often. Low performers end up receiving more attention at times due to their less-than-ideal performance, leaving high performers to hold down the fort.
"HiPo:" High potential/early-career talent may require development as well as desire for leader relationships and mentorships to obtain the right experiences to move to the next level.
High performers and high potential employees are especially at risk for turnover, and are costly to replace, as their ability to identify and win new employment opportunities are not dependent on the forecast for the job market.
What are Your Top Turnover Risk Factors?
While there are certainly push factors (things a company can control that would push an employee away, e.g. managers) and pull factors (external things a company cannot control that pull an employee away, e.g. a desire for career change) impacting an employee's decision to leave, for many, increased work flexibility and remote work mean pull factors are less of a risk to retention than push factors. Here are some of the top push factors that drive employees away:
Non-competitive pay or benefits—In the current market and ongoing health crisis, many are reconsidering if their income and benefits meet their needs. Employers should be reevaluating the value proposition of these factors, but few are likely to be able to make immediate changes, or adjust policies quickly enough to mitigate turnover.
Poor leadership (senior levels and/or direct managers or supervisors)—You've likely heard that "people don't leave bad companies, they leave bad managers," and to an extent, that can be true. In most cases, the senior leaders are the ones setting the tone and determining strategic/systemic directions for the company, while direct managers/supervisors interpret and implement those directives in an employee's immediate environment. Poor managers are often under-skilled, overworked, or disengaged.
Low Engagement—

Low engagement

signals a break in the employee's connection to their work, the company, and their team. For some reason, disengaged employees no longer feel energized or fulfilled by their work, believe that the work is meaningful, or feel the reward from doing the work is equitable for them.
Engagement has been shown repeatedly to have a direct impact on voluntary turnover rates. In one recent example in 2020, a major financial institution realized a 3% overall decrease in voluntary turnover when its overall engagement score increased seven points—that's huge savings!
So what are the factors that can impact engagement?
Lack of development opportunities: This could be in both stretch assignments that prepare them for upward moves, as well as stretch assignments for 'pro in place' individuals who want to expand their breadth of skills or experiences, or laterally move roles.
Wellbeing: An employee may love their role and coworkers, but how does that tie into our current pandemic environment? Stress, health concerns, and lack of autonomy in creating a flexible workplace, etc. will influence the employee experience.
Diversity: HR leaders have the opportunity to invest in (and recruit more of) diverse talent. What does your Diversity & Inclusion program say about your organization? How much investment are you putting in, and how do you think that is perceived by your diverse teams (& potential new talent)?
Feeling valued: Employees need to feel valued for their efforts. When people feel they are going above and beyond, they want to know it is seen and appreciated.
Tips For Improving Engagement & Protecting Against Turnover
Help make work meaningful. Provide enriching assignments that allow people to work on what they care about. Bring visibility to customer needs and success. Ensure they feel valued and seen for their hard work.
Encourage working together. Provide plenty of opportunities for employees to connect with a purpose. Consider cross-functional teams now that more is done virtually. Leverage better exposure/visibility for employees who need stretch assignments, networking and more connectedness at work.
Be sensitive of work-life balance.

Remote work

may have some employees asking, "Is this working from home or living at work?" Be sensitive to caregiver needs and to all employees are going through. Allow time to step away, provide resources for mental health, and manage for outcomes instead of processes.
Work with awareness. If there's one thing we can count on now it's that next Monday won't be like this Monday. Disruption is the norm, and as soon as we think we have 2020 cornered, the situation changes again. Keep talking to employees and each other. Be responsive and timely with soliciting feedback and taking action. Be adaptable and agile—not protective and perfect.
See the way forward to higher engagement.
The Perceptyx platform gives you the flexibility to develop a listening strategy that fits the needs of your organization and identifies the barriers blocking engagement. Combined with support from our analytics experts, our platform can help you keep your finger on the pulse of your people's perceptions, so you can provide the support they need to become fully engaged. Get in touch to see how we can help your organization increase engagement—and profitability.