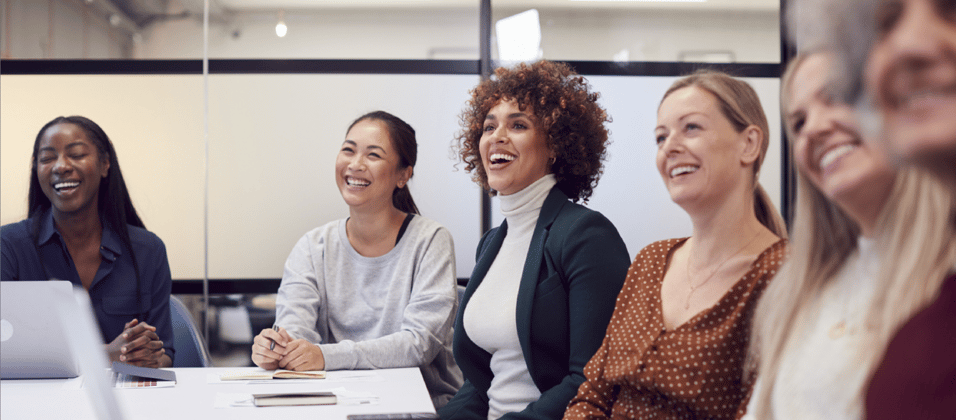 From Analytics to Action: Building an Employee Listening Strategy

A comprehensive listening strategy is key to sustaining employee engagement, fostering a positive company culture, and addressing emerging business challenges. Research by Perceptyx on the current state of employee listening reveals that 95% of organizations surveyed have a listening program in place. 7 in 10 organizations conduct a listening event for employees at least quarterly and plan to increase their listening efforts in the next year. However, only 2 out of 5 report that people insights captured via listening are used to inform company decisions. Though a majority of organizations are committed to listening and collecting employee feedback, most aren't using their listening data as effectively as they could (or should).
Developing an effective employee listening strategy isn't just about deciding which surveys to run. Mature listening programs are defined by:
the diversity of listening channels employed,
the speed of insights analysis and actioning,
integration of listening data with other business metrics,
and agility.
Developing an Employee Listening Strategy
No matter where you start, the process of establishing an effective listening strategy remains consistent. Many organizations begin with a goal to increase their listening frequency, such as conducting quarterly, monthly, or even weekly surveys. However, it's essential to first understand the purpose behind this approach and address questions concerning measurement, data usage, and ownership. Determining the listening methodology or design before outlining your strategy can be a costly mistake.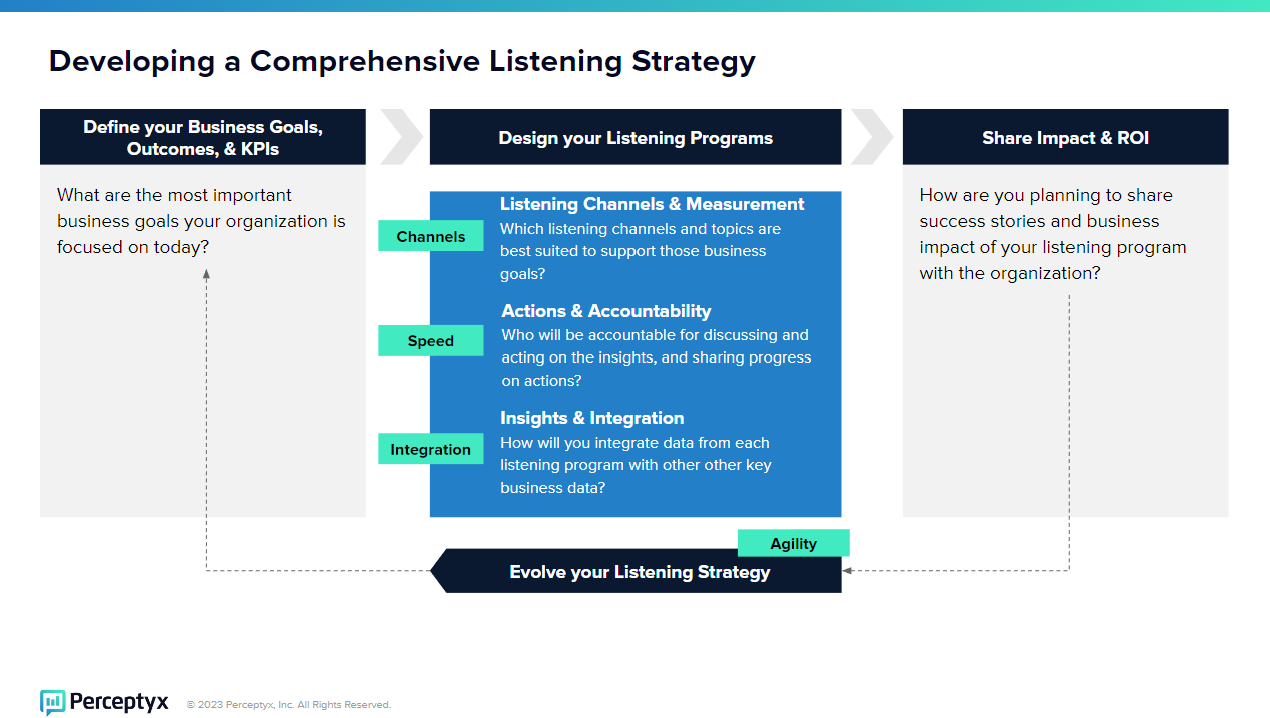 Organizations must align the listening methodology with the business problems they are trying to solve. The gap between the time when leaders gain access to results and when employees perceive positive change due to their provided feedback is a vital element to consider. Factoring in time for sharing results and taking action based on feedback is indispensable within the listening strategy. As the volume of collected data grows, connecting the dots between surveys and other data sources becomes increasingly crucial. The most mature listening programs remain flexible to adjust their methodology in response to emerging needs and challenges.
Your first step must be to define the goals, outcomes, and KPIs of your listening strategy. Think about your organization's most significant business objectives and consider how your listening program can support, or even accelerate them. Determine measurable targets and key performance indicators (KPIs) to assess your listening strategy's success.
From there, you can proceed to listening program design. When doing so, you'll need to address:
Listening Channels and Measurement: Identify the most suitable listening channels and topics that align with your business goals as well as the insights you want to capture from each listening event.



Actions and Accountability: Assign responsibility for discussing, acting on the insights, and sharing progress updates. Establish mechanisms to ensure accountability across all parties.



Insights and Integration: Plan to integrate data from each listening program with other core business data (such as revenue performance, customer satisfaction, or employee attrition rates) to inform decision-making and boost business outcomes.
Once designed and implemented, your listening strategy remains a work in progress, subject to continuous improvement and evolution. Continually refine your listening strategy, ensuring it retains the agility to adapt to new organizational needs and challenges. You will also want to merchandise the outcomes and return on investment (ROI) of your listening strategy, ensuring that success stories and business impact (e.g., improved retention, increased performance, etc.) are communicated to all the appropriate stakeholders in your organization.
Define Your Business Goals, Outcomes, and KPIs
Defining the purpose of your listening strategy begins with identifying the most critical business challenges your leaders face. Aligning your listening strategy with your organization's strategic business and talent priorities is crucial for addressing these challenges effectively. Employee listening is no longer just about measuring engagement; it can provide key insights to inform a wide variety of critical decisions and improvements.
According to our research, some of the most common business challenges leaders hope to address include employee performance, well-being, attrition, safety, and diversity, equity, inclusion, and belonging (DEIB). By focusing on these areas, your listening strategy can directly support your organization's efforts to address its most pressing concerns.
Involving leaders early in the process is essential for understanding their needs and the insights they require. Stakeholder interviews can serve as a valuable tool to align goals, inform strategic program design, provide context for analysis, and gain executive buy-in and support. These interviews help ensure that the questions asked in surveys or other listening events directly connect to the organization's business and people strategy. By investing time to ask these questions and give leaders a voice, you can better understand what they truly want from your listening program.
Here are some sample questions for your stakeholder interviews:
What are your current top business priorities?

What are the key metrics you will use to gauge success?

What is the biggest challenge you are currently facing?

What information do you need from employees to address these challenges?

What key initiatives or changes will have the biggest impact on employees this year?

What key groups within the organization do you need unique insight into?
With a well-defined purpose, your listening strategy can tackle the most pressing business challenges and ensure that your organization's approach to employee listening aligns with both your business and talent priorities.
Listening Channels and Measurement
As stated earlier, the focus of any listening program should be driven by the listening channels and topics that are best suited to support your organization's business goals. Identifying the right channels and measures will ensure leaders gain the specific insights they need to reach these goals. The next step in crafting your strategy is the consideration of what to measure, as well as when and how to measure it.
Perceptyx research highlights differences in the topics measured in surveys between organizations that use listening data to inform decisions and those that don't. Standard survey topics such as engagement, culture, DEIB, and well-being, are now considered table stakes. However, organizations that actively use listening data to make decisions tend to ask about more specific, emerging issues, such as change management, remote work and return to office, compensation and rewards, and other topics making headlines.
A listening program should extend beyond a single point-in-time survey to encompass all the moments that matter across the employee lifecycle. Identify the moments that have the greatest impact on employee experience, retention, performance, and other desired outcomes. Consider the times when employees want to have a voice or provide feedback and when leaders need that feedback most. By focusing on these key moments, your listening strategy can better capture insights and inform decisions.
Improving the employee experience to solve business problems should also encompass more than collecting employee perceptions at specific points in time. Some business questions may be better addressed by gathering ideas or feedback through crowdsourcing, assessing leader behaviors, or integrating and exploring non-survey data. Ensuring you have matched the listening methodology with the business question you're trying to answer is a hallmark of the most mature listening strategies.
There are various types of listening events and methodologies you can leverage to build your listening strategy:
Census Surveys:

Planned company-wide surveys that provide a comprehensive dataset for robust analytics, linkage, and action planning — conducted with a product like

Ask from Perceptyx

.

Pulse Surveys:

Targeted, agile surveys that address emerging topics or specific needs, but may not provide the same depth as census surveys.

Lifecycle Surveys:

Automated always-on surveys, such as onboarding or exit through

Sense from Perceptyx

, that are designed to gather targeted insights at key milestones in the employee journey.

Behavioral Listening:

Techniques to measure observed employee behaviors, such as calendar or email scraping, and provide targeted coaching to support personal growth and development.

Crowdsourcing:

Qualitative data gathering through focus groups, suggestion boxes, or a crowdsourcing product like

Perceptyx's Dialogue

.
Actions and Accountability
One of the most important decisions you will make in designing an effective listening strategy is who will be accountable for acting on the feedback employees provide. It's crucial that clear expectations are set for those who need to act on the data, and that they are provided with the support and accountability necessary to ensure success.
Design your listening program with these owners in mind. Consider what they care about, their level of data savviness, and how they will be expected to use the data. The survey content and reporting should also reflect the span of control of those responsible for acting on listening data. Provide training, resources, and support to set clear expectations and enable leaders at each level.
Action planning is a critical aspect of ownership. The focus should be on taking action and making an impact, rather than merely measuring or collecting data. Keep action planning simple by following a 1, 2, 3 approach: leaders should select one focus area from the survey results, plan two actions for improvement, and schedule at least three conversations throughout the year to maintain visibility, discuss progress, and adjust plans as needed.
Leaders accountable for taking action are not the only stakeholders to consider. When building your listening coalition, identify key decision-makers and determine who will need to be involved to integrate the listening program into your culture and business processes.
As you work on this part of your listening strategy, ask yourself these questions:
Who will manage your listening program?

Who will provide the data you need?

Who will communicate the results to your executive team?

Who will communicate the results to employees?

Who will support leaders in understanding their results?

Who will hold leaders accountable for taking action?
By clearly defining actions and accountability, you can ensure that the insights gained from your listening program are used effectively to drive positive change within your organization.
Insights and Integration
After setting the optimal listening channels and measurements, and then determining the actions and accountability, you will need to find ways to integrate data from each listening event with other key business data to support decision-making and drive toward your desired business outcomes. When designing your listening strategy, it's important to consider the analytics component and how you will connect the dots between surveys and other data sources.
Components of a comprehensive listening strategy include:
Listening Events: Tailor your listening program to gain relevant insights at key moments that matter to employees and leaders. There is no single solution that works for every organization or business challenge. The listening methodology or survey type should be aligned to the strategic priority and purpose.



People Analytics: Integrate data across listening events to gain deeper insight. Also, consider ways to link perception and other feedback and performance data to better understand the impact of employee experience on key outcomes.



Action:

Identify actions that align with a positive employee experience and monitor success.
Keep these best practices in mind when designing your listening program:
Start with a strong foundation:

Establish a company-wide census survey program to provide a deep understanding of employee perceptions across the employee experience. Define ownership and accountability for survey follow-up.



Supplement with pulse surveys: As new issues emerge, remain agile to provide leaders with the timely feedback they need to make key decisions and track changes on strategic priorities.



Automate lifecycle check-ins: Create touchpoints that capture employee perceptions across key milestones and integrate insights with census and pulse surveys.



Integrate additional listening methodologies:

Some business challenges are best solved with non-survey feedback. Ensure there is space for these other methodologies in your comprehensive listening strategy.
By considering these components and best practices, you can design a listening program that effectively meets your organization's unique needs and drives positive change.
Sharing Impact and ROI
Sharing the impact and return on investment (ROI) of your listening program is a crucial part of the process that helps maintain engagement and buy-in from all members of your organization. Return to the goals, outcomes, and KPIs you outlined at the outset and report on the successes and achievement of those outcomes, such as improved retention or enhanced performance as a result of your listening initiatives. This can be achieved through various channels, including company-wide meetings, newsletters, or digital communication platforms.
Sharing creates transparency and reinforces the value of the listening program, enabling everyone to understand its significance and how their feedback contributes to overall organizational success. Remember, the goal here is not just to share the "what," but also the "what came next?" — the strategies and actions taken based on employee feedback that led to these world-class outcomes.
Empower Your People with a World-Class Strategic Listening Program
The success of your organization depends on your employees, and creating a continuous conversation with them ensures their employee experience is designed to support your organizational goals. It's time to take action and design a strategic listening program tailored to their unique needs and experiences. Partnering with Perceptyx will enable you to develop a comprehensive employee listening and actioning strategy that uncovers their perceptions as well as the challenges they face.
Leverage the power of our People Insights Platform to gain a deeper understanding of their needs, and take targeted actions to create a more inclusive and supportive work environment. Begin your journey towards a more engaged workforce by speaking to a member of our team or taking our free interactive listening maturity assessment. Together, we can design a strategic listening program that will make a lasting impact on the lives of your people, and in turn, strengthen the foundation of your organization.