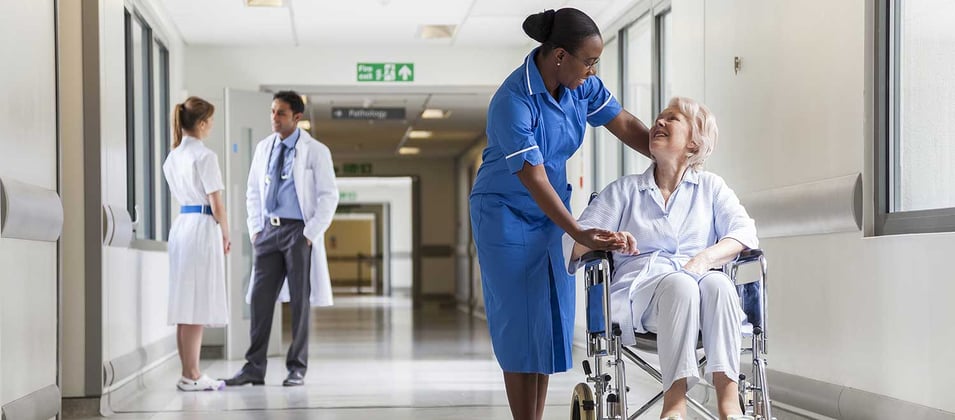 How Does the Healthcare Employee Experience Impact the Patient Experience?
The healthcare system has really gone through the wringer over the past 18 months. It has experienced a pandemic, caregiver burnout, nursing shortages, high demand for care, overrun ERs, vaccine mandate backlash, and more. Unsurprisingly, stress levels of patients, clinicians and nurses, staff, and managers have skyrocketed.
However, all of this disruption has emphasized just how much the employee experience impacts the patient experience, and as more healthcare systems focus on patient-centered care, they, too, must strive to understand this link, and develop strategies to ensure they are delivering a positive experience for workers.
The Patient Experience-Employee Experience Connection
Patient experience is more than just patient satisfaction. It involves assessing all of the behaviors associated with high-quality care, such as clear communication, responsiveness of staff, and more, and how they impact patient outcomes. Research indicates that a positive patient experience is associated with higher levels of patient loyalty, less risk of medical malpractice, and lower mortality.
Research also indicates a reciprocal relationship between the patient experience and the employee experience. As care delivery models improve so does the patient experience, which enables employees to do their jobs better. Thus, better performance leads to anticipation of success, which makes employees more engaged and more responsive, and more engaged healthcare workers provide safer care compared to their lower-engaged counterparts – resulting in a more positive patient experience. It truly is full circle!
Research conducted by the people analytics and healthcare consulting teams at Perceptyx looked at what aspects of the employee experience have the greatest, positive impact on the patient experience. By comparing information from our healthcare employee experience database to Medicare's most recent patient experience data (2019), we found strong, positive relationships between employee engagement, as measured by four key elements: pride in the organization, intent to stay, referral behavior, and intrinsic motivation, and the global ratings of care (i.e., likelihood to recommend and overall hospital rating). As one example, facilities with a 5 (out of 5) overall hospital star rating are projected to retain an additional 3% of their workforce annually compared to all other facilities.
Additionally, we identified three data-driven employee experience areas that can have cascading benefits on the patient experience:
Safety commitment
Collaboration
Recognition
Facilities that perform in the top quartile in these three areas are 2.5 times more likely to be rated a 5 overall. And as we know, an overall 5 rating pays off for healthcare systems. According to the 2021 National Healthcare Retention & RN Staffing Report, every 1% change in nurse turnover will cost/save the average hospital an additional $270,800. Therefore, facilities with a 5 overall hospital rating are saving more than $800,000 annually in nursing turnover costs alone.
Should Healthcare Systems Switch to an Employee Experience Focus?
While the patient experience is affected by many employee experience factors, healthcare systems can strategically focus on the three areas noted above – safety commitment, collaboration, and recognition – to provide a better experience for their patients. Our research shows that an evidence-based approach to patient experience results in a high-reliability delivery of care and an increase in employee engagement. However, if organizations only focus on the patient experience, are they ignoring a big factor in improving those numbers – their employees?
According to a report by The Beryl Institute, healthcare systems are aware of the importance of employee engagement when it comes to patient experience. However, there has been a 10% drop in the number of healthcare systems that prioritize staff training and development in the last two years. So, there is a disconnect in understanding the reciprocal relationship and acting on it. Organizations need to understand that focusing on the patient experience is only one piece of the puzzle; they must also focus on improving the employee experience to see results across the board.
Download the full report to learn more about how EX drives PX and why it all needs to start at the top of the organization