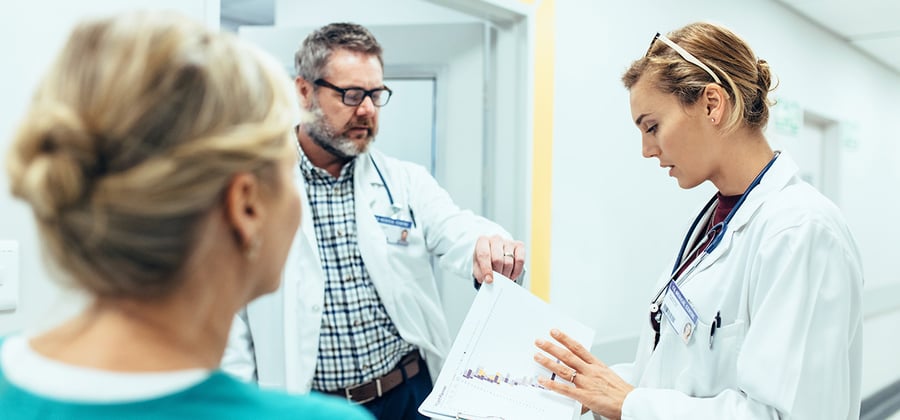 Healthcare Employee Experience: State of Industry Engagement
While the world has been in the grips of a pandemic, which is again regaining strength, our healthcare workers have been under immense stress. Given this context, it's important to understand where perceptions have shifted for this population as it relates to engagement and the broader employee experience. Reviewing employee experience data from more than 2.75 million healthcare workers, Perceptyx finds notable shifts that should be taken into consideration as healthcare leaders determine how to best support their workforce into the future.
Healthcare Worker Engagement on the Decline
During the early months of the pandemic, employee engagement experienced a rallying effect across all industries, including healthcare. But as the pandemic lingers, we're seeing the sustainability of that rally waning. While most industries are now sitting near pre-pandemic levels of engagement, a national sample from more than 430 healthcare systems reveals engagement is significantly dropping and dipping below pre-pandemic levels for all but top decile performers.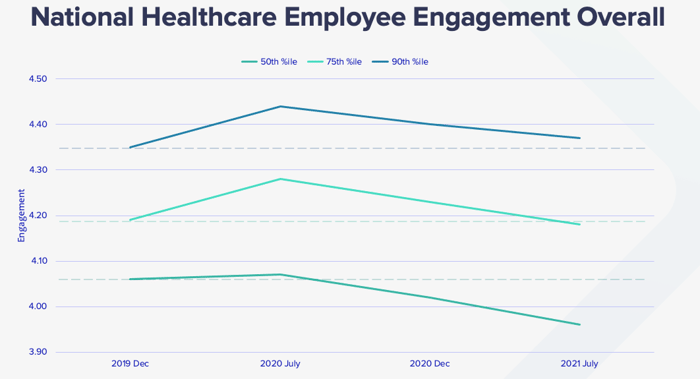 When examining the unique behaviors and emotional states that are used to measure engagement, we find downward trends across healthcare for pride in company, referral behavior, and intent to stay. However, intrinsic motivation is seeing upward momentum as employees continue to feel empowered by the rewarding, heroic work they perform.
Hospitals and health systems that were already facing challenges with their employee experience are seeing those exacerbated further by the ongoing pandemic. This is evidenced by the smaller rallying effect and higher rates of declining perceptions around engagement within those organizations. On the other hand, higher-performing organizations were able to leverage the boost in engagement and mitigate against slipping perceptions more successfully than their lower-performing counterparts, underscoring the advantages of a strong cultural foundation in weathering disruptive factors.
Employee Experience Insights
Perceptyx benchmark data reveals a number of key themes when it comes to engagement drivers and barriers for healthcare workers. Healthcare workers are deeply aware of the significance of their roles, made more salient by their heroic efforts over the past year and a half. Teams have banded together like never before to support one other. Examining more than 120 different aspects of the employee experience, Perceptyx research reveals that four of the top 10 most favorable perceptions for healthcare staff relate to teamwork.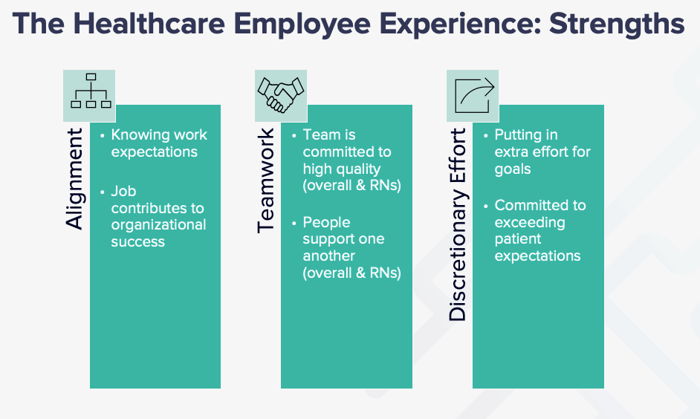 For nurses specifically, items related to teamwork are the top two performers, with this theme increasing in favorability from previous years by 5-6 points. Despite sustaining strong levels of favorability, workers' confidence in continually going above and beyond has been challenged over the past year, declining by 6 points since the pandemic began.
The top engagement barrier for healthcare workers, and specifically RNs, centers around not feeling their departments are sufficiently staffed to handle the workload (40% and 39% unfavorable, respectively). Additionally, staffing perceptions are seeing significant declines from previous years (-10 points). Healthcare has historically struggled with staffing perceptions, but the weight of the ongoing pandemic has exacerbated these challenges. This particular barrier is not unique to healthcare. It's a global challenge that we are seeing across industries, with an average 14-point decline in favorability perceptions.
Another concerning barrier is higher unfavorable perceptions related to safety. Three out of the top five downward data trends relate to safety in some way. "Never sacrificing patient safety to get more work done" has declined significantly in favorability (-6 points) and is a top five concern for nurses and healthcare workers, broadly. Other areas include staff feeling comfortable questioning decisions made by those with more authority (-7 points) and working in a safe environment (-7 points). Factors related to declines in staffing and having the resources to do a good job are likely bearing on these wavering perceptions.
Unfortunately, but not surprisingly, given the stress and disruptions of the past year and a half, job enjoyment and referral behaviors are declining significantly in favorability perceptions. This aligns with what we've seen across all industries (-3 points in favorability), and also aligns with the broader engagement trend for healthcare workers.

Future Focus
The healthcare workforce is in a state of unprecedented crisis due to the challenges surrounding the pandemic. As the data suggests, healthcare organizations that successfully instill a positive employee experience into their culture are better able to protect against falling engagement levels. We also know that employee engagement can be directly associated with better patient outcomes, such as safety and quality care. While we've seen teamwork fortified and a clearer understanding of roles, it's important not to lose sight of how that may unintentionally lead to later challenges, such as siloing effects and groupthink. Additionally, leaders will need to prepare for ways to offset the trauma healthcare workers are experiencing on a daily basis to ensure the whole worker is being supported.
Continuing to provide healthcare workers a voice through a comprehensive listening strategy is more important than ever in building and sustaining a positive employee experience. Need assistance with your own listening program? Schedule a conversation with a member of our team today, and let us help you see the way forward.