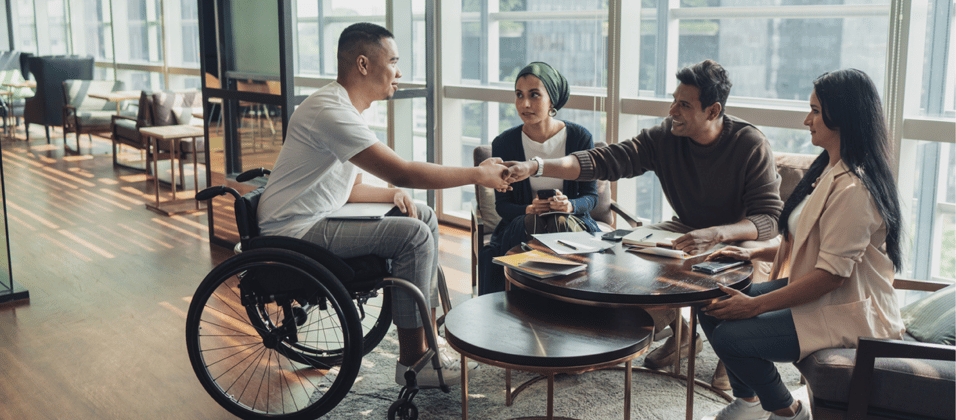 How Employee Surveys Can Help Address Health Equity
Heather Sager, Ph.D. & Carling Adams, MPH
Health equity is the aspirational goal of ensuring that every individual has an unobstructed path to achieving their fullest health potential, a state not compromised by social, economic, or other socially-determined factors. Far from being merely a humanitarian or ethical initiative, health equity is a complex, multifaceted issue that demands targeted, sustained efforts to confront both historical and current injustices that perpetuate health disparities. These disparities can manifest across various demographics and are often deeply rooted in systemic inequities. Addressing health equity, therefore, has wide-reaching implications, affecting not just marginalized communities but also the broader social fabric and organizational structures within society.
---
The Widespread Impact of Health Inequities
The lack of health equity imposes economic costs, places an undue burden on healthcare systems, and leads to increased healthcare costs for everyone. Moreover, these disparities can contribute to the spread of infectious diseases, aggravate income inequality, and have generational impacts. They can even exacerbate social unrest, violence, and crime. According to a 2009 study by the National Urban League Policy Institute, health disparities cost the U.S. an estimated $60 billion in excess medical costs and $22 billion in lost productivity. These numbers are projected to skyrocket to $126 billion and $363 billion by 2050, respectively.
In addition, Becker's Hospital Review has recently put health equity on its top C-suite concerns list. Clearly, this is a matter that organizational leaders cannot afford to ignore.
Understanding Health Equity Through Employee Listening
At Perceptyx, we employ a set of meticulously crafted survey questions aimed at illuminating various facets of health equity within the workplace. For instance, one of our internal survey items states, "All employees, regardless of their differences, are treated fairly." This question not only serves as a litmus test for general workplace sentiment but also acts as a diagnostic tool for understanding health equity.
Another relevant question we pose is, "My immediate manager treats all the colleagues fairly, regardless of their backgrounds." This narrows the focus to managerial behavior, highlighting the role of immediate supervisors in upholding — or undermining — health equity.
We've also included items that focus on broader aspects of workplace culture:
"The Company is committed to diversity and inclusion in the workplace."
"Senior management creates a culture of inclusion, openness, and trust."
"My immediate manager models inclusive behaviors."
Each of these questions offers a snapshot of an organization's state of health equity and can reveal systemic issues that may otherwise go unnoticed. By regularly monitoring responses to these items, organizations can identify trends and make data-driven decisions.
Customizing Surveys: The Devil is in the Details
Diving deeper requires a layered approach to survey analysis. To truly understand the nuances, organizations should cross-reference survey data with demographic variables such as race, gender, age, or even facility/location. For example, a question like, "This organization cares about my health and well-being," can yield profoundly different results when filtered by these demographics. Such stratification can indicate whether minority groups within the organization feel they're being left behind in health and wellness initiatives or benefits provisioning.
We recommend taking this a step further by encouraging our clients to add custom demographics tags like "safety net hospitals/clinics." This allows you to identify and understand whether perceptions of health equity differ significantly in these crucial healthcare settings. In addition, evaluating employee sentiment by ethnicity, gender, and generation may reveal significant differences in perceptions, especially if your workforce is not reflective of the community it serves.
External Items: Beyond the Office Walls
In our quest for a holistic understanding, we suggest incorporating external items, such as questions from standard operating procedures (SOPs) in medical office surveys. These surveys often contain items like, "This organization provides the same quality of care to all individuals regardless of gender, race, ethnicity, socioeconomic status, language, etc.," "I feel good about the ways we contribute to the community," "This organization has a good reputation in the community it serves," and "This organization is actively involved in my community."
Such questions offer insights into how healthcare equity is perceived beyond the walls of the organization, strengthening the understanding of community sentiment.
Taking Action on Survey Data: Small Steps, Big Impact
Analyzing data is merely the first step; what follows is the crux of the matter — action planning and action taking. Surveys are powerful because they don't just expose problems; they also guide solutions. For example, if employee engagement survey results indicate a language barrier in understanding employee benefits, the immediate action would be to make this information accessible through language translation. Another actionable insight could be the underutilization of Employee Assistance Programs (EAPs). Promoting these benefits can ensure that employees are aware of and can access mental health resources, contributing to overall health equity.
Let's not underestimate the impact of workplace policies either. Adopting flexible work schedules, when feasible, can be incredibly beneficial. This can be particularly important for employees who may have caregiving responsibilities or those who rely on public transportation, thereby impacting their health indirectly.
Through comprehensive employee listening surveys, we can pinpoint areas of concern and opportunity, enabling organizations to take the necessary steps to advance health equity. By customizing surveys and taking actionable steps based on the data collected, organizations are not just ticking boxes but are making a meaningful impact. After all, the road to health equity is long and arduous, but every step counts.
Moving Forward: Open Dialogue and Community Involvement
We propose having an open dialogue survey — something a crowdsourcing product like Dialogue from Perceptyx, which is field-tested in healthcare settings and proven to improve safety outcomes and other issues, can facilitate — to ask readers for suggestions about what should be done to address health inequity in their communities. By inviting input from different stakeholders, organizations can identify new avenues for improvement.
Employee Listening Can Help Your Organization Address Health Equity
Advancing health equity is a monumental task, but the role of employee listening surveys cannot be overstated. To harness these insights for your organization, consider scheduling a meeting with us. Together, we can work toward creating a more equitable future for all.
To learn more about how Perceptyx is helping healthcare organizations, download our 2023 special report, State of the Healthcare Employee Experience, or schedule a meeting with a member of our healthcare consulting team.