How Mapping the Employee Experience Journey Helped C.H. Robinson Create an Effective Return-to-Work Plan
Prior to the pandemic, most employees worked in a physical location (72%), but during the height of COVID-19, the majority of people (75%) were forced to work virtually. Today, as restrictions have been lifted and vaccines are widely available, the state of the workplace is changing again. Many organizations are moving to a hybrid model – blending remote and in-office work – while a smaller portion are mandating a return to the physical workplace as long as it can be done safely.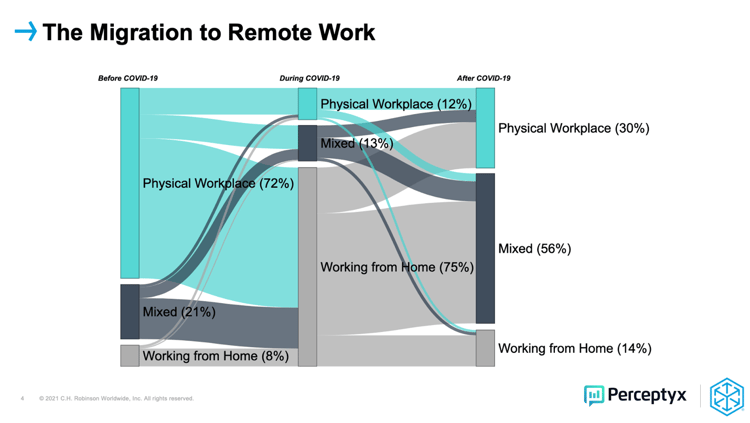 However, organizations must consider what employees want and need to feel safe at work, or whether they want to come back to work at all. Therefore, the employee experience must be top of mind when organizations are creating return-to-work plans.
C.H. Robinson, the world's leading third-party logistics provider, faced this precise challenge when it set out to create a return-to-office plan for its 15,000+ employees. The company had to figure out a way to balance the organization's needs with employees' expectations. It decided this was a unique opportunity to give employees a voice in the design and execution of a plan that would help it reimagine the future of work.
In a recent webinar hosted by achieve Engagement, Laura Kunitz, principal organizational effectiveness consultant at C.H. Robinson, and Dr. Brett Wells, director of people analytics at Perceptyx, discussed data on what employees want in the new, post-pandemic workplace, and how employee journey maps and personas, informed by survey data, can support the design and execution of return-to-work plans.
Designing the Workforce of the Future at C.H. Robinson
For Kunitz and the executive team at C.H. Robinson, it was important to truly understand how their employees felt about a return to the physical workplace. However, as things were constantly changing, they also needed to develop the return plan quickly. Kunitz turned to Wells and Perceptyx to help collect the necessary employee feedback.
"We were able to build out a robust survey that would be disseminated across all of our US-based employees to really understand what their fears were about the return, what they wanted in a return, how they wanted to be supported and also measurement around potential officism and different experiences of culture," Kunitz stated in the webinar.
While the survey was being built, the company was concurrently developing its hybrid work model and looking at how its different job roles would fit into that. Additionally, the team also decided that, when looking at the return plan, it would define the employee experience through the lens of culture, technology, and the physical work space, so they made sure to create survey questions that would specifically measure those components. That allowed them to use the survey results in the most effective way possible.
Lessons Learned from Developing Employee Personas and Experience Journey Maps
C.H. Robinson took the information it learned through its employee survey and created eight unique workplace personas – four for individual contributors and four for managers. Each persona outlined specific needs, key takeaways, and nuances associated with that persona as well as their feelings about culture, technology, and the work space – both their concerns and what was going well.
The personas included managers and individual contributors for:
In-Office: These roles were identified as ones that needed to be on-site daily to effectively perform their job duties.
Hybrid: These roles were identified as ones that needed to be on-site at least some of the time to effectively perform their job duties. Most employees fell into two categories:

On-site 60-80%: These employees are needed in the office most of the time, but still have some flexibility to work remotely each week.
On-site 20-40%: These employees can effectively perform their job remotely most of the time but are expected to come into the office for planned/important moments.

Remote: These roles were identified as being able to be done effectively remotely almost 100% of the time. However, employees in remote roles may still be expected to come on-site for planned events like training, team meetings, or specific client interactions.
These personas helped the return-to-work team make informed decisions on support resources, how to prioritize efforts across the employee experience in the return to work, and what needed to be communicated prior to employees coming back to the office as well as over the first few months of the plan's implementation. Through the data and these personas, C.H. Robinson was able to build out their employee experience journey maps.
These employee experience journey maps took each persona and an associated manager and mapped out key moments over the initial three months of the plan. It included actions for managers and employees on the first day and beyond, associated feelings to noted milestones, and the overall emotional journey. The return-to-work team used these maps to compile resources, plan communication cadences, and even change management approaches for some specific groups based on the personas and survey feedback.
"The really cool part about going through the exercise of distilling all that information into personas was then, as a return-to-office team and a broader HR group, we could look and say 'OK, we're going to put all of these managers and individual contributor employees together and project out what the next three months could look like for each persona based on what we know – so anything from communication they would get to potential feelings they would be having or the emotional journey associated with learning you're in a hybrid model, learning what that model is, transitioning back to the office," said Kunitz. "We were really able to create a more personalized experience. … Using our data in this way was really nice, so instead of it being a two-dimensional readout, we were able to layer in emotions, layer in different qualities of people, and it became more relatable."
While the maps and personas created a path for success, the Delta variant of the COVID-19 virus emerged just three weeks into the company's return-to-work plan. This caused the executive team to revert back to earlier COVID-19 protocols, which allowed employees to work where they felt the safest. However, with these maps and personas now in place, C.H. Robinson is well prepared for coming changes, and any challenge that presents itself as public health conditions and requirements evolve.
For more information on C.H. Robinson's employee listening program and how it helped them redesign the employee experience, read their success story.