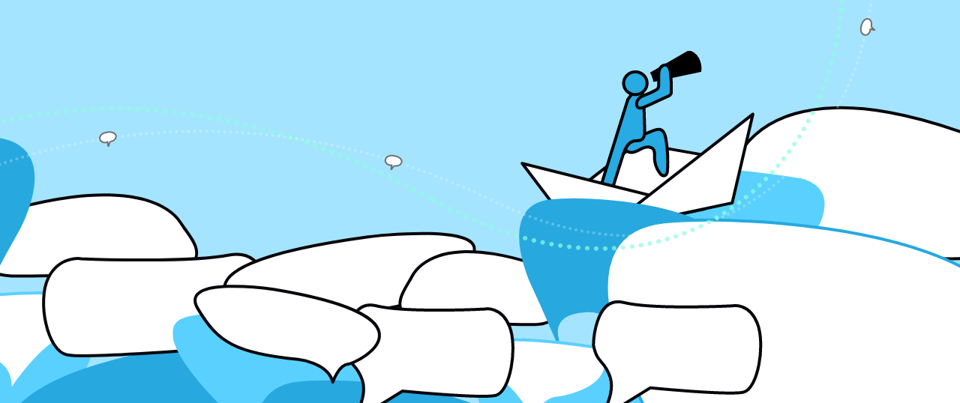 How to Build a Culture of Continuous Employee Conversation
Many would agree that ongoing dialogue and action across an organization are necessary to thrive, especially given the accelerated change affecting our work and home lives today. Leaders are being called to demonstrate deeper empathy for their people, while keeping a laser focus on the business. Perceptyx's three-part Continuous Conversation at Scale series provides this picture, helping leaders guide their organizations along the best path forward.
When we say "continuous conversation at scale," we mean a virtuous cycle of engaging employees in a dialogue to address the right issues throughout the employee lifecycle. This cycle also includes responding to feedback quickly and consistently, and then creating meaningful action. Those who do this well incorporate multiple listening channels as well as objective business data to put the feedback and action into context.
Part 2 of our Continuous Conversation at Scale series explains how HR and business leaders can partner to develop and sustain a culture of listening and action that ultimately helps their people and the business thrive.
Listening is the First Step
Leaders today are listening to their employees more often, on more topics, and in more ways than ever before. People leaders want to learn how their employees are experiencing their daily work and overall workplace environment. More importantly, they need to know how these experiences impact outcomes like productivity and profitability. Then they can take the right action based on this analysis to drive these outcomes.
As outlined in Part 1: The Blueprint of a Continuous Conversation at Scale, they do this by generating a 2-way exchange of feedback across their organization. Leaders build a culture of conversation when they respond to employee input with ongoing, timely, and relevant action. As their strategy matures, they integrate operational data to contextualize their action. They also commit to the right partnerships, strategies, and capabilities that continue the conversation.
HR and Business Leaders Lead the Way
HR and business leaders need to form a new level of partnership to create a culture of conversation at scale. They start with practicing a continuous conversation with each other. This is how they can co-create the roadmap for launching a broader dialogue across their company.
Perceptyx's recent State of Employee Listening report outlines the four stages organizations typically go through as they expand their listening program to a continuous conversation. It outlines what they need to move to each new stage, and highlights lack of executive support as a top barrier to this progress.
They Build a Powerful Partnership
HR may start the conversation but they need buy-in from other business leaders to gain traction. For example, these leaders need to provide HR clear insight into their strategic goals. Then HR can design a people strategy that integrates the right employee and business data to support these goals. Presenting this strategy for making data-driven decisions that support their mutual goals is a critical step in gaining leaders' buy-in.
HR can speak the language of data and dollars with business leaders by connecting people practices with outcomes like profitability. This builds leaders' motivation to form a "power partnership" with HR. In addition to aligning their vision, this also helps HR secure the budget needed to move forward.
Engagement Gets the Conversation Started
The foundation of most employee listening programs often measures engagement as the overall metric of employee experience. Yet many leaders find themselves in a cycle of measuring engagement rather than actively engaging with their people. Measuring engagement is similar to a thermometer gauging a person's temperature. It can indicate a problem, but it doesn't pinpoint a cure.
Also, given new factors like remote and hybrid work influencing our experience of work today, leaders need to consider more than engagement scores to move the business forward. For example, we typically see higher engagement related to lower attrition. Yet the current business climate shows that engagement has stabilized to pre-pandemic levels, while attrition is still rising. This tells us that leaders need a more holistic picture about the employee experience to prevent attrition.
Employee Experience Amplifies the Dialogue
Leaders need to understand more about the day-to-day experiences at work that matter to their people. They need to know which ones impact retention, profitability, and other business metrics. Rather than generating only an engagement score – like a temperature check – HR needs to assess a variety of experiences – or additional symptoms – to plan an appropriate treatment for their organizational health issues.
When HR and business leaders build this culture of conversation, they can immediately align their strategic goals to drive the best outcomes for both. Throughout this partnership, they work together to listen to employees, respond to feedback with action, and continually expand this dialogue to achieve their mutual objectives. This is how HR crafts a positive people experience that enables business leaders' goals. This is the "power partnership" that drives overall organizational health.
There Is No "One Size Fits All" Strategy
While research confirms the value of building a culture of conversation, there isn't one map for all organizations to follow. There are so many factors shaping a company's starting point that span beyond their industry, size, leadership, culture, and existing technology. While they all need the right technology and expertise to build a culture of conversation, they first need to align on the right strategy for their organization. Then they can invest in gaining the right capabilities to support them at each stage of their journey.
There Are 5 Essential Capabilities
There are 5 capabilities needed to build and sustain this culture. Each company's journey is rarely linear, and will differ based on many factors. These include their starting point, the range of HR technology and expertise they already have, and the volume and type of operational data available to integrate into their overall analysis. When they've integrated all of these capabilities, companies can connect their people and business strategies and drive overall performance, productivity, and profitability.
Build the foundation with engagement – An employee engagement strategy that measures and improves engagement through action is foundational to a culture of conversation. This requires point-in-time surveys to gather feedback and enable responsive action. Data shows that postponing or not taking action can erode trust and negate the benefits of starting the conversation.


Connect with employees throughout their journey – Engagement shouldn't be the only measurement of the employee experience. It's essential to keep inviting feedback as employees progress along their journey, paving the way for their engagement later on. Seeking this input can begin with their first interaction as a candidate, to their onboarding as a new employee, to milestones like their role change, and all the way through to their exit from the company. These lifecycle moments can significantly help or hurt engagement, productivity, performance, and retention.


Demonstrate how employee experience impacts the bottom line – Once HR has built the foundation to gather enough volume and variety of feedback into their HRIS (human resources information system) for analysis, they can define ways to improve their people experience. With this bird's eye view of their experience, HR can see where to start, stop, or continue people practices.


Invite employees to co-define action – When leaders rely on their wealth of people insights and business data to pinpoint what matters most, they can generate fast action. They can increase this momentum with crowdsourcing that enlists employees to co-create solutions to key challenges.


Empower managers to keep the action going – As companies gain these capabilities, they also need to build managers' skills to amplify the momentum. Throughout the journey, managers need a complete view of their strengths and areas for improvement. With a multi-rater feedback capability, organizations can evaluate managers through the lens of their people, and use this feedback to support them. HR can give managers the insights they need to improve the way they initiate, conduct, and sustain a conversation across their teams. This capability can transform managers into leaders who engage their people in real-time problem solving and meaningful action.
Start Your Continuous Conversation Now
We invite you to download Part 2: How to Build a Culture of Continuous Conversation and discover how to initiate and expand this culture across your organization. Learn how to develop the right partnerships, strategies, and capabilities through case studies illustrating how other organizations have started their journey.
You can also download Part 1: The Blueprint of a Continuous Conversation at Scale to understand the components of this dialogue and how they work together to drive meaningful action.
Soon we'll be introducing Part 3: The Outcomes of a Culture of Continuous Conversation. In this final part, you'll learn how this culture generates:
Data-driven decisions and development
Foundational agility and resilience
A virtuous cycle of organizational health
For more information on how Perceptyx's expertise can help your organization foster a continuous conversation, schedule a meeting with a member of our team.