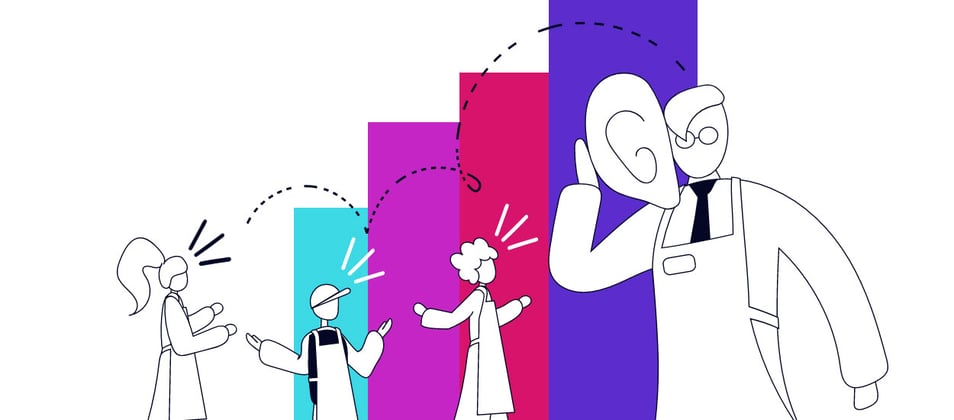 New Data Reveals the State of Employee Listening
Perceptyx recently interviewed human resources decision-makers from more than 600 global organizations with 1,000 or more employees about their current employee listening strategy, how their strategy has changed over the COVID-19 pandemic, and the directions they are taking for future listening.
The organizations in the survey spanned all major industries and included primary decision-makers, influencers, and other stakeholders integrally involved in the success of the employee listening program. These individuals assessed the methods that their organizations are using to listen to employees, the topics they are exploring, the measures of and barriers to the success of their strategy, and much more, resulting in the industry's most comprehensive report to date on the state of employee listening.
Emily Killham, Perceptyx' global director of research and insights as well as the author of this report, led a recent webinar to discuss the report's chief findings.
State of Employee Listening: The What and the Why
"We needed to do this report because everything has changed since the pandemic," Killham said, emphasizing that a new baseline was sorely needed for understanding the present state of employee listening.
What Perceptyx's research found was that nearly all organizations responding to the study do some amount of formal listening to their employees (94%), and most have been at it for some time. Two-thirds reported that their formal listening program is at least 3 years old, and one-sixth reported that their formalized program is more than a decade old.
But given the rise of so many new workplace concerns – DEIB, COVID-19 safety, vaccine mandates, remote work, and more – organizations today are conducting a wider variety of listening activities to gather employee feedback. Nearly three-quarters of organizations say they were motivated to do more listening because of the pandemic and a similar percentage expect to do even more listening over the next 12 months. Very few, only 1 in 25 (4%) organizations, intend to do less listening during this same time frame.
"Given the changing world, with everything that's happening, our data clearly shows that organizations know that listening matters more than ever before," observed Killham.
Who Has Access to the Data?
4 in 5 organizations report that they are getting this data into the hands of their front-line leaders, but of those that do, more than two-thirds are taking more than 3 weeks to share it with executives as well as managers.
"There's a split in this data, with 2 in 5 saying that people insights are used to inform company decisions, and 1 in 5 saying they aren't," Killham said. "And there's a similar split between organizations that hold managers accountable for action plans based on results – roughly a third – and the quarter of organizations that don't have managers creating plans at all."
There is, Killham reported, considerable room for growth and improvement on this front.
What Are We Regularly Asking About – and How Frequently Are We Asking Those Questions?
In terms of special listening efforts, new topics such as COVID-19 and employee burnout have climbed the list. Meanwhile, recurring topics such as engagement and compensation/benefits – squarely in the spotlight due to the impact of the Great Resignation – continue to occupy organizational attention.

Organizational listening efforts expanded greatly between 2014 and 2022, with 18% reporting that their organizations were conducting annual listening efforts in 2014 and 60% reporting that their organizations were conducting quarterly listening in 2022.
"When we looked over the past decade, hardly anyone was surveying in 2014," Killham said. "It took a long time to do these surveys, and many organizations were doing pen-and-paper surveys or interactive voice response surveys. Everything was happening so slowly."
The change in the rate and type of listening between 2014 and 2022 explain why 60% of organizations can now produce action plans within 4 weeks of receiving their listening results.
Why Do Employee Perceptions Matter, and How Are Organizations Listening?
Organizations want to be able to solve problems related to issues ranging from employee attrition, DEIB, and workplace safety – but only 33% feel confident that their listening programs address these problems.
As far as how organizations gather this information, traditional organization-wide census or engagement surveys remain the most popular choice. However, more than half of the organizations surveyed are using some form of at least three other listening channels:
Lifecycle surveys such as candidate experience, onboarding, and exit,
Crowdsourcing, such as specific poll questions, a suggestion box, or internal social media, or
Passive listening, such as calendar scraping or productivity monitoring software.
Employee Listening Strategy Maturity
"When we considered several related factors – channels, speed, integration, and agility – four distinct levels of listening strategy maturity emerged," said Killham.
Perceptyx's study identified these four strategic stages of maturity for employee listening:
Stage 1: Episodic listeners (19% of organizations surveyed) conduct one or two surveys a year, and keep ownership of data collected within the HR department. Results are shared narrowly and follow-up actions are top-down.
Stage 2: Topical listeners (27%) conduct deep-dive listening around specific topics or events, such as DEIB, M&A activity, or a pending IPO. They encourage, but do not require managers to take action in response to employee feedback and most follow-up activity remains centered in HR.
Stage 3: Strategic listeners (28%) gather feedback on an ongoing basis, including key moments in the employee lifecycle such as hiring, onboarding, exit, and promotion. They also use advanced analytics to understand the relationships between these and other business data. Executives proactively seek employee feedback when making decisions and action occurs at multiple points in the organization.
Stage 4: Continuous conversationalists (26%) use a variety of active and passive listening channels at scale such as calendar analysis, email sentiment, and/or crowdsourcing as well as surveys, and the results of these conversations inform everyday business decisions. The executive team leads the strategy in partnership with HR. Leaders and managers at all levels are responsible for understanding and acting on feedback, and for communicating the progress of those actions to employees.
"When you look at these organizations by stage, the differences are notable: stage 3 and 4 organizations are listening through 3 or more channels, while stage 1 organizations are taking a much longer time to process results from just a single channel," Killham said. "Nearly all of Stage 3 and 4 organizations prioritize manager access to data over executive access, and 95% of our stage 4 organizations say listening consistently relates to other business results – whereas only 40% of stage 1 organizations do."
Clearing Roadblocks to Move Up the Maturity Curve
Obviously, not all organizations will be able to immediately reach stage 4. Issues related to executive support and buy-in, lack of follow-up actions, budget constraints, poor program design, and insufficient manager skills can serve as roadblocks to advancing to the stage at which continuous conversations are possible.
Fortunately, each roadblock has an accompanying solution to help drive progress up the maturity curve. Clear program goals, defined performance outcomes, executive support, frequent multi-channel listening, investments in advanced analytics, and simultaneous top-down and bottom-up actions will facilitate the progress of an organization's listening program.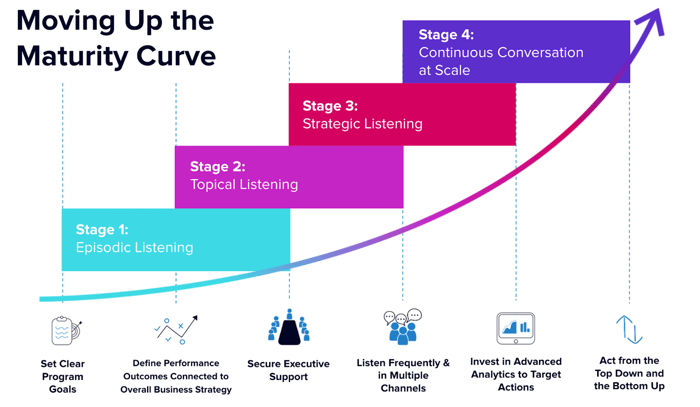 A Call to Action
Mature listening programs can help overcome specific problems facing an organization, such as talent recruitment and attrition. When fully implemented, they can also help deliver world-class outcomes related to financial performance, innovation, workforce retention, customer satisfaction and retention, and change management. Organizations at stage 4 of the maturity curve significantly outperform their peers in each of these areas.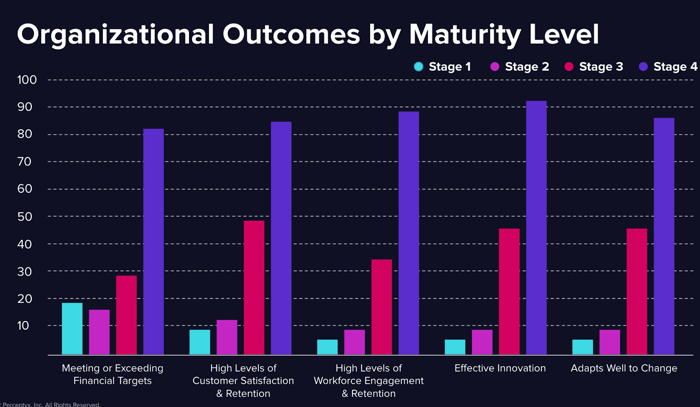 Emily Killham emphasized this point, noting that "these findings show the benefits of integrating employee feedback in terms that should make executives sit up and pay attention."
To listen to the entire webinar, click here to watch it on-demand. And for more information on how your organization can utilize Perceptyx's expertise to evolve employee listening in your organization, download the report or schedule a meeting with a member of our team.