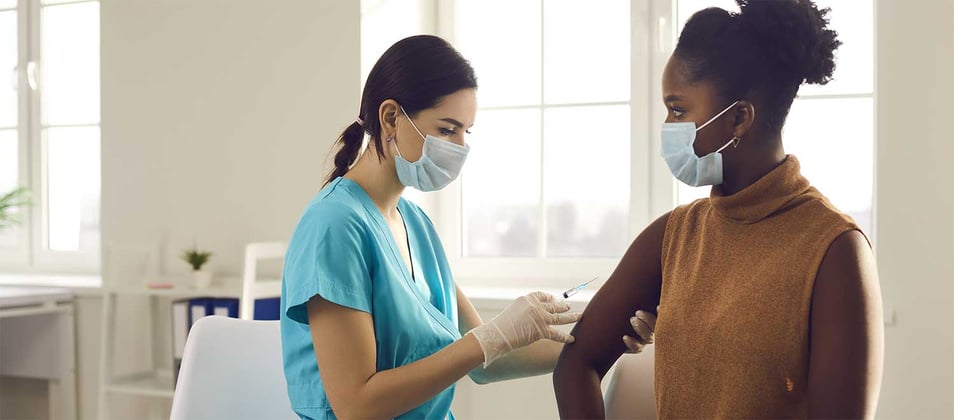 The Mandate Challenge in Healthcare – Patient Expectations Meet Employee Hesitancy
COVID-19 vaccine mandates remain a polarizing topic for all workplaces, but they pose a unique challenge for the healthcare industry. A new study from Perceptyx of more than 1,500 employees has found that vaccinated employees are becoming more comfortable and less stressed about returning to the physical workplace, even if herd-level immunity (70% or more) is not yet reached. The current survey shows 49% feel comfortable in the workplace without herd-level immunity compared with 47% of vaccinated employees and 77% of unvaccinated employees in June 2021. In general, people are also feeling less stress about working in close proximity to unvaccinated coworkers than they were in June 2021. That said, 74% of employees (compared with 4 in 5 in June) still admit to feeling at least some stress when it comes to spending a full work day with an unvaccinated coworker.
Interestingly, healthcare workers are significantly more likely to feel safe when working with unvaccinated coworkers than other industries. This could be because they have now been working through the pandemic for many months, have a clearer understanding about how the virus is transmitted, and have access to personal protection equipment (PPE) and other safeguards as a means to protect their health. However, even though they may feel more safe, healthcare workers report they are equally likely to feel stress when working with unvaccinated coworkers, and that stress level seems to be increasing as federal and employer-specific vaccine mandates go into effect.
Balancing Employee Desires with Patient Needs
Healthcare workers are already suffering from staffing shortages, facility overcrowding and burnout, and now many healthcare facilities are following the federal government in mandating that employees receive the COVID-19 vaccine.
While there are mixed feelings about vaccine mandates in virtually every industry, the healthcare profession is in a unique bind given their obligation to protect patients, and the data indicates that healthcare employee opinions differ greatly from those they are sworn to protect.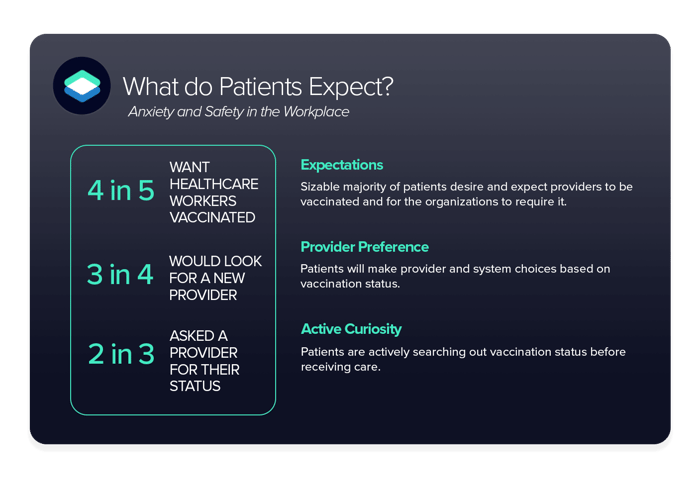 To make it even more challenging for healthcare employers, 77% of patients say they will consider finding a new provider if their current one is not vaccinated, and 68% of people have taken the additional step of asking their provider about vaccination status. Only 10% of people say they are less likely to patronize a medical facility if it mandates COVID-19 vaccinations.
How Can Healthcare Organizations Mitigate Negative Impact?
Because healthcare organizations are already dealing with stressed out, overworked employees, they have to be sensitive to their staff's concerns and overall sense of well-being. While the majority of employees may not oppose the vaccine outright, there is a percentage that does. The question becomes, how can healthcare organizations lower the risk of losing those employees? Since compliance with these mandates is simply non-negotiable for most facilities, healthcare leaders must act to meet these requirements without jeopardizing retention of their most critical staff or damaging their overall employee experience. (Read more about the current state of the healthcare employee experience here.)
To do that, healthcare organizations have to follow the data.
Employee & Community Expectations – The community expects vaccinated healthcare professionals. However, many in healthcare remain hesitant about the vaccine and are opposed to a mandate as a condition of employment.
To satisfy both group's needs, employers should provide as much information regarding the vaccine as possible, and encourage employees to receive the vaccination voluntarily.
Employers may also consider incentivizing employees to get vaccinated.
Federal & Organization Policy – Policy decisions may be out of an organizations' hands, but employees are looking to their employer to explain why vaccines are necessary.
Again, information and transparency is key here. Employees need to be given as much information as possible – and it must come from the top.
Communication & Education – Clear communication of how and, most importantly, why are important for both groups.
Making sure employees know how, when, and where to receive vaccines is critical, as is informing them of how to file for medical or religious exemptions.
Center the mission of the organization – the health and safety of the community – as the "why" behind the mandates. Healthcare workers care deeply about the community, as organizations that lead with the patient have seen more positive perceptions about vaccine mandates.
Patients, on the other hand, need clear information on mask mandates, vaccination mandate status, and other safety precautions that the facility is taking.
Employee & Patient Perceptions – Listen and assess the effectiveness of communication and education. Have empathy and ensure the environment is safe for employees.
Have ongoing, open, and honest conversations with both employees and patients. The more informed people are and the more they feel listened to, the better relationships will be.
Continue surveying your employees to assess engagement, stress, burnout, and satisfaction levels. Organizations must listen continuously, so they are aware of potential issues (attrition, burnout, etc.) before they negatively impact the employee and patient experience.
It will be interesting to see how healthcare organizations maneuver mandates as the pandemic continues. While there are reports on the news daily of healthcare and first responders leaving their jobs over vaccine mandates, there are also reports of employees choosing to be vaccinated rather than lose their jobs. There may be no "right" answer to this complex problem, but we know communication is key and that includes gathering and listening to employee and patient feedback.
Perceptyx recommends that healthcare employers keep close tabs on their employees' vaccination anxiety, well-being, and burnout levels, as well as their likelihood to stay as the pandemic continues and mandates are enforced by implementing a continuous listening strategy. This will help employers mitigate risks to the employee experience while also ensuring patients get the care they need. Perceptyx offers more guidance on keeping employees engaged and building resilience here.
The research noted in this report was compiled by Perceptyx in October 2021, after the federal vaccine mandate was announced.