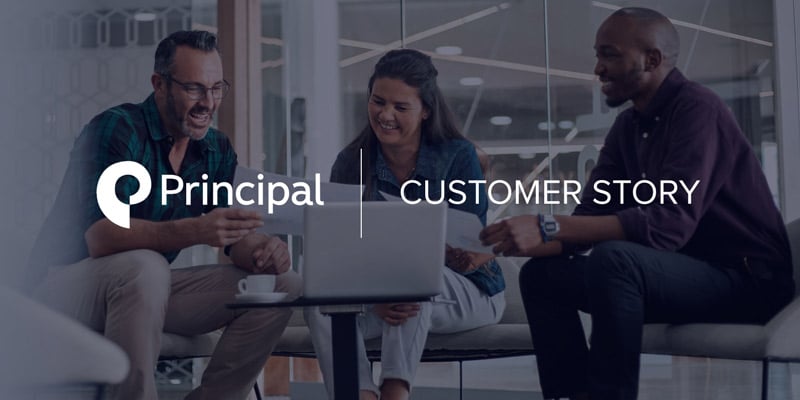 Inside Principal Financial's Employee Listening Strategy
Founded in 1879 as an insurance company and headquartered in Des Moines, Iowa, Principal Financial Group® is a Fortune 500 member committed to delivering real-life solutions that help customers of all incomes and portfolio sizes make financial progress. With 18,500 employees working across the world, Principal® understands the necessity of driving engagement across the entire employee experience.
In 2020, the company went looking for a partner to elevate its listening strategy and found a unique solution, now Dialogue from Perceptyx, incorporating crowdsourcing and voting. From there, Perceptyx's relationship with Principal has expanded to include lifecycle surveys and 360 leader feedback.
Listening Through the Pandemic
When Principal launched the Dialogue product in March 2020, the world had entered the early stages of the COVID-19 pandemic. Employees across the company had been sent home, and leadership needed insight into how everyone was doing.
Carolyn Petsche, who serves as Assistant Director for Talent Management at Principal, recalled the importance leadership placed on implementing a product that would enable listening at scale. "Knowing we wanted to immediately get employee feedback about their experience after everyone went home for the pandemic led us to say, 'OK, we're doing this, and we're doing it now.'"
Thanks to the quick implementation of the product, Principal gathered the insights it needed. "It was our triage system," Petsche explained. "We needed to know how [employees] were doing. We needed to know whether they were okay. And we had to make sure they had what they needed to do their jobs. Thanks to Dialogue, we had an instant understanding of how people were doing, and we were able to share the data with leadership immediately for quick response and action."
Detailed Reporting on Organizational Health
The data-driven insights Principal gathers via Perceptyx enable it to track key performance indicators (KPIs), such as its engagement and inclusion indexes, as well as stay in touch with employee sentiment on timely topics relevant to all.
"These additional pulses are rooted in our employee value proposition so we know how the employee experience feels at Principal. Annually, we pulse on consistent questions that, when combined and averaged, give us our engagement and inclusion indexes. While we monitor and report on our indexes each year, this is not an entirely numbers-driven process. Through pulsing, we want to make sure we know what's most important to employees so we quickly raise up challenges to address and solve."
Part of the company's communications strategy rests on the insights provided by this regular cadence. "We have a robust communications plan that bookends each pulse," said Petsche. "Our pulses often inform town halls, leadership forums, and routine leader communications so we create two-way communication methods that help us close the feedback loop. We use Dialogue to deliver on the key part of any listening strategy: are we talking about what's most important to employees?"
No More Waiting for Results
For Principal and Petsche, Dialogue excels in terms of making responses visible throughout the highly collaborative organization. "There's no waiting to see results," Petsche said. "All employees see real-time results as they relate to the enterprise, their business area, and their location. As long as a leader has five or more responses, they can see their team's results as they come in, then use the real-time insights to engage their teams to dig into the feedback."
This instant visibility proved invaluable at the height of the pandemic when Principal was considering their approach to flexibility. "Because we weren't waiting on an annual survey, we were able to ask whenever we needed about how people are feeling about flexibility, the challenges and opportunities it creates, and how flexibility can best be incorporated into how we work to serve our customers. We know how important flexibility is to employees because we continuously ask, and they have a forum to be able to share."
Less Is More
Principal has been able to build and implement this ambitious listening strategy because of Dialogue's simplicity and ease of use. "It's easy for people to participate in the pulses, smooth to use, and the fact that we have SSO [single sign-on] for users means no one has to enter any demographic information before getting to the questions. Employees find the crowdsourcing feature informative, and we encourage people to revisit the pulse while it's open and continue voting."
Principal, Petsche explains, has gone from a system that was complex and cumbersome to something that's easy to use. This, in turn, has led the company to pilot other Perceptyx products. The organization's pilot of the Cultivate 360 Feedback product has been one success. "This is a new enhancement for us for our entire leadership population. Our previous 360s and evaluation tools were centered on a select group of leaders. Cultivate is for all leaders and is rooted in our leadership expectations."
Other product improvements are on the way as Principal continues its progress up the listening maturity curve. Until the end of last year, the organization was using its own homegrown exit survey process, but in late July the organization began utilizing Perceptyx's Sense product for exit surveys. "It was another opportunity for us to see more with Perceptyx," said Petsche, who believes that the exit survey results will offer more value when they're integrated with other listening products.
Partner with Perceptyx
Read the full story to learn more about how Principal leverages its partnership with Perceptyx to drive continuous improvement in its culture and mission. To learn more about how our platform and services can help your own organization, schedule a meeting with a member of our team today.