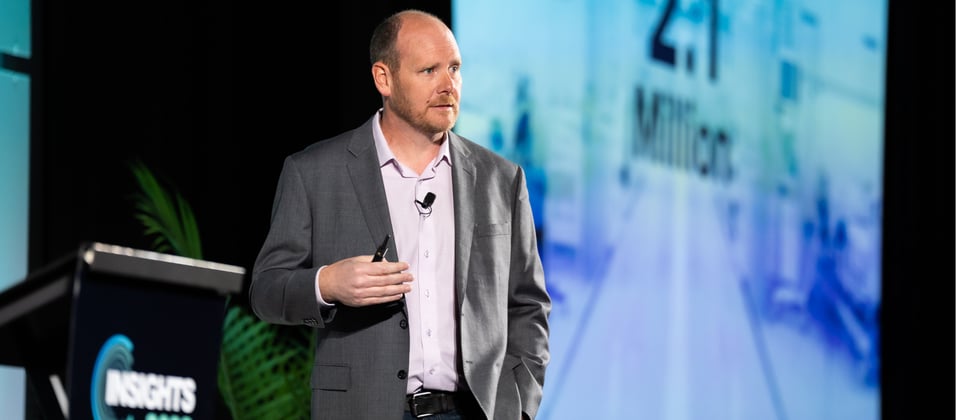 INSIGHTS 2023 Connects People Leaders and Ideas
As the curtains close on the phenomenal INSIGHTS Conference held in sunny San Diego, California from April 3-5, we want to express our gratitude to all the attendees who played a pivotal role in making this event an unprecedented success. The overwhelmingly positive feedback we received, with many participants deeming it "the best conference they have ever been to," is a testament to the collaborative atmosphere, engaging sessions, and thought-provoking discussions that unfolded over the course of three days.
To give you a snapshot of the event's diverse and dynamic audience, we hosted 200+ global attendees at the main INSIGHTS Conference from a cross-section of industries, along with more than 30 passionate leaders who joined the Healthcare Voices at Work Consortium's Spring Summit.
Across keynote speeches, panel discussions, and smaller breakout sessions, leaders from Perceptyx and the many organizations with which it partners explored the state of employee listening and people analytics as it evolved throughout a year of constant change.
Although no summary of INSIGHTS can replicate the many personal connections that were forged or rekindled, here's an overview of some of the compelling content shared during the conference.
As the World Evolves, So Should Your Employee Listening Strategies
In his keynote presentation on day one of INSIGHTS, Perceptyx CEO John Borland emphasized the need for organizations to reevaluate and adapt their EX strategy to navigate the rapidly changing landscape. He highlighted several key shifts that have significantly impacted the workforce:
A staggering 40% of the workforce is now at risk of turning over within the next 3-6 months.

The US jobless rate has reached its lowest level since 1969.

Political and social upheaval are significantly affecting employees' lives and well-being.
Borland highlighted that Perceptyx's customers have also been expressing concerns about these challenges, indicating that they are:
Struggling to keep up with the rapid pace of change;

Being asked to accomplish more with fewer resources; and,

Attempting to address employee well-being and burnout in the face of mounting performance pressure.
By shedding light on these issues, Borland's keynote laid the groundwork for a conference that aimed to address the urgent need for innovative, flexible people strategies.
The New Post-Pandemic Workplace
Steve Cadigan, the first CHRO for LinkedIn and author of Workquake, used the closing keynote of day one of INSIGHTS to present a thought-provoking perspective on the current state of the workforce. He argued that the challenges organizations face today are not just a temporary hardship but a reflection of a fundamentally different reality in the post-pandemic world.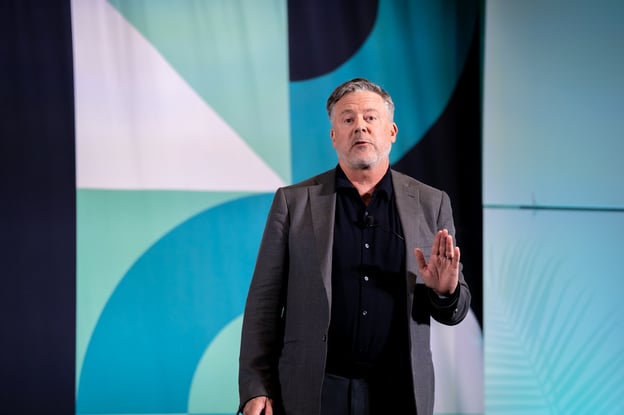 Steve Cadigan, LinkedIn's first CHRO and author of Workquake, gave one of the INSIGHTS keynotes
Cadigan noted that employee tenure has declined, and there is no expectation for it to rebound. He questioned why organizations still focus on tenure, suggesting that they should instead prioritize the diversity of skill sets and experiences within their workforce. By building strong relationships with employees during their time with the company, regardless of its duration, organizations can create a more dynamic and engaged workforce.
He also criticized the prevailing model of work, asserting that many organizations overemphasize automation and AI at the expense of the value employees derive from their work experience. Additionally, Cadigan pointed out that leaders tend to focus more on attracting new talent — sometimes to the detriment of fairly increasing wages for existing employees — and on full-time workers, neglecting alternative work models such as part-time or contract roles. He urged organizations to explore different ways of engaging, hiring, and motivating workers beyond traditional methods, which may no longer be as effective.
Cadigan emphasized that the best way for organizations to adapt to this new landscape is by embracing experimentation. This could include exploring new models for attracting talent, fostering learning and career development opportunities, and devising alumni strategies to maintain connections with former employees. By being open to change and innovation, organizations can better navigate the unique challenges posed by the post-pandemic world and ensure their continued growth and success.
The Power of the People Insights Platform
Perceptyx also shared news of its next-generation People Insights Platform at the INSIGHTS Conference. Available later this year, the platform serves to integrate and connect listening signals from across the organization to deliver insights and action recommendations in one seamless interface.
The People Insights Platform brings together feedback from across the employee journey and uses AI-powered analytics to help leaders and managers understand how to take meaningful action — united in a single, easily accessible place. Perceptyx also introduced improved data management features, enabling API and report as a service (RaaS) connections to Workday, Oracle, and SAP SuccessFactors. The upcoming release will provide APIs to enable further analysis with Microsoft PowerBI, Workday Prism, and Visier, as well as connections to a company's preferred data lake.
Designed for a diverse range of users, including HR leaders, managers, and employees, the platform offers tailored actions, recommendations, and learnings for each persona. Users can access relevant insights, engage in action planning, co-create solutions with others, and access learning resources aligned with their needs. The platform also allows insights, notifications, and actions to be pushed directly to Slack or Microsoft Teams, giving users one-click access wherever they work.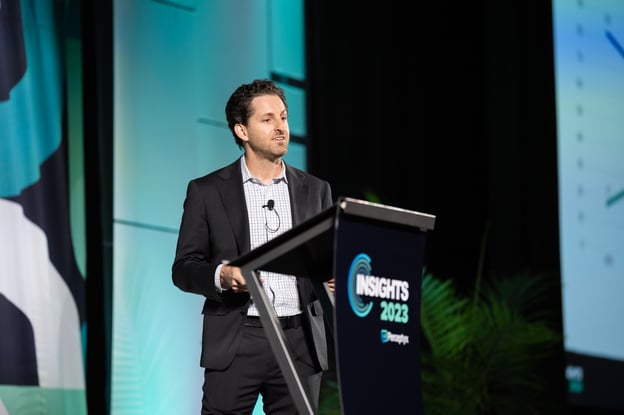 Joseph Freed, Perceptyx's VP of Product, discussed the People Insights Platform's advanced AI-powered comment analysis capabilities
At INSIGHTS, Perceptyx showcased several new capabilities, including an all new AI-powered insights engine available on the platform. One standout feature was the advanced comment analysis capabilities demonstrated by Joseph Freed, Perceptyx's VP of Product. This new functionality augments Perceptyx's existing comment analytics to deliver more nuance and greater specificity, allowing leaders to quickly understand what employees have to share — even across tens of thousands of open-text comments.

Perceptyx's AI advancements also include a first for the Employee Listening market with the addition of new intent models for open-text comments. These new models detect attitudes and intentions expressed in comments by identifying five distinct intents: Angry & Unfair, Praise & Approval, Wants & Preferences, Needs & Concerns, and Shoulds & Suggestions. Instead of simply summarizing comments, or relying on a generalized categorization by sentiment, the new AI-powered models allow managers and leaders to quickly separate comments by the author's intent. Now one can quickly pinpoint comments that provide suggestions for action, or identify specific employee concerns and take action, something which has traditionally been nigh impossible with large volumes of feedback. These best-in-class improvements significantly enhance Perceptyx's platform.
Session Spotlight — "Modernizing Health and Wellness Practices in the Workplace: Integrating and Evaluating Emotional Well-being"
Speakers: Mayer Bellehsen, Ph.D. – AVP, Behavioral Health Service Line, Northwell Health; Rebecca Schwartz, Ph.D. — Director of Research and Evaluation Center for Traumatic Stress, Resilience, and Recovery, Northwell Health; Ellen Lovell, Ph.D. — Senior Consultant, Perceptyx
In this session, Mayer Bellehsen, Rebecca Schwartz, and Ellen Lovell discussed the relevance of stress and trauma-informed principles in supporting employee emotional well-being. They emphasized the value of assessing emotional well-being and implementing a humanistic framework to help the workforce cope with stress and trauma. The panelists stressed the importance of recognizing the signs of stress and trauma in clients and staff, responding by integrating this knowledge into policies and practices, and resisting re-traumatization or exacerbation.
The panel highlighted the staggering costs of burnout, with billions of dollars attributed to physician turnover and reduced clinical hours each year in the US. They discussed Northwell's Well-being Survey, powered by Perceptyx, which focused on evaluating stress, burnout, and mental health distress. The survey aimed to assess well-being resource and program awareness, identify obstacles to resource utilization, and uncover opportunities for additional support. The findings revealed several areas of opportunity, including resource utilization, local interventions for burnout, and understanding financial well-being.
The panelists stressed the crucial role of organizational vision and structure in achieving meaningful change. By embedding trauma and stress-informed principles into routine practice, organizations can enhance support and improve the emotional well-being of their workforce.
Session Spotlight — "Flourishing at Organon & A Triad of Success: Engagement, Well-Being, & Belonging"
Speakers: Matt Grossman, Ph.D. — Head of Workforce Analytics, Organon; Michelle Mullins — Senior Consultant, Perceptyx
In this session, the focus was on flourishing at Organon and the triad of success consisting of engagement, well-being, and belonging. The discussion emphasized the importance of employee flourishing and how each pillar supports the others in helping employees thrive. Engagement refers to the enthusiasm employees feel towards their job, well-being encompasses the extent to which they feel supported, and belonging describes the degree to which they feel accepted and confident in their authentic selves.
An interesting question addressed during the panel was the extent to which recognition, such as spot bonuses, could motivate employees. Matt Grossman discussed how Organon managers used the spot-bonus program more frequently to recognize employees and mitigate the impact of increased workload, but insights from employee listening revealed that excessive awards did not improve well-being or offset the effects of high workload.
The key learning from this highly informative panel was that employee listening data should continuously inform and refine organizational strategy.
Session Spotlight — "Crawl, Walk, Run: Setting the Foundation for a Strong Listening Culture at the MetroHealth System"
Speakers: Cheryl Forino Wahl, J.D. — Chief Employee Engagement Officer, the MetroHealth System; Lauren Beechly, Ph.D. — Director of Healthcare Consulting, Perceptyx
In this session, Cheryl Forino Wahl and Lauren Beechly outlined a four-step approach to building a strong listening culture, using the MetroHealth System's experience with this process as their guide. The first step, "Crawl," involved making a case for leadership, creating the engagement structure, building the team, and obtaining buy-in. Forino Wahl and Beechly emphasized the importance of data, KPIs, sharing success stories, and providing tools and resources to support leaders in creating action plans.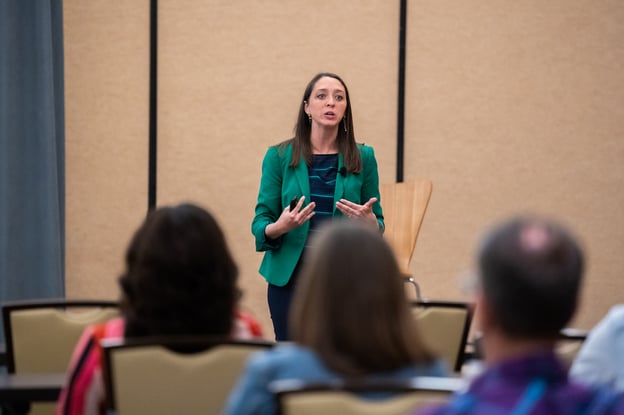 Dr. Lauren Beechly addresses session attendees
The second step, "Walk," focused on establishing a listening strategy, expanding listening tools, and prioritizing metrics and KPIs. Forino Wahl shared how MetroHealth leaned into their partnership with Perceptyx to create an 18-month engagement strategy, introduced pulse surveys, and incorporated exit surveys. The arrival of a new CEO in December 2022 marked the beginning of MetroHealth's "First 100 Days of Listening, Learning, and Action."
In the third step, "Run," Forino Wahl and Beechly discussed growing listening methods, involving leaders in listening, and establishing goals and tracking methods. MetroHealth introduced CEO listening sessions, initiated an "Ask the CEO" email, implemented leadership rounding, and began integrating feedback across multiple channels. They also stressed the importance of setting system goals, monitoring survey participation, turnover, and action planning, as well as holding leaders accountable.
Lastly, in the "Sprint" phase, Forino Wahl and Beechly stressed the need to close the loop, let listening drive decisions, aggregate data, and communicate relentlessly. The panel concluded with several lessons learned: be flexible and patient, get executive buy-in, align stakeholders, diversify listening methods, and insist on closing the loop at both the system and leader levels. When implemented correctly, this approach can result in a comprehensive, ever-evolving listening strategy that helps foster a positive employee experience.
A Community and Customer Feedback Loop That Drives Unparalleled Innovation
The 2023 INSIGHTS conference reinforced the notion that HR leaders learn not only by listening to their employees, but also by listening to each other. Having listened to and learned from over 600 customers running thousands of projects, we have architected the Perceptyx platform to deliver the feedback, data, and insights that help HR leaders craft the right strategies for retaining top talent, keeping employees engaged, and ensuring that company values and behaviors align with employee expectations.
As an experienced listening partner, Perceptyx helps leaders connect the dots between insights and actions. And at conferences like INSIGHTS, we extend those dotted lines across organizations, facilitating knowledge sharing throughout our growing community of People leaders. Click here to take our Maturity Model assessment and receive a comprehensive analysis of your listening program's distinct strengths and areas for improvement, along with personalized recommendations to continue developing your strategy. To learn more, schedule a demo today.