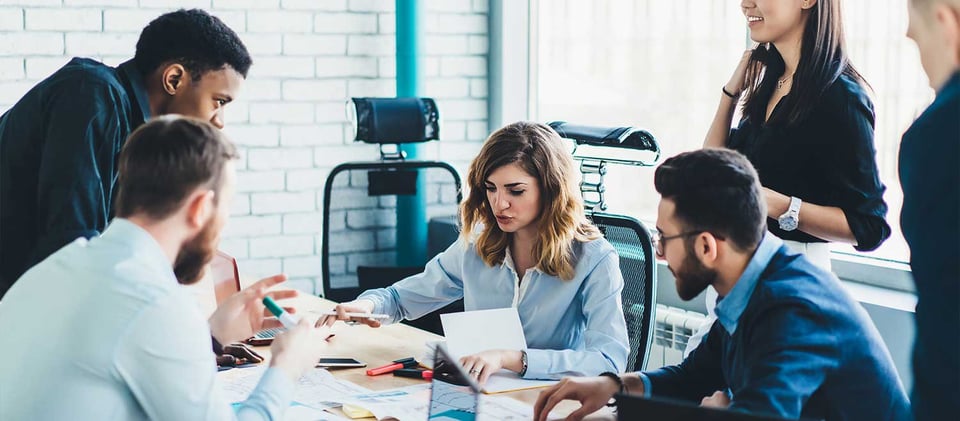 Is Employee Listening Just a New Term for Employee Surveys?
The quick answer to that question is no. But today's employee listening programs have evolved from traditional employee surveys. Of course, employee surveys will always have a place in employee listening strategies, but there is so much more to today's comprehensive listening programs.
History of Employee Listening
Employers have been interested in listening to their employees since the Industrial Revolution with the first recorded employee survey taking place in the 1920s. At that time, organizations were hoping to find workers who were hostile and unhappy with labor conditions because they were the ones most likely to sabotage the workplace or organize a strike. However, as time passed and protections such as safe, clean working conditions became commodities, the reasons for surveying employees changed too. Organizations began examining and measuring employee satisfaction, employee commitment, and eventually employee engagement, each of which are outcomes of the overall employee experience.
Nowadays, most organizations, whether five or 500,000 employees, have some type of formal or informal listening program in place to measure the state of its workforce. However, competition for talent has moved far beyond essential elements like safe working conditions or the basics of good people management. Organizations today need to understand the new (rising) bar for employee expectations, how best to reach it, and how to monitor the dynamics of its employee experience over time. That is where a robust, continuous employee listening program comes into play.
The Evolution of Employee Listening
In a recent podcast with HCI, Perceptyx CEO John Borland discussed "The Evolution of Employee Listening" and shared how employee listening programs have matured over the years in terms of tactics, strategy, and results. Here are some of the key takeaways.
There's no one-size-fits-all approach to employee listening. As John points out in the podcast, "Listening is all about asking questions about issues that are important to employees and the company, and listening well to the answers we get." Many organizations can do this efficiently through employee surveys, but the methodology, administration, and topics of the surveys must be tailored to the organization and the goals they are looking to achieve from their listening program. Effective listening programs will look different for different organizations and could include an annual census/engagement survey, follow-up pulse surveys, lifecycle surveys, crowdsourcing surveys, employee focus groups, and/or ERGs or other internal committees that are established to help with action planning and follow up.
Speed to data, and speed to action, is critical to a successful program. For many organizations, there's a growing focus on continuous listening. But that's just the first step. Organizations can't just listen – they must be able to gather employee feedback, share the results, and act on survey insights in a timely way. John discusses how this exact issue was solved for C.H. Robinson.

Prior to partnering with Perceptyx, C.H.Robinson struggled to take meaningful action on a large scale because it took nearly six months to get survey results to company executives and then down to the desk level. Perceptyx reduced that timeline to just one month, with a collaborative effort to deliver early results at just two weeks post-survey close. The company also saw increased scores in all areas for those employees whose managers quickly and actively shared the survey results. The findings proved that involving employees in the conversation, sharing results, and communicating what resulting actions will be taken in response, are key to the employee experience. As John says, "it's not just about speed to data, it's about speed to communication and, ultimately, to action."
Drivers of employee engagement and the overall employee experience are changing. Events of the past two years – the pandemic among them – have changed people's perspectives about what they want, need, and should expect from their workplace. As John noted in the podcast, "good people management is now 'a ticket to entry.' The competition for talent has moved beyond these essential elements. … Increasingly, we're seeing factors like stress management, health and well-being, inclusion and belonging, and flexibility in how and where employees work having a greater impact. We're seeing more and more companies express interest in re-examining their EVP (employee value proposition), to determine how attractive they are to job candidates. Organizations are also interested in evaluating the work-at-home experience to understand work-life balance and potential burnout issues."
Choose a survey provider that's able to support your organization's unique listening needs and business goals. The most important feature organizations should look for when choosing a survey provider is a technology and methodology flexible enough to allow them to get the data they need, as quickly as possible. Rather than a vendor pushing a specific methodology or another one-size-fits-all solution, look for one that will act as a partner in exploration. As John suggests, "your vendor should be focused on providing the insight your organization needs to meet its unique objectives – not trying to fit you into the same template or box as every other customer. At Perceptyx, … we always begin engagements by understanding the challenges the organization is currently facing, as well as the problems they are trying to solve. We want to make sure we understand their goals and objectives so that we can identify the best combination of questions and methodologies to provide them with the insights that will enable leaders to make good data-based decisions about their people."
Data is the future of employee listening and the HR function. As digital technology becomes more commonplace in HR, there's an increasing amount of useful data available to inform business decisions, and help prioritize future human capital projects and investments. However, organizations must have the resources to analyze and act on that data, making people analytics one of the most in-demand skill sets for the HR department. John notes, "we see HR in the future looking for ways to bring all of that data together in a single platform that allows them to connect the dots, draw conclusions, and then advise senior leaders on the best course of action."
Prepare for the Future with Perceptyx
Employee listening is quickly evolving to adapt to the future of work and the new factors driving the employee experience. Given the many predictions about the new and continuing challenges facing HR leaders in 2022, there's no better time to re-examine your current employee listening program and ensure that it's providing the insights your organization needs to succeed. Perceptyx has the employee listening platform and in-house expertise to create an agile, continuous listening strategy that allows organizations to stay connected to their workforce and engage employees in a collaborative, inclusive conversation that inspires action. Put your people into focus with the help of Perceptyx.