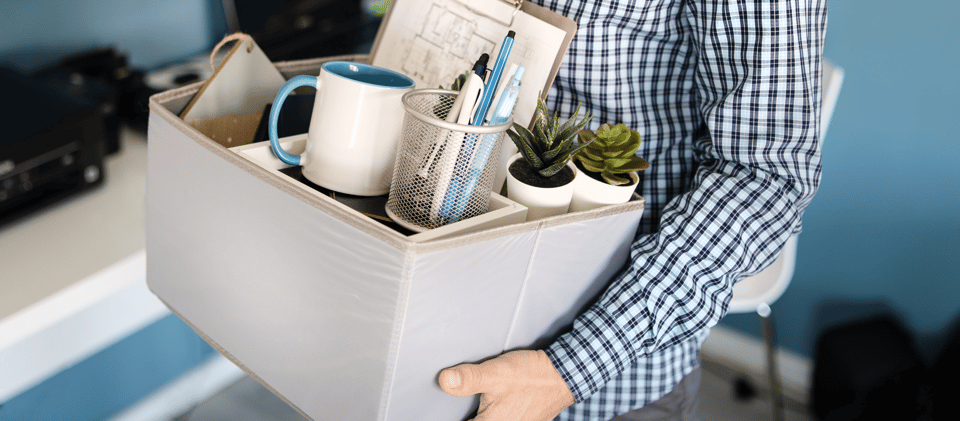 New Research Reveals Growing Layoff Anxiety and Ways to Combat It

Emily Killham
Judging from the media headlines, layoff anxiety has swept many sectors of the economy. Twitter CEO Elon Musk is running his latest acquisition with a skeleton crew after slashing thousands of jobs. Amazon and Meta also shed thousands of jobs in November. Alphabet CEO Sundar Pichai is offering no assurances regarding organizational job cuts in 2023. According to tech jobs tracking website Layoffs.fyi, more than 51,000 tech jobs were lost in November from 196 companies. The layoffs in November alone were more than a third of the total (143,000) for 2022. Other sectors also show signs of concern. AdAge reported that the ad business cut 2,500 jobs in November amidst media layoffs in other sectors. The recent "mega-merger" between US supermarket giants Kroger and Albertsons has also sparked layoff fears.
In contrast to this seemingly dire news, the monthly employment report from the Bureau of Labor Statistics shows a net increase of 263,000 jobs. That's a solid increase for the U.S. labor market, which boasts a 3.7% unemployment rate and has continued to grow steadily in recent months despite concerns about negative market fundamentals and an impending recession. According to the BLS, "notable job gains occurred in leisure and hospitality [88,000 jobs added], health care [45,000], and government [42,000]." Employment declined in retail trade as well as in transportation and warehousing.
Perceptyx Research Reveals a Workplace Experience Characterized by Layoff Anxiety
With this unsettled state of play as background, Perceptyx conducted December 2022 panel research on how these new rounds of lay-offs are affecting the employee experience, intent to stay, and overall well-being. In general, we found that 27% of employees have had some layoffs at their organization over the past six months, with half of that group experiencing a layoff themselves. Additionally, 1 in 8 employees has lost a direct supervisor to a layoff.
The larger result is an overall increase in layoff anxiety. Job loss jitters were present in more than half of the employees in nearly every subgroup studied, with the most prominent concerns among young, white-collar dads.
Open, clear communication is one strategy to mitigate layoff anxiety. One notable finding was that employees display higher levels of worry when there was speculation about layoffs versus when their organization had issued official communication about actual cuts. Ninety percent of employees who heard reduction-in-force rumors had some layoff anxiety — 8 points higher than those working in organizations that had actually executed lay-off actions, highlighting the importance of communicating not just frequently but authentically to limit rumor-mongering and the resulting anxiety.
Employers must do their best to get ahead of the worry. Almost two-thirds of the workforce is walking around in a state of anxiety, and it's accompanied by all sorts of negative behaviors, both in the workplace and at home. At home, we've seen new developments of sleep disruptions, periods of low energy, and using food or substances as a way to cope. At work, we see snapping at coworkers, increased job-seeking behaviors, and the withholding of discretionary effort.
Layoff Anxiety Is Bad for Business
Nearly twice as many employees say that recent layoff news has increased their desire to look for a new job versus decreasing it. This number jumps to nearly 3x for employees working for organizations that have had recent layoffs. Employees whose organizations haven't had any layoffs are still slightly more likely to say their job-seeking desire has increased, though 7 out of 10 say news of layoffs has had no impact on their job-searching behavior. Not all reported layoffs or furloughs resulted in long-term unemployment. Most of those employees (65%) are back at work, and among those, the majority are working for the same company that originally let them go. Those rebounds don't plan to stay with that company if they don't have to, however, as they are 5x as likely to be looking for a job elsewhere.
Employees with layoff anxiety are 50% more likely to indicate that they don't intend to be with the organization this time next year. While it makes sense when layoffs are occurring that employees will be looking elsewhere, those employees with anxiety are the ones most likely to look. Among employees with no anxiety, 62% exhibited no job-seeking behavior in the past 30 days and 2 in 3 plan to do even less in the next 60 days. Meanwhile, among those with high anxiety, 79% exhibited job-seeking behavior in the past 30 days, and more than 7 in 10 plan to increase their efforts over the next 60 days. This behavior tracks with anxiety level, with more anxious employees being more likely to seek new jobs.
Workplace relationships are also strained by anxiety and layoffs. Regardless of the proximity to the layoffs, recent news has more than 12% of employees reporting that they have been short-tempered and snapping at co-workers. This number nearly doubles (23%) for those either directly or indirectly impacted by a layoff. Nearly 3 in 5 employees in organizations where layoffs have recently occurred say it has been difficult to maintain relationships with coworkers since people were let go.
The presence of anxiety throughout an organization can also dramatically decrease the discretionary effort of employees. Anxiety makes it 1.5x more appealing for an employee to reduce their effort and cease performing activities not in their job descriptions. Those employees with high anxiety are 2x more likely to reduce their discretionary effort than employees reporting no anxiety. In other words, the more exposed an employee is to layoffs, the more appealing it will be to reduce discretionary effort and set stricter boundaries at work.
Layoff Anxiety Is Bad for Well-Being
The presence of anxiety relates to increased mental or physical exhaustion at the end of the working day. Employees experiencing layoff anxiety are 1.5x as likely to feel physically exhausted and 1.3x as likely to feel mentally exhausted. These differences double when people report high anxiety. Whether an employee has been exposed to layoffs at their own company or just heard about recent job cuts in the news, they are reporting negative effects on their well-being. 1 out of every 4 employees reports periods of anxiety, low energy, and bouts of sadness.
Unfortunately, these same employees have also had trouble maintaining healthy behaviors that may help to mitigate some of the negative effects of anxiety. Nearly 15% of all employees studied have reduced or stopped exercising and 1 in 4 has had a new onset of sleep disruption. Even employees reporting no job loss worries have engaged in negative coping behaviors such as substance abuse or overeating since news of layoffs picked up, with about half having engaged in one such behavior and 18% engaging in two or more. Those employees with even a little anxiety experience a spike in negative coping behaviors, with more than half reporting two or more negative coping behaviors and only about 15% reporting no new negative coping behaviors.
Three Strategies for Dealing with Employee Layoff Anxiety
If your organization has conducted layoffs this year, is considering them in the near term, or just attempting to maintain business in the face of tough economic news around you, what strategies can you use to mitigate the layoff anxiety of your employees?
Regularly communicate information about the health of your business. Layoff survivors who reported open communication about layoffs and furloughs were more than twice as likely to be fully engaged than those whose organizations did not communicate openly. The same was true for employees who were able to ask questions to fully understand the changes and resulting impacts to the organization. This continuous conversation with employees is equally important when layoffs aren't on your radar. Opening a dialogue creates an environment where difficult conversations are not only OK but encouraged. According to earlier Perceptyx research, employees are 2.5x as likely to be fully engaged if their workplace is a safe place to ask questions when they don't understand a decision, and twice as likely to be fully engaged if they can speak up about things with which they don't agree. Just because leaders aren't talking about it doesn't mean that employees aren't — and without official information, they are left to their (often negative) imaginations. This means that the best time to have a conversation is now — whether your organization is contemplating layoffs, struggling to find talent for open roles, or just dealing with business as usual.

Lay the foundation for employee and organizational resiliency now, not just when stress is high. If you are currently reducing the size of your workforce, it's not too late. If that's you, ensure you are not further decreasing employee well-being by overloading your layoff survivors. Of those "survivors" of recent workplace layoffs, 61% say team members are taking on increased workloads to compensate for those who were cut and the same percentage have additional worries about being able to hit their goals for the year. For organizations not currently contemplating layoffs, doing the work to support employees before they are stressed will help mitigate negative health effects when stress comes, whether in the form of a layoff or something else. Pacing work appropriately, offering flexible scheduling, and providing tools and support to help employees handle stressful situations are all keys to minimizing a harmful impact on health and well-being. Perhaps unsurprisingly, the time to build the resilience needed to cope with acute stress is ongoing and should ideally occur before the stressor. Empowering employees to make decisions about their health, being a psychologically healthy place to work, and nurturing teams that cooperate in dealing with issues or mistakes will help boost employee morale after layoffs — or other large-scale changes — and increase employees' ability to positively manage workplace stress.

Listening is critical even (and perhaps, especially) in tough times. Employees have important perceptions about their workplace experience, and not just during a planned survey period. A recent Perceptyx study of Human Resources professionals about employee listening during a possible recession drove that point home, with more than 60% indicating they would survey and formally listen to employees more during a recession rather than less. That's why it's important for organizations to have a comprehensive yet adaptable listening strategy that reaches employees in a variety of ways. However, listening alone isn't enough — organizations must also use that data for decision-making. When employees report action, they are nearly twice as likely to want to stay, want to be an advocate, and feel pride and motivation to do good work. As reaffirmed by our latest research on employee listening, organizations that listen (and act) well can see around corners and adapt rapidly to change. A mature listening strategy, supported by a world-class listening platform and people analytics expertise, allows for a rapid organizational response to important topics as they occur, without waiting for planned survey events.
Helping Employees through Layoffs and Other Organizational Changes
Unmanaged layoff anxiety takes its toll, not just on employees individually, but on the organization collectively as employees miss work, struggle with productivity, and arrive less well-rested and focused on the task at hand. Organizations that strive to create a healthy and engaged workplace when times are good — and then continue the work in a purposeful way when times are tough — will reap the benefits of greater retention and productivity. By remaining physically and emotionally fit to contribute to the workforce, their families, and their communities, the employees will also benefit.
As an experienced listening partner, Perceptyx can help your organization conduct all the meaningful conversations needed to fully and comprehensively understand the employee experience during disruptive times. To learn more about how we can help, schedule a meeting with a team member.