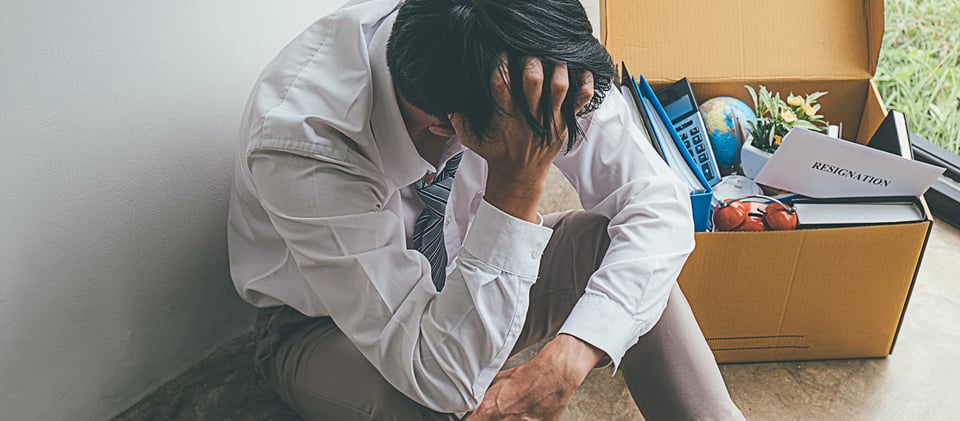 Surviving Layoffs: 3 Things Your Organization Should Do To Support Employees

Emily Killham
There are 10 million fewer people with jobs in the U.S. than there were in February before the pandemic began. Although many employees and their employers had hoped that layoffs were temporary, the stark reality is that job losses are becoming permanent across many industries. And with a surging wave of COVID-19 infections in progress, many organizations may be considering additional rounds of layoffs or furloughs in the near future.
Survivor's guilt—the feelings of guilt that occur after surviving a life-threatening or traumatic event when others did not—is a common reaction to mass layoffs or significant restructuring activities. Explaining the reasons for the layoffs or furloughs is necessary, but not sufficient for mitigating this guilt. Effective organizational communication involves not only proactive communication to employees but also being open to listening to the concerns employees have.Organizations must learn how to effectively listen to and coach employees through any large-scale change if they are to maintain the productivity of the organization and, more importantly, the health and well-being of their employees. This is particularly true in the case of layoffs.
Surviving Layoffs—The Impact Of Guilt
The experience of layoffs or furloughs during the last few months is widespread. More than four in ten of the workers interviewed were employed by an organization that had some layoffs or furloughs since the pandemic began, with almost 16% experiencing a layoff or furlough personally. While half of those employees are back at work for the company who let them go, one in five are still actively looking for employment.
There has been much study of those who have experienced a layoff, but what about those who are left behind when friends and colleagues are let go? Perceptyx set out to study the effects of layoffs on those who retained their employment by conducting a survey of more than 3,000 American adults.
We found that employees who are left behind feel less empowered to make decisions regarding their health and personal life in the wake of layoffs, likely out of concern that they might be next. In fact, employees who work in a department that had layoffs are 50% more likely to say they often worry about their job security. They are also less likely to say that the stress levels at work are manageable than those who work for an organization where no layoffs or furloughs occurred.
Perhaps the most disturbing finding is that the health and well-being of the employees left behind suffers considerably. These "survivors" are more likely to report unhealthy coping behaviors, such as binge drinking, poor behavior with family and friends, sleep issues, and lack of productivity than employees who don't have the spectre of layoffs looming over them..
The reality is that layoffs and furloughs will continue to happen, especially as the pandemic rages on and people are forced into more lockdowns and restrictions. Perceptyx research also shows that workers who are not engaged, that is, not psychologically committed to the success of the organizations, miss more work than their fully engaged counterparts. In this recent study, less engaged associates missed, on average, one more day per month than those workers who were fully engaged.
3 Strategies For Managing Layoff Survivors
So what strategies can organizations use to support and engage those employees who are left behind?
Do the work to create an open work environment now—not just when stress is high. Organizations that do the work to support employees when they are stressed will help mitigate negative health effects. Pacing work appropriately, flexible scheduling, and providing tools and support to help employees handle stressful situations are all key to minimizing harmful effects on health and well-being. Perhaps unsurprisingly, the time to build the resilience needed to cope with acute stress is ongoing, before the stressor. Empowering employees to make decisions about their health, being a psychologically healthy place to work, and nurturing teams that cooperate and work together to fix mistakes help boost employee morale after layoffs and increase survivors' ability to manage workplace stress effectively.

Clearly communicate about any workforce changes. Survivors who reported open communication about the layoffs and furloughs were more than twice as likely to be fully engaged than those whose organizations did not communicate openly. The same was true for those employees who were able to ask questions to fully understand the changes to the organization.

Listen to employees, then act. Employees have feelings about all things happening within the workplace, not just layoffs. Employees at organizations that listened to them during this time are more likely to be fully engaged than those whose organizations did not engage in any formal survey process. In addition, those whose employers acted on those surveys were nearly twice as likely to be fully engaged.
Unmanaged workplace stress takes its toll, not just on employees individually, but on the organization collectively as employees miss work, struggle with productivity, and arrive less well-rested and focused on the task at hand. Organizations that strive to create a healthy and engaged workplace when times are good—and then continue the work in a purposeful way when times are tough—will reap the benefits of greater retention and productivity, and employees who are physically and emotionally fit to contribute to the workforce and to their communities.