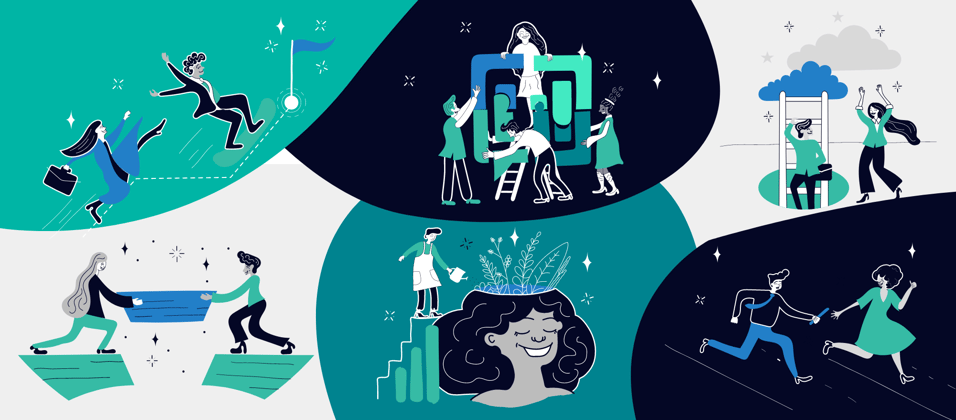 The Value of Our Refreshed Values
My first day at Perceptyx in October 2021 started like most first days: IT orientation, a one-on-one with my people leader, meet-and-greets with colleagues, a call about a re-examination of our company values… wait. Was that not how your first day wrapped up?
In that final call on my first day, I learned the resounding feedback from our 2020 annual survey was that our values needed a refresh to reflect our fast-growing business, as well as address the ever-evolving needs of our people. After two acquisitions in the summer of 2021, we had even more perspectives on what our values should look like to authentically represent us. In the months prior to my arrival, the company had conducted focus groups and fielded additional surveys to gather feedback. I was now presented with six nearly finished themes and descriptions the organization had collectively drafted.
From Day One, I've had the honor of helping to shape our updated company values alongside the cross-functional internal team, the Values Visionaries, who are charged with keeping our values at the heart of everything we do at Perceptyx.
This inspired team:
Planned the big reveal celebration and after party "office hours" for our people to share their excitement, as well as any trepidations around our new values.
Provided resources to facilitate conversations about the values, including FAQs and conversation prompts about which value would be most challenging to embody and who amongst our teams is championing a specific value really well so we had someone to emulate.
Hosted live sessions where people leaders could share what each value meant to them and how they would model the values for their teams.
Launched an internal values book club where teams could come together and discuss literature written by experts that aligns holistically to each value and opens us up to transformative changes we could make internally.
Created LinkedIn banners, Zoom backgrounds, custom Slack emojis, and company swag branded with our beautiful illustrations to encourage employees to proudly display their support for these new values.
Following our internal launch celebration, we also updated our internal recognition program with our updated values. The response was immediate with employees posting timely and relevant examples of how their colleagues had already demonstrated these values that were not wholly brand new, but evolved, focused, and refined versions of our original core values. On an ongoing basis, we connect our values to company initiatives in our emails, town halls, and Slack posts to help demonstrate "why" and "how" we do what we do.
Values are a living, breathing, and evolving foundation that are stretched and challenged as we reach new company milestones, onboard new colleagues, and set new goals. The Values Visionaries meet weekly to discuss new opportunities to keep our values top of mind. We took a moment recently to relish how the organization has breathed life into these values. In the midst of celebrating the one-year anniversary of our Values Refresh and actively playing a month-long game of Values Bingo, where we are challenging our people to reconsider how they show up to work each day with a board full of values-driven tasks and actions. We couldn't help but highlight the favorite ways that our colleagues have embraced these values.
We Succeed Together: You know the saying, "It takes a village"? This value is all about encouraging one another, holding each other accountable, and working together toward a common goal – all while being empathetic, kind, and respectful. We know we win when we collaborate and maintain our humility by seeking feedback on how we can improve. Our recent launch of Cultivate Intelligent Coaching – our new AI-powered leadership development offering – was a massive undertaking and touched every part of our company. From using it ourselves and sharing our recommendations and observations, to building and testing, creating content and hosting a webinar announcing the launch, to educating our customers on how this will help their organizations thrive, we couldn't have celebrated together without branching out from the comfort of our own teams and collaborating cross-departmentally first.
We Are Strengthened By Our Differences: The importance of DEIB and psychological safety has been making headlines for a while now, and we show our commitment by elevating this value. Everyone deserves an inclusive and equitable employee experience, so we are working to remove any barriers by reinvigorating the All-In Committee, our internal team dedicated to maintaining a workplace culture where everyone can bring their authentic selves to work and feel psychologically safe, with a new strategy and focused sub-committees. This summer, we implemented capabilities enabling our employees to select their gender identity, pronouns, sexual orientation, and disability status in our systems so everyone can feel represented at Perceptyx starting on day one of their onboarding experience. Once onboard, employees may choose to view subtitles during live events and absorb information in a text-based or visual format because we strive to provide multiple options, understanding everyone learns differently.
We Care About The Whole Person: This is the value I personally want to shout about from the rooftops and lead prospective employees right to Perceptyx. This value reminds us there is more to life than work and being kind and respectful of the boundaries set by others goes a long way. This year, we changed our internal approach to ensure our employees and their families can receive covered medical services, despite increasing complexities and challenges based on location. We elevated the importance of physical well-being through our fitness reimbursement program and support mental health through free Calm memberships and a monthly seminar dedicated to wellness. When you get an unprompted Slack message from a colleague asking how you're really doing, it's because of this value. If you were looking for a company who cares about you as a human being first and not just the work you do, Perceptyx is it.
We Act With Purpose And Urgency: This value doesn't just prompt us to be proactive and efficient, but it encourages us to be deliberate in where we invest our time and energy so we can evolve and thrive. The perfect example? Our acquisitions of Waggl and Cultivate. We embraced these opportunities to expand our product portfolio and offer new, innovative listening channels to our customers. Perceptyx identified a gap in the employee experience market: how to move from asking employees for feedback on workplace challenges to engaging employees in a two-way conversation of co-creating and prioritizing the most impactful solutions to those challenges through crowdsourcing. We know that people leaders are critical to the employee experience and have a sizable impact on engagement, future career development, and intent to stay, so we went one step further. We acquired Cultivate to help people leaders meet the demands of their employees by offering support and development driven by AI, personalized for each individual leader, and delivered in the flow of work. Doesn't this comprehensive listening strategy align perfectly to our mission to enable people and organizations to thrive?
We Challenge The Limits: Have you read our recent research that reveals future career growth is twice as likely to cause a job change than compensation or benefits? Staggering, I know! We place an emphasis on lifelong learning at the core of this value. Within the past year, Perceptyx launched Wellness & Professional Development Wednesdays once per month. This 60-minute session includes 30 minutes dedicated to overall well-being and 30 minutes focused on skill and competency building. Past sessions have linked nutrition and stress management, provided tips for optimal heart health, and instructed us how to identify our "energy zones," manage up, and assume an empowerment mindset – all of which have pushed the boundaries of our own minds. We know that stepping out of our comfort zones betters our company, products, customer experience, and employee experience.
We Are Passionate About Customer Outcomes: We truly find joy when our customers achieve their goals and their employees are thriving. We made a major shift in how our organization is structured earlier this year to meet the evolving and different needs of our customers. Our people became more focused and deliberate, streamlining our areas of expertise so we could enable, advise, and lead customers through new workplace challenges. We don't just arm our customers with data and insights – we help them act upon this information. With added transparency internally, our teams know who to go to for specific needs at any given moment in the customer journey – ensuring a better experience for all of our unique customers.
What have we learned over the past year?
Change is inevitable to remain vital, relevant, and responsive to the needs of your people. It is an opportunity to learn, grow, collaborate, and evolve together.
Communicating values isn't the end of the journey - it's just the beginning. Values must align to actionable behaviors that are expected and rewarded.
We can't just listen - we must listen, act upon what we heard, and reflect on how things are going to be successful in our efforts.
The end result is important, but how you get there and who you get to celebrate with at the finish line are the fun parts.
Interested in joining our values-driven organization? Check out our open positions and apply today!