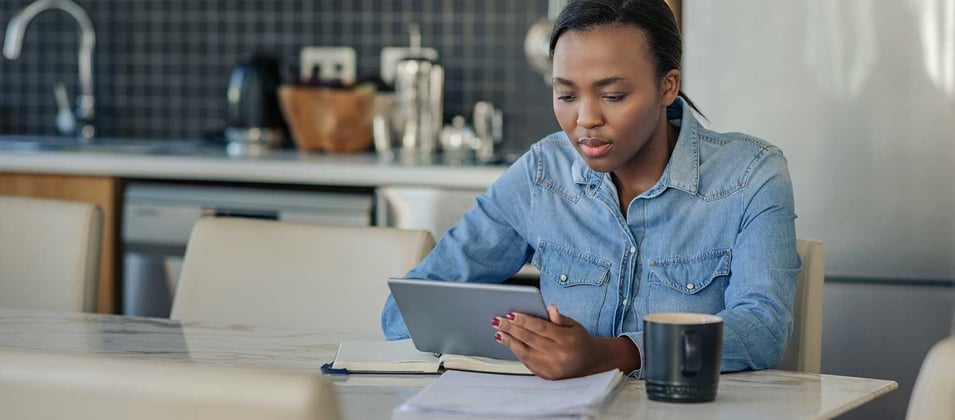 The "Whole Person" Return To The Office: Shifting Workplace Norms & Boundaries

"Am I working from home, or living at work?"
This sentiment, voiced by a client recently on a videoconference, is shared by many in the working world these days. Truly, our lives in 2020 have turned out to be far from what we expected, even as the new calendar year began to unfold not so long ago.
>The COVID-19 pandemic has reshaped much about the way employees interact, work, and think about their employers. The distinction between our work and personal lives has become blurred as we gained a Zoom window into the lives of our co-workers. Compartmentalizing our lives has never been easy. But in the age of a pandemic, personal stressors that could once be "checked at the door" and the decompression mindset that began at home after a long day no longer have those nice compartments to be tucked into. It's hard to find balance when there are no boundaries.
One truth has become clear over the past several months: When it comes to the world of work, there is no going back to the way we were before. The question remains, will we use this as an opportunity to make work better? As we define the next normal, can we create a workplace that makes space for the whole person?
Embracing the whole person requires us to get comfortable with issues and topics that have long been considered off-limits at work. While managers and organizations used to shy away from difficult and uncomfortable topics such as mental health, family responsibilities, social justice, and politics; now, acknowledging and providing assistance for them is critical to both productivity and personal health.
As norms around these topics evolve, there is a new opportunity for leaders and organizations to embrace the discomfort and strive to create a more human work experience. This comes with plenty of risk if handled inappropriately, but bringing these topics out into the open also has the potential to change things for the better.
Mental Health & Well-being
The stress, uncertainty, fear, and isolation associated with the COVID-19 pandemic have taken a toll on the mental health and overall well-being of the workforce. Research by the CDC shows that over 40% of U.S. adults reported experiencing mental health issues associated with COVID-19. Staying home has limited the family and social connections important for coping with those challenges, making work connections even more critical. Employees who bring anxiety, depression, stress, and exhaustion with them to work may require support, not only for the employee's well-being, but also for their professional productivity and success. Perceptyx research shows that employees who feel they work in a psychologically and emotionally healthy workplace were more than three and a half times as likely to be highly engaged. Psychological health in the workplace is no longer something leaders can afford to ignore.
Historically, employees worried about the stigma associated with mental health issues—and the potentially negative impact those issues could have on their careers—have avoided discussing such matters at work. The shame associated with the subject can create a barrier, preventing managers from providing the support employees need. Bringing this topic into the open is critical to normalizing it. When leaders model and encourage vulnerability, it gives employees permission to ask for the support they need and use the resources made available by the company. Corporate wellness programs to address these evolving challenges are critical to addressing these needs. Managers who have regular communication and connections with employees are a valuable link to supporting mental health and well-being during a time when other social supports may be limited. These are sensitive topics that must be handled with care, making it critical that managers are equipped with appropriate guidance and support.
Caregiving
Remote learning, daycare closures, and quarantines have also presented new challenges for parents and caregivers to overcome during their work day. Lack of childcare has become a key barrier to productivity and effectiveness for many, as they struggle to balance the demands of both work and family. One Perceptyx study showed that 54% of parents indicated their productivity was affected to at least a moderate degree by children learning at home. This added pressure and stress puts women at even greater risk for burnout and attrition. One-third of women surveyed said they would have to make a change to their work arrangement within the next six months, and 23% say they are already looking for a new job with different or fewer hours.
One size does not fit all when it comes to supporting caregivers. Research has shown that prescribed, organization-wide initiatives have limited effectiveness for retention. Female caregivers need empowerment to establish their own flexible work arrangement—a factor that does impact intent to stay. Feeling safe to speak up without fear of negative consequences and having open communication with managers about difficult issues also impacted intent to stay for parents more generally. In order for managers to provide the necessary individualized support and flexibility, it's critical they talk to the parents on their team and understand the unique challenges they are facing. To effectively address the issue, it has to be discussed without judgement or consequence. Parents need to feel comfortable raising their concerns and asking for the support they need.
Social Justice & Diversity
The unrest associated with racial inequity and social injustice in our country has left organizational leaders grappling with how to address those issues within the workplace. Diversity and inclusion have long been a well-established priority and regular topic of conversation for many leaders, however, today those conversations are taking on new meaning. There are evolving expectations about how involved an organization should be in social issues, and many are choosing to make public statements. Organizations are looking for deeper insights into the experience of employees from marginalized groups, and for new ways to contribute to broader social justice and racial equity issues.
These are complex topics that can be difficult for managers to effectively discuss with their teams. That doesn't mean we can avoid them. A survey by Perceptyx showed 40% of employees have witnessed racism at work, and nearly 20% indicate they have experienced it themselves. This is not a strictly social or community issue, it is happening in the workplace as well. In response to the racism witnessed by those employees, 15% did not take any action, and the most common reason was fear of negative consequences. Leaders often talk about how much the organization values diversity, but employees are still afraid to address it. Espousing its value may be an easy first step, but it is much more difficult to speak up and hold each other accountable for living that value. Establishing accountability starts by first acknowledging the issue, and then supporting managers in having meaningful discussions.
Politics
There are few things more divisive than American politics in 2020. The conversations can be difficult to avoid, and the topics bring highly emotional and polarizing perspectives. A recent Perceptyx survey found that almost 7 out of 10 employees have discussed politics with a coworker in the past year, and more than 4 out of 10 say they've had a disagreement over politics with a coworker. This highlights the prevalence of these divisive conversations, and reinforces the risk of talking politics at work. Of those surveyed, 53% felt that discussing politics at work would negatively impact their career, and 42% reported they had looked for a new job because of differing political beliefs with their colleagues. This can put diversity and inclusion efforts at risk as employees divide themselves along party lines.
It's clear that politics is not a topic that belongs at the conference room table, but there is a potential benefit for organizations that empower employees to vote. Perceptyx research shows that employees who work for organizations that encourage them to participate in voting were almost 1.5 times more likely to recommend the company they work for. In addition, companies that encourage employees to vote (though not for a specific candidate) have a higher percentage (90%) of employees who intend to do so compared to companies that don't offer that kind of support (72%). This is a powerful way for leaders to reinforce that they care about having a broader societal impact and empowering employees to make a difference.
People are complex. They arrive at work as whole people, with concerns about health and well-being, family obligations, connection with community, stress due to social unrest, and political opinions. Workplace dialogue on each of these issues has traditionally been avoided or discouraged. But times are changing. Expectations, experiences, priorities, and needs are shifting—some quite quickly. Now is the time to reevaluate which topics and issues should be addressed at work. This is an opportunity to recreate a work experience that is more inclusive and more human. As we define new workplace norms, we can make room for not only the employee, but for the whole person.