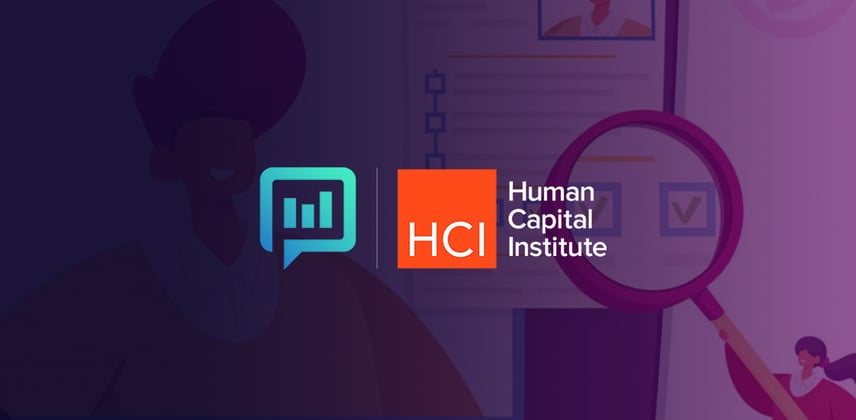 Webinar Recap: The 15 Essential Practices for Employee Experience
The labor market is hot right now … for employees. Unemployment rates are inching closer to pre-pandemic levels while open positions are increasing. As such, companies are struggling to find employees to fill their open roles. So, what can organizations do to not only attract talent but ensure they remain engaged and productive—whatever the future holds—and that they stay for the long-term?
In our recent webinar, "The 15 Essential Practices for Employee Experience" hosted with HCI, Kathi Enderes, vice president of research for The Josh Bersin Company, and Brett M. Wells, PhD, director of people analytics for Perceptyx discussed why employee experience (EX) matters now, the specific practices that lead to becoming an "irresistible organization," and the role that employee listening and people analytics can play in a successful EX strategy.
Becoming an Irresistible Organization
As noted in the webinar, the employee experience has become a hot-button issue for companies. Unfortunately, at the same time, there's a lot of inconsistency when it comes to defining what makes a company desirable, as seen in the discrepancy amongst popular "Best Places to Work" lists. Of the four lists compared for the webinar, only six companies showed up on all of them, accounting for just 0.5%.
To help companies better determine how they can improve their employee experience and become an irresistible organization, The Josh Bersin Company conducted extensive research and determined a framework for EX. In the resulting report, The Definite Guide: Employee Experience, the company further explored the drivers of EX and found that what employees value today goes beyond compensation or benefits to include "softer" factors such as culture, belonging, and a sense that employees care for one another.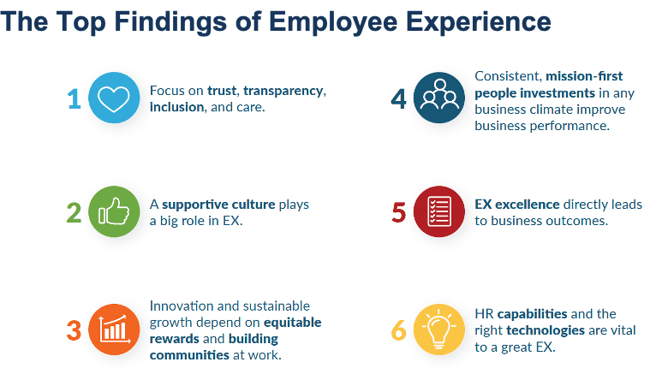 However, knowing what constitutes a great EX is only the tip of the iceberg. To truly become an irresistible organization, your company must also engage in specific practices to develop, mature, and sustain its approach.
The 15 Differentiating Practices of EX
Each of the 15 practices ties directly into the EX framework, and many focus on trust in the organization. As the research indicates, if your company can successfully accomplish this list of 15 practices, ordered by the level of impact it has on EX, everything else falls into place.
Foster a culture of integrity and helping others
Embed mission and purpose in every activity
Inspire trust in leaders to be ethical and operate with integrity
Clearly communicate the mission and vision
Enable open, transparent, and honest leadership communication
Use fair and equitable rewards and recognition programs
Prioritize investment in people even when business is not good
Stand up for what's right, even if it's not popular
Encourage people to continuously develop regardless of role
Support communities at work and a sense of belonging
Managers help people tie their contribution to the mission
Operate under a people-first approach
See diversity, equity, and inclusion as a business priority
Use a clear, values-based management philosophy and model
Encourage employees to bring their authentic selves to work
The Path to Improving Your Company's EX
If your company is not currently succeeding at the 15 practices noted above, there are things you can do now to get there. Step 1? As shared during the webinar, the strongest predictors of employee experience are listening to employees and then acting on that feedback.
By implementing an employee listening and people analytics program, your company can ask the right questions to the right people at the right time. But your annual census survey is no longer sufficient. 80% of companies surveyed are now augmenting their once-a-year census surveys with episodic lifecycle, pulse, multi-rater, and dialogue surveys to provide additional data. To be most effective, results must then be shared with leaders in a timely fashion so that required actions can be taken quickly and efficiently, and shared with employees to reinforce that their feedback was heard and valued.
The Benefits of EX
While the obvious outcome of a great employee experience is happy employees, a great EX, supported by continuous employee listening, also leads to good business outcomes. The research indicates that companies with great EX are also more likely to perform well financially, innovate more, and have higher rates of customer satisfaction.
To learn more about the research findings, and the employee survey best practices that can help leaders improve both EX and business impact, listen to the full session on-demand.