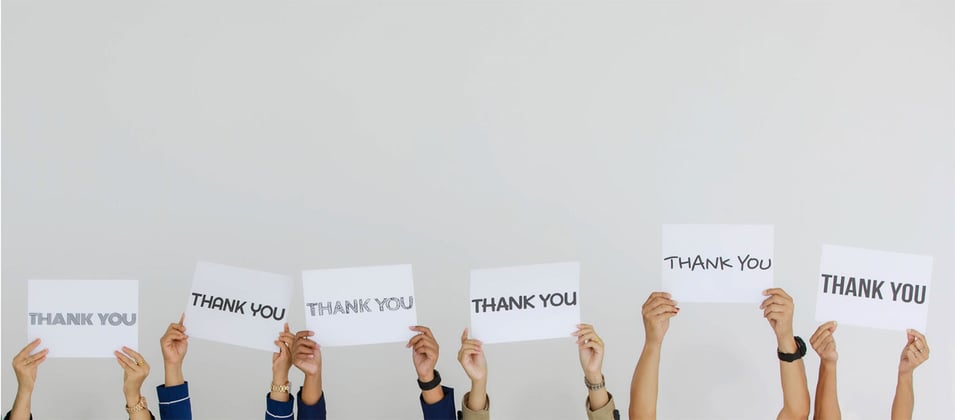 Why I'm Thankful for Your Partnership

As Thanksgiving approaches, it's the appropriate time to count your blessings — especially after nearly three years of ceaseless change, challenges, and disruption throughout the economy.
In my case, as a Principal Consultant here at Perceptyx, I want to give thanks for something near and dear to my heart: how my customers have made me part of their listening strategy, allowing me to help elevate the voices of all the people in their organizations.
I also want to give thanks and a word of appreciation to everyone working in the listening and people space. Everyone who is a steward or caretaker of the employee experience. Everyone whose job is to keep the workplace people-centered as well as productive and profitable. This is a lot of people; our 2022 State of Employee Listening report found that 94% of all organizations surveyed were doing some amount of formal listening to their employees.
Listening to Everyone
The work we do is important. It's important because it affects everyone. Like it or not, most of our lives are spent at work — and we can't afford to spend those years dreading or regretting our time there. Our own research has shown that mature listening programs can help overcome specific problems facing an organization, such as talent recruitment and attrition. When fully implemented, they can also help deliver world-class outcomes related to financial performance, innovation, workforce retention, customer satisfaction and retention, and change management.
Remember, every organization is just a collection of people. While there, we are each other's keeper. When I think about this responsibility, the word "ubuntu" comes to mind. This is a Nguni Bantu term meaning "humanity," which can sometimes also be translated as "I am because you are" or "humanity towards others." In a philosophical sense, it refers to the belief in a universal bond of sharing that connects all humanity. Ubuntu expands on the truth of a concept like "it takes a village to raise a child" and expands it to the even more universal truth that helping each other makes the world a better place.
Making the Workplace a Better Place
We have seen customers on their own, struggling with a lack of support or people but still trying to improve the employee experience. All they might have is the unshakable core belief that it's important to elevate the voices of their people, knowing that even incremental improvements will make life better for someone in the workplace. Our recent special report The Factors Driving Employee Experience Now: Quiet Quitting Edition has highlighted the three critical factors that employees are looking for in organizations today — people management best practices, a compelling vision for the future, and a healthy workplace climate — that can be assessed and understood through employee listening.
Listening conducted through surveys and other channels, like polls and elections in the political space, will highlight the issues that employees care about. For example, during the pandemic, surveys showed that much of what employees wanted could be directly addressed by their organizations — like providing ergonomically designed chairs to ease the actual wear and tear associated with working from home in spaces not optimized for work.
This successful work has inspired organizations to keep listening for ways to improve, modernize, and integrate well-being efforts in the workplace. The social justice challenges of the past two years have motivated leaders to continue listening to and acting on the concerns of historically marginalized and underrepresented groups.
As a consultant here at Perceptyx, I am grateful to hear stories from the customers on projects with us — whose arms are clasped around the feedback tube and are thus closest to the EX — about how they have found themselves in critical situations in which they can bring forward the voices and experiences they have captured through listening. This might consist of being brought into an executive-level meeting to share or represent minority experiences in situations where those groups may not have had a clear voice in the organization or a platform in front of leadership. These situations, backed by the power of listening data, can lead to radical changes in processes and policies, hiring practices, culture transformations, and more.
Lifting the Voices of Our Customers
A sampling from our extensive library of case studies shows how our most strategic and mature customers have used listening to empower their people:
Partnering to Lift the Voices of Others
Stories like these highlight the power of listening with speed and at scale. I'm so thankful that my role with Perceptyx has enabled me to partner with my "super hero" counterparts at our customers' organizations. I use "super hero" here because, by working together, we are able to apply superhuman strength to the heaviest lift of all: elevating the voices of our people.
To learn how Perceptyx can help you lift all voices, schedule a meeting with a member of our team.