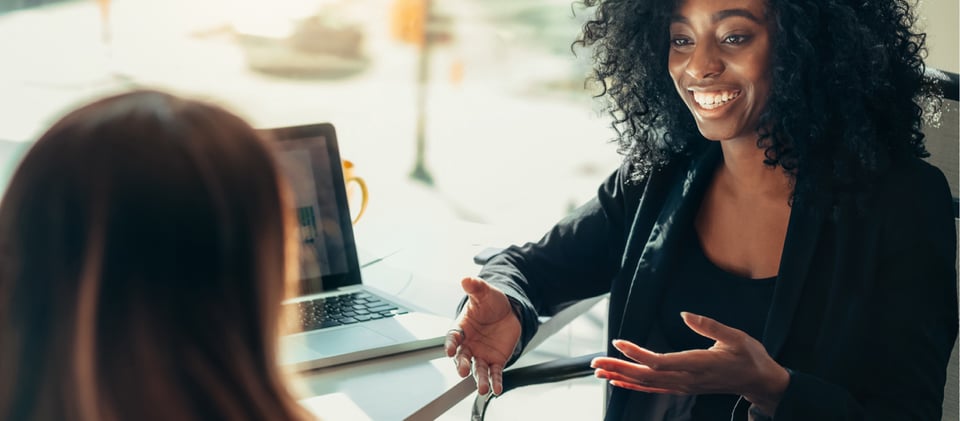 5 Considerations for a Successful Employee Listening Strategy

Organizations are listening more now than ever, with many trying to move up the listening maturity curve to develop strategies that:
Incorporate multiple listening channels,
Empower swift action planning,
Adapt to ever-changing workplace dynamics, and
Utilize listening data to help drive business outcomes.
The ultimate goal is to achieve the most mature strategy, where organizations are engaging in continuous conversations at scale.
While having good intentions is important, many organizations fail to adequately plan and establish their listening objectives before implementing them. Below are five key considerations on which organizations should align, regardless of whether they are at the beginning of their listening journey (e.g., running their first annual engagement survey), or are designing a fully integrated strategy (e.g., connecting insights across multiple listening channels).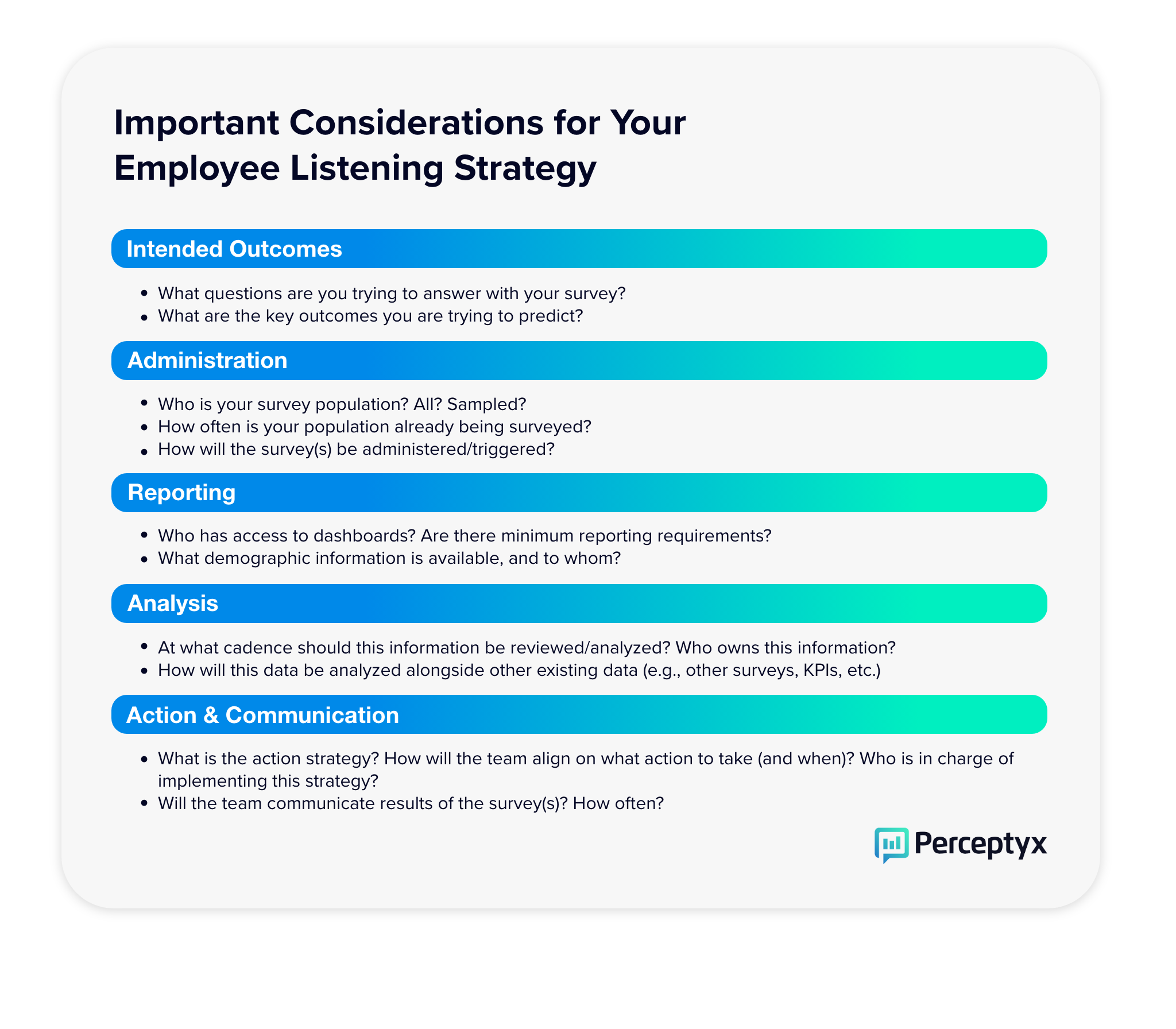 Consideration #1 — Intended Outcomes
Before designing your program, start with the end in mind. Organizations should ask themselves, "What questions or problems are we trying to answer/solve?" as well as "What key outcomes are we trying to achieve?" Depending on how robust the program is, these questions could be answered through stakeholder interviews, employee focus groups, or prior analysis and results. It is only through a true understanding of the problem that we can then proactively design a strategy, items, and analysis plan to accurately measure, understand, and ultimately improve the employee experience.
Consideration #2 — Administration
Once organizations understand the intended outcomes and align on which questions to ask, they can move on to the administration portion of the design. They should consider who to target in the population. When just kicking off a listening strategy, the "who" may be the entire population through a census engagement survey. Even then, however, it's important to understand if there are any exceptions — e.g., contractors, temporary employees, interns — and then make sure this is communicated before or at the beginning of implementation.
For more mature organizations moving towards strategic and continuous strategies, there are likely multiple surveys and methods for targeting different groups at different times. For instance, lifecycle (e.g., candidate, onboarding, exit) and pulse (e.g., benefits satisfaction, DEI) surveys, or other methods (e.g., crowdsourcing, 360 feedback) may be administered throughout the year to understand and improve "Moments that Matter" more holistically.
When this occurs, organizations need to determine who needs to be included in the sample. Is it all new hires? A representative sample of individual contributors? Senior leaders only? As organizations develop the strategy, it's also important to understand how often these various populations are asked to participate in other listening events. When possible, create a rule of thumb that a given individual cannot be targeted more than a handful of times within a certain period. The best organizations will track this information over time, which helps to measure whether response rates are affected by more listening. (Spoiler alert: if you act on your results, response rates won't be affected!)
Another important factor to consider is the method and timing for initiating surveys. For event-driven or sampled surveys, it is beneficial for organizations to establish clear guidelines for generating survey groups and administering surveys at specific intervals. This approach reduces the potential for manual mistakes and allows for more effective strategizing throughout the year.
Consideration #3 — Reporting
The third consideration is reporting. It is critical to get the right data into the right hands at the right time. Organizations should determine the parameters for reporting well ahead of implementation and communicate timing and expectations to key stakeholders. For an annual engagement survey, this strategy is relatively simple — determine minimum reporting thresholds (i.e., how many responses does a stakeholder need in order to view their aggregate results), create permissions around what data and filters are accessible, and align on when results are available. While managers may be able to see their own team's results, oftentimes their filters will be limited, whereas HR teams may have access to all data, including sensitive demographics (e.g., sex and ethnicity). With other surveys and listening events, having a clear reporting strategy is critical, as it will lay out the business case for who can see what data, and why.
Finally, when it comes to reporting, organizations need to determine the most effective way to present their data. Many survey tools offer built-in dashboards that enable user-friendly filtering, diverse reporting formats (such as charts and graphs), and analytical features. Alternatively, data can be exported from the survey platform and integrated with internal tools like PowerBI or analyzed using programming languages such as SAS or R for creating standard reports, like PowerPoint presentations. Identifying the preferences of your target audience and their data consumption habits will help guide the development of an appropriate reporting strategy.
Consideration #4 — Analysis
As mentioned earlier, beginning with a clear end goal is essential when creating a listening program. In addition to establishing a robust reporting strategy, organizations should also develop a comprehensive analysis plan to uncover insights from individual and collective listening events and link them to business outcomes. It is crucial to determine how the data will be prepared and analyzed, who is responsible for this process, and its frequency. For example, with always-on surveys, consider how often the data will be examined. Evaluate which analytical methods are most appropriate for addressing your specific questions and whether you have the necessary data (including survey items, frequency, demographics, and business metrics) to carry out the analysis. By understanding these factors from the outset, you can ensure that your program's design and analysis drive meaningful improvements and progress.
Consideration #5 — Action and Communication
Researchers and practitioners consistently suggest that it's not necessarily survey fatigue, but rather a lack of action that causes employees to stop participating in a listening program. Organizations continue to see empowerment and involvement as key opportunity areas and engagement drivers in their surveys. The single most important action a stakeholder can take is having a feedback discussion to share and then capture more input from those invited to participate.

Employees not only want to feel they can speak up but also need to know they are being listened to and that organizations will act on their feedback. To be successful here, organizations must consider action and communication as part of their listening strategy. This cannot be an afterthought — these elements must be carefully planned, and expectations must be managed.
Key questions to align on here include:
What is the action strategy? How will this be communicated to key stakeholders and the general population?
How will the team determine what action to take, and when? If action cannot be taken, what, if anything, is the process for sharing that decision?
Who owns actioning? Managers, functions (e.g., DEI), HR teams, a combination?

What resources (HR business partner, documentation, help desk) are available to support stakeholders throughout the report-analysis-action process?

How, and how often, will results and actions be communicated to the larger employee population?
The more frequently and transparently we can connect changes, decisions, and communications to employee feedback, the more trust and credibility an organization will build. Organizations where employees are empowered to share feedback — and where employees know they are being heard — will be more innovative, more inclusive, and more engaged.
Perceptyx Can Help You Develop a World-Class Listening Strategy
Though the factors mentioned above may seem straightforward, achieving alignment requires effective project and stakeholder management. As organizations progress in their listening journeys, these considerations become increasingly complex. Implementing a strategy without a clear understanding of roles, responsibilities, timing, and deliverables may lead to unsuccessful outcomes, even with the best intentions.
Recognizing the significance of developing a successful listening strategy, an experienced partner like Perceptyx can provide invaluable support. Our team of experts will help you navigate the complexities of crafting an optimal listening strategy tailored to your organization's unique needs.

To better understand your organization's current level of listening maturity, take our free interactive maturity model assessment. If you're ready to discuss your needs further, schedule a meeting with a member of our team.