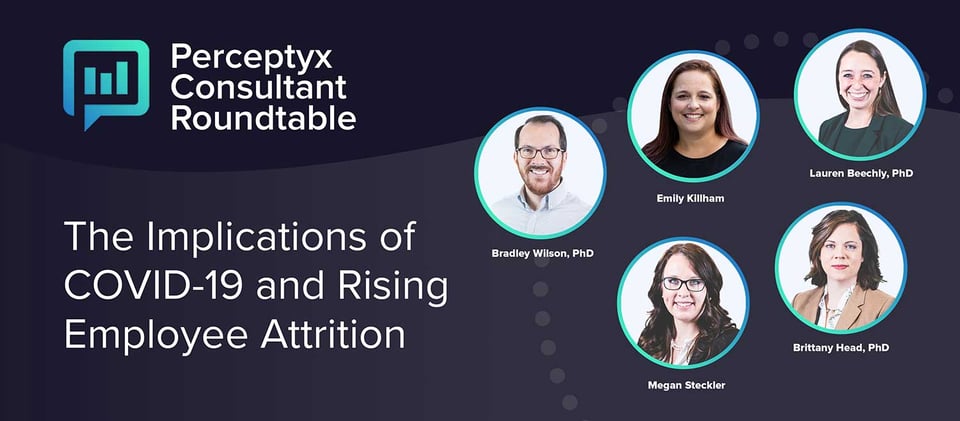 Perceptyx Consultant Roundtable: The Lasting Impact of COVID-19 & The Link to Employee Attrition
Nearly two years in and COVID-19 is still dominating headlines and the agenda of people leaders everywhere. Add to that physical and psychological safety issues, changes in employee engagement, vaccine mandates, and well-being concerns, and we're left with rising attrition rates and a lot of questions.
In Part 2 of our Consultant Roundtable series, we asked our colleagues (Director of Research and Insights Emily Killham, Directors of Client Consulting Lauren Beechly and Megan Steckler, Director of Consulting Excellence Bradley Wilson, and Senior Consultant Brittany Head) to share their perspective on the cascading effects of the pandemic. (Check out Part 1 discussing employee engagement trends here.)
Safety, Stress and Science Questions: Our Top 5 Takeaways
1. In the wake of COVID-19, people are rethinking their priorities, including their views on where, when, and how work gets done. Since the pandemic, many people have become more focused on their overall health, including mental health and well-being, and work-life balance, and we're seeing this manifested in employee survey results across the board. As Brad points out, "in 2020, … a lot of organizations focused on meeting basic employee needs in the midst of a pandemic. So, a lot of organizations did add COVID-19 specific questions, one of those being that 'the organization prioritizes my health and well-being.' But now, late in the pandemic, that question has really decoupled from the other COVID-19 questions. It's often showing up as a driver of engagement."
2. Organizations are still trying to define a new model for work: In-office, remote, or hybrid? When non-essential workplaces shut their office doors in March 2020, no one really knew what to expect. Sadly, two years later, many organizations are still struggling with how to bring employees safely back to the office, and frustrations are running high. That frustration is also resulting in declining employee engagement numbers. As Megan notes, "All of a sudden, there's kind of a heavy fatigue that folks are feeling. We're going on two years of dealing with COVID, and many organizations have kind of fumbled through return-to-office plans as they've had to adjust plans as new variants and risks emerged."
3. Employees who interact directly with the public are feeling less safe at work. While mental health and well-being is increasing as a driver of engagement, we're also seeing new urgency around factors of psychological and physical safety, especially for those who work with the general public. Going forward, organizations must prove to employees that they care about all facets of safety, and that they are both able and willing to provide the necessary resources and equipment to ensure front-line workers feel secure.
4. Managers, and especially women leaders, are more stressed than ever, caught between supporting the needs of the business and the needs of their team members. Employees often take cues from their managers when it comes to feelings about the organization, their work, and its purpose. As many managers became physically removed from their employees and were forced to work virtually, we saw an increasing focus on building connection and relationships within teams. This led to improving scores for items like "my manager treats me with respect," "my manager supports my development," and "my manager involves me in decisions that affect my job." However, we're also seeing those same middle managers struggle with stress and workload.
Beyond the stress and well-being component of managing individuals during a pandemic, managers are often placing themselves between the employee and the organization, which could account for the rising scores in some areas, but it could also have a negative impact on how employees view the organization as a whole. As Brad describes it, it could create an "us versus them mentality." He notes that "organizations also owe it to managers to make sure that they're being supported in a way that if they see things, if they know things, if they have ideas, that those are met with at least an openness," because if they don't, it could cause employees to eventually leave.
5. Vaccine mandates are confusing, concerning, and controversial. Many of our customers are still determining how to deal with federal, state, or their own company's vaccine mandates, as well as how to communicate their decisions to employees. While vaccines can be a divisive issue, our consultants aren't seeing mandates result in higher voluntary attrition – at least not yet. Brittany points out that her clients were pleasantly surprised with employees' response to vaccine mandates and adds that communication plays a large role in how employees' react.
While Brad points out that voluntary attrition rates didn't correlate directly to mandates, he did see perceptions around change management and trust and confidence in senior leadership take a hit, which makes him wonder if people are feeling betrayed by employers making healthcare-related decisions for employees.
Additionally, there is now some confusion about what it actually means to be fully vaccinated, so how will that impact mandates going forward? Do you need a booster to be considered fully vaccinated? Will you have to get a booster every year going forward to maintain immunity? What about medical or religious exemptions? Is it all too much for employees and employers to manage? These are questions we'll all be facing in the coming months, so how do we respond? Lauren advises that it all comes down to communication.
Stay Tuned for the 3rd Installment…
The conversation is not over yet! More insights from our Perceptyx Consultant Roundtable are on the way, including upcoming blogs and videos covering employee survey strategy and tactics and the rising mandates for greater action on issues of diversity, equity, inclusion, and belonging. Subscribe to our blog now to get the latest installment direct to your inbox.