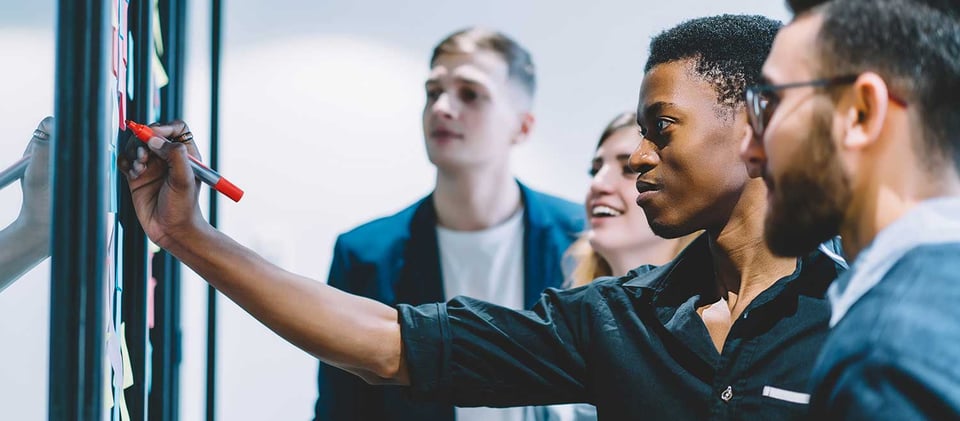 Introducing the Perceptyx Consultant Roundtable: Our View on the Biggest Employee Engagement Trends of 2021
With the continuing pandemic, the Great Resignation, return-to-work and hybrid schedules, and more, there's no denying that 2021 was another challenging year for both employees and leaders at all levels. To recap our own lessons learned, we sat down with a few of our senior consultants to discuss the biggest employee experience (EX) trends emerging from our work with large enterprises across the globe in 2021, as well as some thoughts on what we can expect to see continuing in 2022. A recap of that conversation is the first installment of our new Consultant Roundtable series.
Top Employee Experience Trends of 2021
In our first consultant roundtable, Director of Research and Insights Emily Killham moderated a conversation that included Directors of Consulting Lauren Beechly and Megan Steckler, Director of Consulting Excellence Bradley Wilson, and Senior Consultant Brittany Head. To kick-off, Emily asked the team about the biggest factors impacting the employee experience as seen in the consultants' work with our customers and through our research.
We saw declines in employee engagement scores across most industries and job roles. As Megan noted, this is a drastic change from what occurred in 2020. As the pandemic started to set in, scores increased as people were initially happy with how their companies responded. But now, nearly two years into dealing with the pandemic, organizations are struggling with return-to-office or hybrid scheduling plans as well as keeping employees happy and informed as they work remotely.

"So, in 2021…the bubble burst for a lot of organizations, and we've consistently seen declines in engagement across most industries, across most job roles," Megan said. "Some organizations have flattened out from the 2020 spike in engagement scores but haven't yet fallen to below pre-pandemic levels. In other cases, particularly in healthcare, scores have declined more dramatically and dipped even further below where they were in 2019. So, despite that spike in engagement scores in 2020, in 2021, we really saw a decline in engagement overall."

Additionally, employees are feeling burnt out and less connected to their organizations and co-workers. They don't have the same desire to stay with their employer long term, or even if they intend to stay personally, they don't feel it's worth recommending their companies as a great place to work to others. With the Great Resignation still looming, Brittany pointed out that it will be important for organizations to look at these indices to predict who will stay and who will go, as well as to understand what your company can do to keep your most highly valued performers.

One approach to better understand your employees and what they need now from your organization includes applying the Perceptyx Persona-Based model. Check out our recent report to understand the 4 persona types and how their behavior is impacting your EX and your brand.


Drivers of engagement are changing, and organizations need a better way to measure and interpret those drivers. To truly understand what is motivating employees and impacting their experience in the workplace, organizations need to drill down and see the correlation between engagement drivers and behaviors.

Because of the pandemic, higher levels of stress and burnout, financial worries, and other personal situations, well-being is increasingly becoming a driver of employee engagement. Brad notes that "(well-being) is showing up as a differentiator between those who do intend to stay and those who do not, but when we look at what's highly correlated with perceptions around organizations prioritizing health and well-being, it's less about supporting remote work or communicating about the organization's response to COVID. And instead, now we're looking at things like work-life balance, we're looking at things like I'm able to balance or manage the stress. We're looking at the availability of resources. Those are things that are more highly correlated, and they're more central to the kind of the normal employee experience."

Additionally, organizations need to better understand these drivers of engagement. As Brad states, "it's clear to me how organizations measure engagement is important. So, if they're just using eNPS, you may have a good measure. You may be able to look at differences across the organization. You can look at change over time. You can identify drivers, but you can't get that level of detail around the constructs that make up the idea of engagement with pride, referral, behavior, intent to stay, and intrinsic motivation."


Healthcare is really suffering. It's suffering from employee burnout, increased stress and bigger workloads caused by continued surges and inadequate staffing levels, decreased employee trust in the organization, and even declining public sentiment toward healthcare. Needless to say, it has been a very difficult year for healthcare workers, and they need to know their organizations are listening to them and acting in their best interest. Unfortunately, scores across the board for all engagement drivers and perceptions of safety are declining.



"In terms of the question about how engagement is different or similar across industries, we would say healthcare is likely one of the biggest hit and biggest impacted by the COVID pandemic," Lauren said. "Specifically, in healthcare, we saw that rise in engagement very early on in 2020. We were proud, we were heroes in the community, and since, not only has it declined, but for most healthcare organizations, we are seeing it plummet and fall below pre-pandemic levels. When we look at other data points, we can see in terms of the employee experience, the workload, the stress, the staffing levels are high concerns. And we're also seeing safety perceptions decline. … We're seeing a lack of consistency in terms of focusing on safety…and uncertainty as to whether safety is still top of mind for organizations."

Teamwork within groups, including relationships with managers, improved. Even while engagement scores drop, organizations are seeing scores increase for managerial relationships as well as departmental collaboration. This is particularly interesting because working remotely didn't negatively impact these areas and actually seemed to have helped teams work better together or at least improve communication. Managers seemed to become more engaged with their employees and fostered more personal conversations and check-ins as a result of the pandemic.

"One of the consistent improvements that I've seen is teamwork within the group, but teamwork across groups is weaker," Brad noted about his work with clients. "There was some organizational network analysis research that came out about a year ago saying when people shifted to remote, the collaboration within groups actually increased based on what they were able to measure. But the collaboration across departments took a hit."

However, Brittany pointed out that some organizations that really took the time to improve communications and transparency from the top down have created a culture of collaboration that does track across departments.

"We worked on some research in late (2020) with Josh Bersin in terms of being agile and adaptive to extreme circumstances, and collaboration across departments was one of the main indicators of whether that was going to be effective or not," Brittany noted. "And so, organizations who have ridden that wave to the top about senior leadership visibility and really reinforcing that message are seeing huge payoffs in these bolder areas where they couldn't make that kind of movement before. So, I think there's still time for organizations to buckle down and take advantage of that."

View the full video to watch the Perceptyx team discuss these trends in more detail.
More to come…
Stay tuned for more blogs and video excerpts from our Consultant Roundtable series coming soon. Upcoming topics include attrition, COVID-19, and the Great Resignation; employee survey strategy and tactics; the importance of well-being; and diversity, equity, inclusion, and belonging and its impact on organizations.