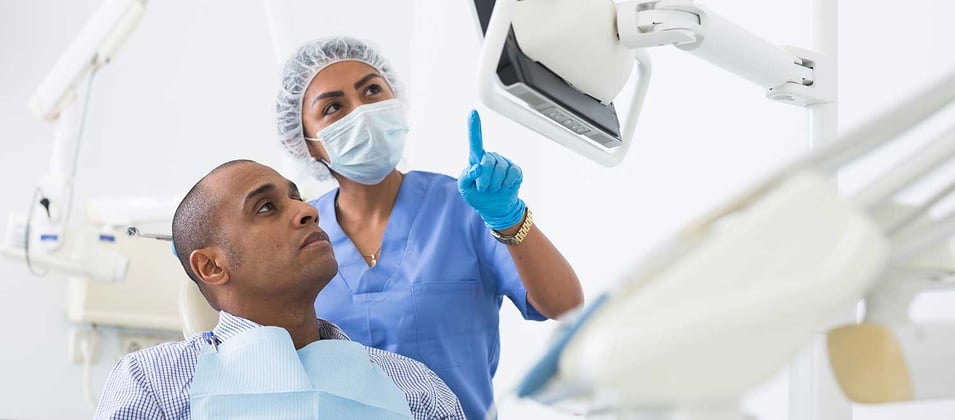 Healthcare Employee Engagement: 4 Key Strategies

Healthcare is in the midst of an ongoing employee engagement crisis. Recently, the U.S. Department of Health and Human Services announced $103 million in grant funding to promote resilience and reduce burnout, but funding alone cannot address the core problems: Workloads continue to rise, and healthcare workers continue to encounter unprecedented conditions due to the COVID-19 pandemic.
As a result of these issues, current trends in employee engagement in healthcare are largely negative. High turnover rates are the most obvious indicator: By 2030, the World Health Organization estimates a shortfall of more than 10 million nurses.
And while many talented workers have remained at their jobs, high levels of stress can affect their ability to work collaboratively and give the extra effort needed to perform at high levels; patient outcomes suffer as a result. How can leaders find opportunities for improvement – and remove some of the barriers that prevent engagement?
Promote Healthcare Employee Engagement Through Effective Listening
The goal of an effective listening strategy is to create a two-way conversation between healthcare employees and leaders. Your staff is ready to take an active role in finding barriers and presenting solutions, and by listening to their feedback throughout their employment, you can build a strategy that highlights proactive opportunities for improvement.
One challenge an effective listening strategy can help organizations solve is how to increase employees' motivations, commitment and advocacy by identifying the factors that drive engagement at scale. Perceptyx operates a healthcare database of more than 1.36 million healthcare staff across 1,600 facilities. We examined differences in perceptions between highly engaged employees – people who are proud, motivated, and committed advocates – and employees who demonstrated lower levels of engagement. Our objective was to identify the biggest gaps in their employee experiences.
Rather than focus exclusively on barriers to engagement, we reviewed the data to find out what healthcare organizations are doing correctly. While practices vary across healthcare systems, our data show common themes among successful organizations. Below are four of the most important factors identified through our healthcare employee engagement survey methodology. Also included are sample items from Perceptyx surveys that are especially relevant when measuring healthcare employee engagement; next to each item is its ranking as a driver of engagement in healthcare based on our research study.
4 Employee Engagement Factors to Watch
1. Employees feel their contributions and ideas are valued.
Feeling valued is the most important differentiator between healthcare staff who are engaged or not:
"I feel valued as an employee of the company." (Rank #1)
In our research, 85% of highly engaged employees feel valued, compared to only 29% of other respondents. The response to this question can effectively show whether an employee is willing to go above and beyond for their work and whether they're likely to stay with the organization.
Crucially, this was also the most consistent driver of engagement prior to the pandemic – and it remains critically important for identifying a key barrier to engagement today.
Related survey items can provide additional insight regarding how to improve an employee's sense of value within the organization. For example, engaged healthcare staff are more likely to believe their voices and contributions are valued by the organization:
"I believe feedback from this survey will be used to make improvements." (Rank #4)
"I am appropriately involved in decisions that affect my work." (Rank #8)
"When I do an excellent job, my accomplishments are recognized." (Rank #14)
Front-line workers have ideas to improve patient care and safety and to improve workplace practices that affect their experience. They're experts in how work gets done, and they want to be heard. If your organization does not provide them with resources to communicate their ideas and concerns, you're missing an opportunity to draw upon their expertise.
Management must seek out, listen to, and act upon employee suggestions to demonstrate that ideas are valued. Listening at scale allows us to understand broad opportunities, and individual employees' qualitative feedback helps to identify specific opportunities within a team.
Beyond valuing opinions by listening and acting upon employee feedback, it is equally important to show contributions are valued. Especially as workload and stress continue to rise due to staffing shortages, patient incivility, or other factors, employees need frequent, specific, and authentic recognition to affirm their hard work is appreciated.
The power of recognition on engagement is further evident by a recent Perceptyx study analyzing employee experience data for a healthcare system with nearly 20,000 employees. Receiving just five "thank yous" annually from one's manager increased the likelihood of being highly engaged by 4% and reduced turnover by 1%, conservatively saving this customer $3.5 million annually in turnover costs.
Sample Employee Engagement Survey Questions
I intend to stay with the company for at least the next 12 months.
I would recommend the company as a great place to work.
I am proud to work for the company.
My work gives me a feeling of personal accomplishment.
When asking employees for feedback, be prepared to take actions to improve.
Action planning is a fundamental component of a strong listening strategy. If you ask a question, you need to be prepared to act.
Leaders must explicitly communicate how actions are based on employee feedback. Include updates in regular huddles, and take action to nurture (and recognize) resilience. Remember, the current healthcare work climate is exhausting and unrelenting – people are working harder now, and they rightfully expect that their hard work will be acknowledged.
Effective listening drives business outcomes, and the benefits of a strong strategy are immediate and substantial. One of our clients, an academic medical center, utilized Dialogue, a Perceptyx healthcare listening platform, to crowdsource and implement improvement ideas. Follow-up surveys showed an 18% increase in trust in leadership and a 15% increase in engagement.
2. The workplace climate prioritizes equity, inclusion, and belonging.
In healthcare, teamwork is crucial; employees want to feel they can be themselves at work and that they're part of something bigger than themselves. In short, they want to know that they matter and belong.
Organizations may not immediately recognize barriers to equity, inclusion, and belonging. Engagement surveys and other methods of employee listening attempt to hone in on these issues by addressing them directly and providing a scalable way for organizations to identify how these perceptions may differ across the healthcare system. For instance:
"I feel like I really belong at our company." (Rank #2)
Belonging has received renewed focus during the last two years. More than four times as many healthcare organizations measured belonging perceptions since 2020 began compared to the previous three years combined. Although more organizations are assessing perceptions of belongingness, feelings of belonging have consistently differentiated the experiences between highly engaged and all other employees, both before 2020 and today.
The importance of feeling a sense of belonging on engagement (and retention) is clear. Currently, 92% of highly engaged healthcare workers feel a sense of belonging, as compared to only 36% of less-engaged workers. The question becomes what actions can the organization take to improve a sense of belonging and engagement, and the data reveal the importance of building a workplace climate that emphasizes respect, cooperation, openness, and fairness.
For example, other survey items measuring an equitable, inclusive climate that impact engagement include:
"People at our company trust and respect each other." (Rank #6)
"There is effective cooperation across departments." (Rank #10)
"Our company's employees practice open, honest, and direct communication." (Rank #11)
"All employees, regardless of their differences, are treated fairly." (Rank #12)
These questions are important because a psychologically safe culture requires open, honest, and direct communication. The work of Amy Edmondson, Novartis Professor of Leadership and Management at Harvard Business School, demonstrates the link between patient outcomes and feelings of psychological safety (which encompasses belonging, equity, and inclusion). Through dozens of studies and systematic reviews, Edmondson has shown that high-performing teams cultivate an interpersonal climate in which every employee feels capable of communicating and speaking up when they notice opportunities for improvement.
To facilitate this climate, employers must treat employees fairly, regardless of differences in rank, department, or other factors. In addition to listening, employers should look for ways to act:
Foster a sense of belonging and inclusion by modeling respect, keeping commitments, and creating a safe space for employees to speak up without fear of retaliation.
Hold all employees accountable for respectful, inclusive behavior.
Promote cross-team collaboration through improving understanding of others' roles.
Encourage respectful and responsive communication.
Identify and align common goals.
Share information openly and transparently.
3. Employees have a bright vision of the future.
While COVID-19 has upended day-to-day work in healthcare, we need to look past the challenges of today. Our research shows just anticipating a successful future for one's self boosts engagement – employees are working hard, and they need to know their hard work will pay off. They also need clear, effective communication explaining how the organization will continue to compete effectively. Employees want to be part of a winning organization and see opportunities to achieve their own ideas of success..
One especially relevant survey item is:
"Senior management communicates a clear vision for the future." (Rank #3)
This question is crucial for measuring healthcare employee engagement in our current climate. During the pandemic, increased leader communication has been critical, but our data revealed that many healthcare organizations have already reverted back to pre-pandemic communication methods, halting the increased frequency, authenticity, and transparency of senior leader communications seen early in the pandemic.
Other organizations have struggled with balancing the right amount of information from senior leaders. Qualitative data from our analysis shows this trend with shocking clarity. In some cases, employees arrived at the workplace an hour before their shifts began to "catch up" on the information that they needed to do their jobs. This type of hardship is avoidable – streamlining communication into more digestible "bites" of information enables employees to stay engaged and informed about the most important topics.

Besides anticipating a successful future for the organization, highly engaged employees are also more likely to anticipate successful futures for themselves to grow with the healthcare system as evident by these other key differentiators in experience:
"There are career opportunities for me at the company." (Rank #7)
"My manager supports my skill and career development." (Rank #13)
Employers should acknowledge that career goals differ greatly. Some employees are motivated by vertical advancement, but advancement isn't always possible or necessary. Ultimately, employees want to be part of a winning team. They want to achieve success, and while they define their career goals in different ways, the employer should demonstrate that their goals are achievable.
Effective ways to foster excitement and to help employees anticipate both organizational and individual success include:
Communicate business decisions – along with the reasons for those decisions – frequently and succinctly. Use multiple channels to ensure the message is heard.
Provide leaders with the resources to have meaningful career discussions that identify opportunities beyond vertical advancement. Stretch assignments, mentoring, and other accommodations can help employees understand they're valued members of the team.
Publicize clear advancement processes. Celebrate internal promotions to showcase career mobility and help employees understand how others advanced into new roles
4. Employees feel your organization cares about their health and well-being.
Unsurprisingly, healthcare workers are more likely to demonstrate high levels of engagement if they believe their employer cares about their well-being. A relevant item from our survey is:
"This organization cares about my health and well-being." (Rank #5)
80% of highly engaged employees gave a positive response to this question, as compared with 33% of less-engaged employees. In an earlier Perceptyx healthcare employee engagement survey, this item ranked seventh, indicating that it mattered even prior to the pandemic.
Current high burnout rates are the direct result of the exhaustion and stress healthcare workers experience during difficult times. As I wrote in an earlier article about promoting employee mental health, organizations should normalize discussions about mental health – and train leaders to take an empathetic approach.
Traveling staff, when deployed with guardrails to reduce potential staff resentment, is another strategy that can improve staff to patient ratios and provide extra resources for employees to be able to take much needed time off. Some organizations have even redistributed administrative tasks to other roles or community health works to ensure nurses are operating at top of license.
Research finds that supportive managers who actively care about employees' well-being – and empower employees to make decisions regarding their well-being – are a key differentiator for engagement.
Gather your own organization's data with Perceptyx healthcare employee engagement surveys.
Most healthcare leaders understand the importance of employee engagement, but creating a positive employee experience that promotes high engagement requires proactive involvement. To understand how to increase employee engagement in healthcare, you need a listening strategy that gives workers a voice.
Building that strategy is an iterative process, not a point-in-time project. Generating actionable data requires doing three things:
Create a survey strategy that aligns with your organization's listening goals. Lifecycle surveys, crowdsource insights, and always-on listening can be enormously helpful methodologies for collecting the right information, at the right time, from the right people to have the people data you need to make evidence-based decisions.
Foster a psychologically safe culture where employees feel comfortable providing both positive and negative feedback.
Act on opportunities raised through employees' feedback and involve employees in co-creating actions to continuously improve their work experience.
The right approach to employee listening can support a healthcare organization through ordinary and tumultuous times. If you're looking for ways to reduce turnover, improve engagement, and facilitate better patient outcomes, the Perceptyx platform can help. Learn more by scheduling a demo.