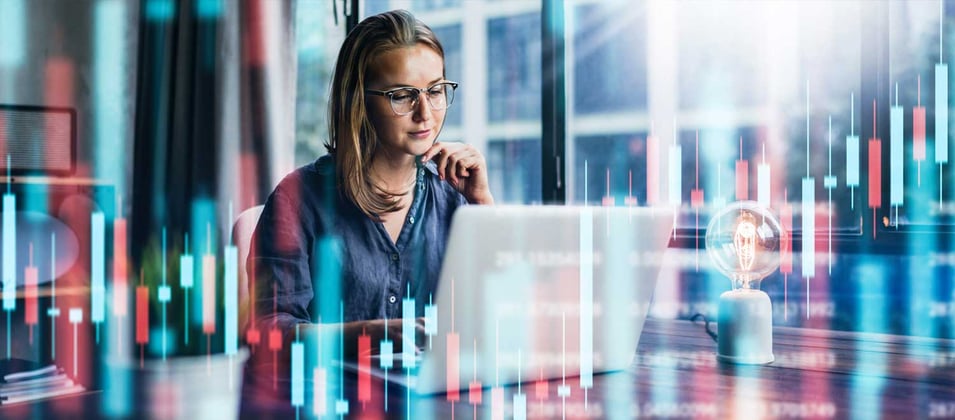 Data Analytics: The Foundation of HR Capability Building

The world of work is changing. This is not just something new that appeared when the pandemic began. Companies were already starting to understand that job roles must evolve to keep up with technology as it continued to exponentially advance and as data became more abundant. Employees were also taking notice. They started looking for updated resources, training opportunities, increased flexibility, and work-from-home scenarios. Then along came COVID-19 to hit the fast-forward button.
At the center of ever-changing communications, policy updates, staff shortages, safety concerns, and hiring frenzies are those serving in human resources (HR) roles. But this is also not new. HR professionals have found themselves in the midst of crisis time and time again. It's part of the gig. The ability to quickly adapt and anticipate downstream effects of internal and external factors that impact a company and its employees is learned experientially as part of the role. This will never go away.
What is going away, or at the very least significantly diminishing, are the many tactical tasks attached to recruiting, onboarding, performance management, tracking attendance, and other process-related HR tasks. Companies are replacing purely administrative duties by simplifying processes or investing in digital tools such as recruiting applications or human capital management (HCM) software to help them do so.
Why Upskilling Helps Organizations and HR Professionals
This streamlining of HR operations allows employees and leaders to be more self-sufficient – likely a transferrable behavior for anyone who is an online consumer today. Platforms are intuitive and machine learning continues to evolve. Expectations of leaders are also shifting as autonomy increases around the distribution of rewards, for example, and system usage is tracked.
So, where does this leave HR professionals who previously managed processes that are now, or soon will be, automated? How are companies preparing these valuable employees to step into strategic roles requiring new and different capabilities? In the same vein, new requirements accelerated by the pandemic led to HR teams scrambling to meet the needs of their employees and navigating the Great Resignation. How are companies capturing those competencies that came into play during these last two years of disruption and what employee experience trends will shape this year?
The time is now to upskill HR professionals around employee value proposition, resourcing, engagement, conscious inclusion, employee development, and more. And there is one capability that is foundational to perform these HR functions and others at the highest level of quality and efficiency – the ability to analyze data.
As self-service and new ways of working take hold, organizations will rely more and more heavily on data gathered from HR information/HCM systems, employee engagement surveys, pulse surveys, and employee lifecycle surveys to maximize their human capital investments. It will be imperative for HR leaders and team members to understand the connection data has on business outcomes and the employee experience. They will be expected to know what the data is telling them and how to use it to proactively determine the best processes for improving the employee experience as well as to influence policies and decisions in the best interest of the company.
At Perceptyx, we help our clients build this fundamental capability through our Analytics to Action Workshops. These sessions provide HR professionals with best practices for interpreting survey data, turning insights into action, and communicating findings. Our analytics team equips attendees with the ability to deep dive into data and extract information with their business context in mind. The workshop serves to increase confidence in understanding and analyzing people data – a competency that transfers when pulling in data from other sources besides a survey. HR leaders can also learn how to disseminate the information gleaned from data and how to teach analytical skills to other members of their teams.
The Benefits of Data Analytics HR Capability Building
Having the ability to not only expertly gather data but to also understand it and extrapolate reasons behind it has many benefits for an organization. Without data, policies can be reactionary and implemented to the detriment of certain populations. By using data to inform decision-making, policies are made proactively and based on facts – making it easier to get buy-in from all levels of the organization.
The benefits don't stop at better data-based decisions. Data analytics also helps organizations track key performance indicators.
Attrition rates/employee churn: By analyzing lifecycle or exit survey data, HR leaders can determine indicators of attrition and better predict when employees may leave as well as determine why employees are leaving. It can help identify areas that need improvement and potentially help lower attrition rates in the future.
Employee engagement: Through an effective employee listening program, data will identify drivers of and barriers to employee engagement. An organization will then be able to improve action planning by removing barriers and focusing on the metrics that encourage engagement, resulting in increased productivity and better business outcomes.
Leadership success/performance management: Data can help determine how well leaders are managing their teams as well as how well teams and individual employees are performing. Companies can tap into the behaviors of leaders with engaged and productive teams as well as those who may need to improve to inform leader development programs. By looking at trends by team or department, companies can better understand what management success looks like and how to reward for those characteristics. Additionally, data can identify who is living by the company values, exceeding in their roles, and are likely to be interested in growth opportunities.
For more information on people analytics and how Perceptyx can help train your team to build analytical skills, contact us today.