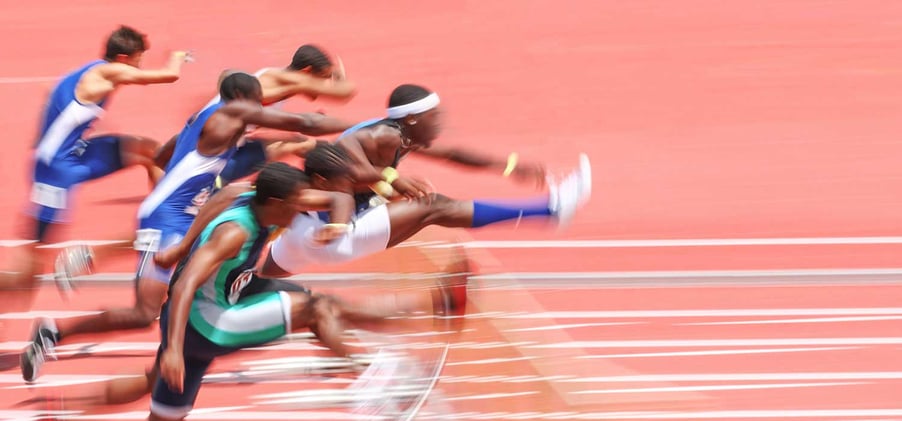 6 Common Barriers To Employee Success & How To Remove Them
One of the most useful aspects of an engagement survey is that it highlights the barriers to success. Recently, Perceptyx conducted its global investigation into the state of engagement and found six common barriers to engagement. In this article, we'll focus on these six types of barriers in the workplace and how to remove them so that employees, teams and organizations can flourish and see the way forward to greater business success.
Learn how employee surveys and the right listening program can be the engine of your HR analytics strategy with our free guide, The Continuous Listening Guide.
Barriers To Success: The Six Themes
What are barriers to success? According to the research, the six themes outlined below are examples of organizational barriers that explain the biggest differences between those who are engaged vs. those who are not.
Recognition and reward:

Not feeling valued is the number one barrier to success in the workplace.

(Tweet this!) When employees' contributions are not recognized or rewarded, it negatively impacts engagement, motivation, performance, and productivity. With COVID-19 bringing rapid change to work settings and routines, many employees are being asked to do more, and employees working remotely are often struggling to balance work and caregiving responsibilities. Failure to acknowledge the additional stresses facing employees or to give recognition for extra effort can be demotivating–especially when work demands are high.
Recognition and Reward Pro Tip:
Oftentimes it is the little things that can make the biggest difference. Showing appreciation for a job well done with sincerity can have a major impact on employee engagement and motivation. Formal systems to promote peer to peer recognition are also great ways to promote a culture of recognition.
Growth and development: This generation has a higher level of career flexibility and growth opportunities than ever before. Individuals can grow in the role and become specialists, take a sideways step into a new function, or even return to school to learn a totally new field. Furthermore, with companies facing pressure to remain competitive and take on new frontiers, this naturally means that employees need to pick up the latest and greatest skills to meet the demands of the role. As such, it is no wonder that lack of growth and development opportunities is one of the biggest potential barriers to individual engagement and later success at work.
Growth and Development Pro Tip:
It is incumbent upon organizations to make sure they have internal processes to accommodate employee growth and development. Think about career structures; surveys can show where there are growth and development bottlenecks. Define what career development means to the business and how to align it with business strategy, and develop talent according to skills you need.
Continuous improvement and innovation: When individuals and teams perceive a lackluster approach to innovation and continuous improvement, it is a major barrier to future success. In the face of a desire for change and improvement, unnecessary bureaucracy, lack of resources, risk aversion, and a culture of blame can not only stifle engagement—it can also erode company profits and performance.
Continuous Improvement and Innovation Pro Tip:
Barriers to innovation in the workplace can only be overcome by creating a culture of continuous innovation and improvement.
Communication: Lack of open and honest communication is a critical barrier of engagement and success. Whether it is working within the team or across multiple departments, the research consistently shows that communication barriers can lead to frustration and disarray.
Communication Pro Tip:
Communication in the form of open and honest dialogue may require breaking the mold of the corporate hierarchy to keep the conversation going. It is a key responsibility of leadership and management to continually be asking employees what can be done differently (and better)—and to be open to challenge.
Collaboration and teamwork: Harnessing the diverse skills and knowledge of employees across the organization is a critical opportunity. There is no doubt that terms like "agile" and "rapid teaming" are becoming more prevalent as organizations search for new ways to empower workers to cross hierarchical boundaries and solve novel problems. Traditional organizations risk getting left behind if they are not rethinking how work gets done, and it is no wonder that this presents as an important barrier to success if not addressed.
Collaboration and Teamwork Pro Tip:
Consider the culture, systems, and processes in place to support bringing employees together rapidly to solve problems. There can be a number of barriers to optimal teamwork, and a survey is one way to understand hotspots and factors that are getting in the way of success.
Empowerment: Empowerment is one of the most critical factors that enable people and teams to reach their desired level of success. Employees who do not feel empowered to make decisions and take ownership of their role are less engaged. Those who believe they don't matter because they are rarely if ever recognized, are given no opportunity for growth, are not heard, and are pigeonholed according to their place in the hierarchy, are likely to leave the business. Empowerment helps employees see the way forward to realizing success in the organization.
Empowerment Pro Tip:
There are a number of things that you can do to better empower your employees. Certainly, the points above regarding stronger growth and development opportunities, improved collaboration and teamwork, stronger innovation and continuous improvement, and importantly, improved approaches to reward and recognition, will yield dividends for creating a culture that empowers employees to reach their desired level of success.

Removing these barriers to success will result in employee empowerment, which is synonymous with engagement—and success for both employees and the organization.
Want to remove barriers to success in your organization?
At Perceptyx, helping companies identify the barriers to employee success is our mission. With custom surveys paired to our people analytics platform and expertise in all aspects of survey design, strategy, and communication, we can help you increase employee engagement and boost productivity. Get in touch and let us show you how.