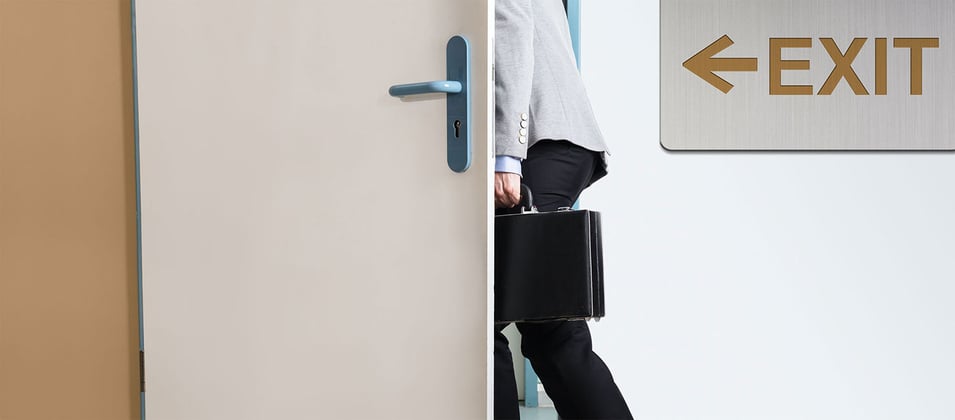 How to Embrace Organizational Change While Retaining Top Talent

Change is inevitable, significant loss of talent along the way is not.
As organizations navigate the post-pandemic workplace and "Great Resignation," loss of organizational knowledge and talent might feel inevitable. However, there are important steps that leaders can take to ensure their people and organization thrive. In this article, I'd like to explore ten strategies to help maximize employee retention.
Build the anticipation of success. Clearly defining what success looks like for the customer, the business, and the individual, then actively identifying and eliminating the things getting in the way of success is central to fostering an engaging and sticky employee experience. If success is poorly defined, or only addresses one kind of success – for example, the success of the business – while ignoring the other two, it can make retaining top talent a struggle.

Align your brand and employee experience. In their new book Culture Built My Brand, Mark Miller and Ted Vaughn stress the importance of infusing the brand promise within the internal culture. If employees experience a disconnect, it can create a misalignment of experiences and expectation, driving great employees (and even candidates) away.

Identify and track key people operation metrics. We manage what we measure, and if an organization lacks reliable and timely access to metrics like engagement or eNPS, attrition risk, and performance, leaders are left flying blind – especially in remote work situations where it can be more difficult to keep a pulse on culture, engagement, and morale. Perceptyx's platform and products help organizations do more than measure perceptions. They also equip organizations to predict behaviors like attrition and identify targeted actions that minimize negative outcomes.

Maintain trust. Consistency, communication, and care for people are three pillars of trust. Many leaders rose to the challenge early in the pandemic but over time, many employees lost that sense of trust for various reasons. According to Miller and Vaughn, at its core, trust in leadership comes down to the question, "Do I believe my leaders understand me and want the best for me?"

Develop targeted retention strategies. Every organization operates with limited resources. While organizations can work to encourage retention at a macro level, there is also value in identifying critical talent and focusing on ensuring they remain committed and engaged.

Leverage employee feedback. By providing opportunities for colleagues to provide feedback, and more importantly acting on that feedback, the organization can give employees a stronger sense of agency and belief that they are active participants in organizational change efforts. This can be done through pulse surveys, dialogue crowdsourcing, or stay interviews. The critical step is incorporating the feedback received and helping people connect the dots between what the organization learns and what it does.

Remember your remote colleagues. Especially as in-person work resumes, be intentional in how you engage with remote colleagues. Fostering a sense of identity and belonging for remote colleagues takes additional work, but organizations need to avoid the "out of sight, out of mind" mentality that can harm remote colleagues.

Acknowledge external pressures. Just as a message of "it's the Great Resignation, there's nothing we can do" doesn't instill confidence, painting an overly rosy picture of the current challenges can make leaders appear out of touch at best and in denial at worst. We can acknowledge pressures from things like record-high inflation and the anxiety many have become accustomed to during the pandemic without squarely placing blame on those factors or abdicating our responsibilities as leaders to foster a highly engaging employee experience.

Model desired behaviors. Cultures of "do as I say, not as I do" create additional anxiety for employees and encourage internal conflict. Authentic leadership connects leaders' messages and their actions for greater impact on the organization.

Double down on the vision. Plans will change, but the vision needs to remain the same. If anyone has been on a boat in rough seas, they've probably heard that looking at the horizon helps with seasickness. The same is true for organizations. During seasons of change, it is especially important that leaders remain committed to the vision and purpose of the organization. This helps create a sense of stability during change and speeds decision-making when everyone is clear on the non-negotiables within the organization.
External factors undoubtedly influence employee engagement and retention. However, if leaders buy into the idea that significant employee attrition is inevitable and beyond their control, it can cause them to anticipate losing great people, disengage from the important work of setting their people and organization up for success and create a self-fulfilling prophecy that results in negative future outcomes. Remember – there are always factors within our control. It is our responsibility to invest energy and resources into those areas so our teams can weather any storm.
Perceptyx Helps You See More So You Can Do More
The Perceptyx People Insights platform gives you the flexibility to develop a listening strategy that can quickly make you aware of employee sentiment about major changes or transitions affecting your organization. Combined with support from our analytics experts, our platform can help you keep your finger on the pulse of your people's perceptions, so you can provide the support they need to be retained, engaged, and productive – no matter where they are in your organization.
Request a demo today to see how we can help your organization develop the perfect listening strategy for your enterprise.