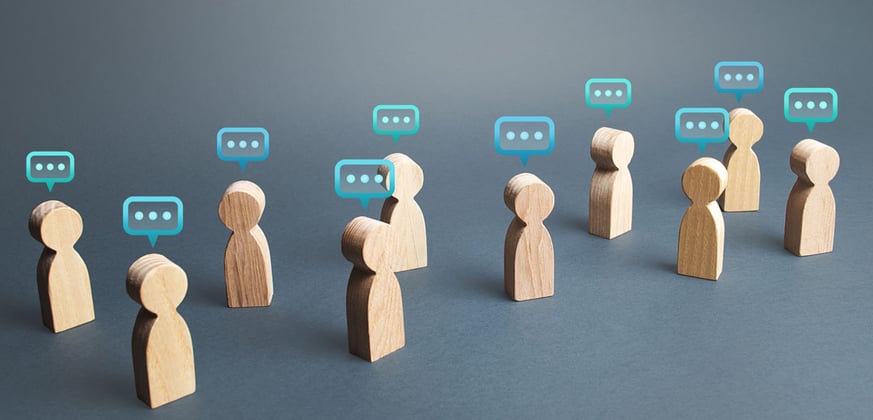 How to Encourage and Optimize Employee Survey Participation
Crystal Perel, M.A. & Ellen Lovell, Ph.D.
In any employee survey – whether an annual census survey, pulse survey, or lifecycle survey – getting good participation is imperative to ensure quality data and insights, as well as a significant return on the investment of surveying.
But what is good participation? In classic Goldilocks fashion, we're targeting response rates that are just right – not too low or, possibly counterintuitively, not too high. When survey response rates are low, you'll find stakeholders begin to question the validity of the data and wonder how safe it is to make inferences or business decisions. When survey response rates are too high (i.e., closer to 100% participation), other concerns such as respondent coercion or over-incentivizing participation leads to question like, "Were employees being thoughtful and honest about their answers?"
So, what does "just right" look like? For Perceptyx clients, average response rates land in the 80% range. For clients with top quartile participation scores, that average jumps to 87%. On the other end of the spectrum, clients with bottom quartile participation come in at around 70%. Additionally, across survey types, census surveys tend to have higher participation rates compared to pulse and lifecycle surveys, which makes sense given that annual census surveys often benefit from large communication efforts and more engagement from leadership.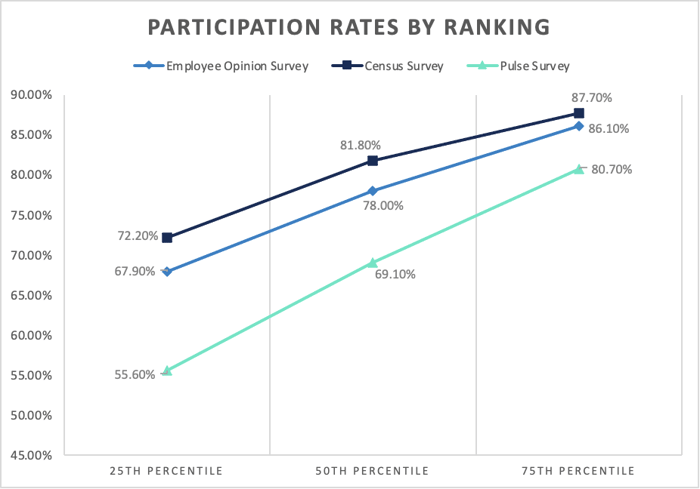 What Factors Should I Consider?
When trying to optimize employee survey participation, it's important to first think about what potential factors within your organization are barriers to or enablers of participation. To increase participation levels, your company must:
Ensure easy access: From a practical standpoint, do employees have easy access to the survey? In years past, paper surveys were the norm, but in today's tech-savvy environment, companies can get creative in how they communicate surveys to employees. Email is the most common way to access the survey, but this can present challenges for employees who work in retail stores, warehouses, or other non-office settings. In these cases, companies have leaned on kiosks, QR codes, and/or text messages to inform employees about how to access a survey. Using added communications with basic information on how to take the survey and login information goes a long way.
Develop and maintain employee trust: From a motivational standpoint, how is your company communicating that you are truly listening to employees? The largest hindrance to participation is a lack of perceived action on employee feedback. The "perceived" part is important. Your leaders may very well be acting, but if employees don't see it, this can be just as detrimental as not acting at all. As our resident thought leader Dr. Sarah Johnson often says, there's no such thing as 'survey fatigue.' However, employees are fatigued when they are constantly asked about their experiences yet never see action from the results. Employees will not provide feedback if they believe it's not taken seriously or addressed in some way. Not only that, but research has shown time and time again that when action is taken on survey feedback, employee engagement goes up – and that often translates to higher participation rates.
Solutions to Optimizing Participation
Once potential barriers are addressed, then attention turns to optimizing participation.
Offer incentives (with limitations): A tried-and-true method for drumming up employee survey participation is incentives. Creating friendly competitions, holding raffles, and setting team goals for prizes are all great ways to boost survey participation. However, there is such a thing as going overboard. A chance to win a once-in-a-lifetime trip could lead to high participation, but at the expense of thoughtful responses to survey items. On the other hand, for incentives to be motivational, they should also be meaningful. Let your organization's unique culture guide you in choosing the right incentive – a prime parking spot or a bonus PTO day, perhaps.
To avoid mixed messaging around confidentiality that can lead to mistrust, ensure there is communication around how winners will be chosen – ideally, through a random drawing by the survey provider, such as Perceptyx. If this step is overlooked, employees might inadvertently assume the organization has information about who exactly filled out the survey. By allowing a third party, such as your survey vendor, to conduct the drawings, you are able to reassure employees their confidentiality has been protected.
Make it a signature practice: The best way to drive ongoing survey participation is to make it a part of the cultural fabric of the organization. When employees know that taking surveys is "what we do," it becomes less of an added task and transforms into an integral part of the employee experience. By having a regular cadence and clear communication from top leadership within the organization, employees are more likely to get involved and provide survey feedback. Additionally, by cascading and aligning communications before and during survey administration, companies ensure there is a consistent story being shared across all levels of the organization.
Is Your Company Ready to Increase Employee Survey Participation?
If you're not hitting the 80% participation threshold, are you getting the best return on your survey investment? Without it, you may not have the comprehensive information you need to implement the responsive actions your employees want. Perceptyx is committed to helping your organization see the way forward with a continuous listening program that delivers the insights and actions you need to achieve your goals. If survey participation is a specific challenge for your team, reach out to a Perceptyx representative today or schedule a demo to learn more about our approach.