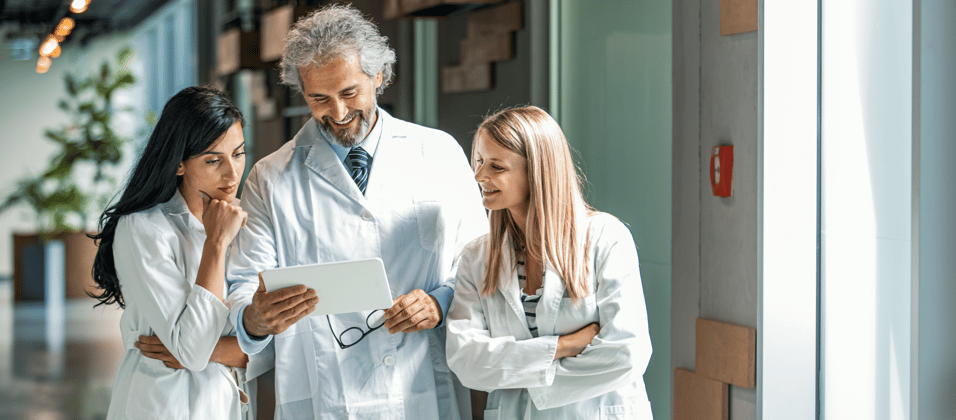 The Healthcare Employee Experience in 2022: A Data-Driven Perspective

"Poor staffing ratios put extra stress and burden on the staff and patients. It's unfair to compromise on giving quality care when there isn't enough help available."
"Frequent pulls to other units, causing my own unit to be short staffed. Being responsible to staff overflow units and not having proper resources/equipment when in these locations. Family members being rude to nurses/staff with no intervention…"
Stories like these paint a bleak picture of employees' realities working in healthcare over the last two years, motivating leaders and employees to act in hopes of better engaging and retaining critical talent. While firsthand narratives provide memorable images and drive action, questions remain – are these accounts supported by quantitative data about employee engagement and the broader employee experience? What does research reveal about the current employee experience and how perceptions have changed in healthcare since 2019?
To provide those evidence-based insights into how employee engagement has changed, Perceptyx studied more than 3.25 million healthcare employees across more than 480 systems. Engagement, or one's emotional attachment to their organization and what they are willing to do because of that emotional attachment, is measured with four components: pride, motivation, commitment, and advocacy.
Here are some of the key findings from our analysis.
Healthcare Worker Engagement Continues to Decline
Although healthcare worker perceptions of pride, motivation, commitment, and advocacy initially rose in 2019, engagement quickly began sliding, falling below pre-pandemic levels by the end of 2020 for most healthcare organizations.
Even the best healthcare systems were unable to maintain the initial boosts, with engagement for the top quartile of healthcare organizations falling below pre-pandemic levels by July 2021, and the top decile of healthcare organizations dipping slightly below pre-pandemic engagement by the end of 2021. Although positive aspects of the employee experience, such as effective leadership, rich resources, and adaptive decision-making helped leading healthcare systems weather many of the disruptive factors impacting employee engagement the last two years, eventually even these top organizations experienced declining pride, motivation, commitment, and advocacy.
While all four components of engagement declined from 2020 to 2021, commitment saw the steepest decline as retention and staffing challenges remain a top priority for healthcare organizations. Perceptyx's healthcare benchmark study across over 2,800 facilities examined 1.56 million employees' intentions to stay with their organizations over the next 12 months. Results reveal a strong relationship between COVID positive cases and intentions to stay; as COVID positive cases increase, commitment declines, highlighting the profound effect the pandemic has had on healthcare employees' stress and intentions to stay.
Healthcare Workers Have Been Uniquely Affected
While this benchmark study reveals declining work experiences in healthcare since 2019, it would be useful to see if other industries experienced declines. To provide additional context, 40 perceptions from Perceptyx's best practice survey were analyzed for employees across all industries (17 million employees) as well as for healthcare specifically.
The results were clear: healthcare's workforce has been uniquely impacted by the pandemic. Although all industries reported improved experiences early in 2020 followed by declines into 2021, only 27% of perceptions fell below pre-pandemic levels by the end of 2021. In contrast, healthcare workers assessing the same experiences reported declining favorability across 73% of perceptions. Even the magnitude of change is greater for healthcare employees. While only 5% of perceptions declined 3 points or more across all industries, 43% of perceptions declined 3 points or more within the healthcare industry specifically; similarly, 18% of perceptions improved 3 points or more by the end of 2021 across all industries compared to 0 perceptions experiencing the same gains within healthcare.
Barriers to the Healthcare Employee Experience
Our research revealed five factors that serve as the most critical barriers to effective work performance, commitment, and engagement within healthcare today.
Staffing: Interviews with CHROs from leading health systems consistently reveal workforce stabilization and staffing as the top challenge facing their organizations. Less than 2 of 5 healthcare workers believe there is enough staff to perform the job, also among the most declined (-14 point decline) with unfavorable perceptions soaring as almost half disagree there is enough staff to perform successfully. A rolling 12-month view reveals a strong relationship between staffing perceptions and job demands, with staffing perceptions declining drastically as COVID positive cases rise.
Well-being: With staffing a top concern for employees and leaders alike, it is no surprise employee well-being is also among the most declined. Employee belief that stress levels are manageable declined the most from 2020 to 2021, falling 22 points in the last year alone and 10 points compared to pre-pandemic perceptions. Ability to effectively cope with this rising job stress also declined 7 points compared to pre-pandemic perceptions. Although 70% believed organizations cared about their health and well-being in 2020, perceptions declined 10 points in the last year alone.
Safety: While the extent of COVID's impact on employee and patient safety is still largely unknown, reports reveal significant declines in many safety measures including increased central-line associated bloodstream infections, catheter-associated urinary tract infections, and hospital-onset bloodstream infections. Besides patient safety, employee safety has also been impacted, with OSHA reporting a 249% increase in injury and illness rates of U.S. healthcare workers. Employees' perceptions provided in Perceptyx's healthcare benchmark database align with the objective data reporting declining safety outcomes. Specifically, 8 of the top 25 most declined perceptions from 2019 to the end of 2021 directly assess safety perceptions. Safety perceptions with the steepest declines include belief the hospital management is concerned about safety events (-19 point decline), quality care is a priority over quantity (-17 point decline), the organization makes every effort to provide safe care (-15 point decline), resources are available for high quality care (-14 point decline), and mistakes are not frequent (-13 point decline). Quality improvement efforts related to boosting patient safety also declined significantly.
Culture of Listening: Employees want to feel heard and empowered. In fact, valuing voices, ideas, and opinions is a top driver of employee engagement within healthcare. Due to the rate of change over the last few years, many organizations found it difficult to listen as often as desired to their employees' ideas. For example, benchmarks reveal only half (50%) of employees believe their organization seeks their input about decisions impacting their role, declining 7 points since 2019. Belief that employees have the authority to make decisions (-13 point decline) and are encouraged to come up with new ways of performing the work (-7 point decline) also declined, as many employees express frustrations about the lack of empowerment or continuous improvement. Even when opinions are listened to, employees do not always see action taken; only 55% have seen action taken from the last organizational survey, declining 7 points since 2019.
Optimism: With many healthcare workers experiencing increased daily pressures and unsustainable workloads, it is also unsurprising that many find it difficult to see an optimistic future ahead for the organization. Perceptyx's benchmark data supports these concerns, finding optimism in the future among the most declined perceptions since 2019. Specifically, confidence in the future (-17 point decline), understanding the reason for changes (-17 point decline), belief the company will compete effectively (-8 point decline), and optimism in the future (-7 point decline) all declined significantly over the last few years. Nurses are not only struggling to see a bright future overall, but for many, also expressing a lack of clarity about the
vision for nursing specifically with perceptions declining 17 points since the pandemic began.
Employee Experience Strengths
Our research also revealed four aspects of day-to-day experience that have remained highly favorable or even improved. Leveraging these strengths can further improve employees' experiences and increase their optimism about the future.
Role Clarity: Benchmarks across 220 different employee experiences reveal role clarity is among the most favorable perceptions in healthcare. More than 90 percent of healthcare workers report understanding their role expectations, the company's mission, and how their job personally contributes to the success of the organization. This role clarity is critical to ensure efforts are aligned with organizational priorities. Additionally, understanding how one is contributing to the broader mission, and even society, can motivate individuals, helping them feel part of a bigger purpose and contributing to the successes of the overall organization.
Manager Effectiveness: Research reveals managers play a critical role in supporting employees' well-being and engagement, especially during times of turbulence. For healthcare overall, manager relationships have not only remained highly favorable, but also improved. For example, 8 of 10 healthcare workers report their managers communicate openly and keep commitments, both improving 3 points since 2019. Managers are also more likely to demonstrate company values and value employees' contributions, both improving 5 points compared to pre-pandemic perceptions. Although safety continues to be an opportunity overall, managers' commitment to addressing recurring safety incidents also improved 6 points since 2019.
Teamwork: Besides managers, healthcare workers also find support from teammates. For example, benchmarks report 85% of healthcare workers feel part of a team with 86% feeling treated with respect within their team, 87% cooperating to get the job done, and 88% finding teamwork encouraged across the organization. Over 9 of 10 state their team is committed to high quality work, with perceptions remaining stable since 2019. Registered Nurses (RNs) especially report strong team interactions with almost 9 of 10 reporting effective RN collaboration within their department. Not only is team support highly favorable, but in many cases perceptions are also improving, with teammate trust (+3 point improvement) and unit respect (+5 point improvement) rising since the pandemic began. This strong teamwork is critical to not only help healthcare workers get the job done but also provide a sense of belonging which is important for promoting an inclusive workplace and driving engagement.
Senior Leader Effectiveness: Although some organizations struggle to communicate an optimistic future or change efforts, overall healthcare benchmarks reveal senior leadership perceptions are among the most improved. Although only 3 in 4 healthcare workers believe senior leaders effectively lead through change, perceptions rose 15 points over the last two years. Many healthcare workers also report improvements in senior leadership communications; compared to 2019, senior leaders are keeping employees more informed and explaining the reason for business decisions better, both rising 8 points. Even perceptions of senior leader behavior improved, with employees more likely to see senior leaders modeling company values (+6 point improvement) and making decisions aligned with company values (+3 point improvement).
An Urgent Call to Action
Overall, benchmark data aligns with qualitative accounts depicting declining employee experiences, commitment, and engagement for healthcare workers over the last few years. Efforts to improve staffing, well-being, and safety must continue as healthcare organizations listen to the voices of employees and shift focus to a bright future ahead. Now more than ever, healthcare organizations need to elevate the voices of employees, collaboratively trailblazing a path forward that reinvigorates healthcare workers about their calling and provides the supportive environment needed to succeed. By listening to and then acting on employee feedback, healthcare organizations can create an employee experience that will attract, engage, and retain the talent needed to achieve business success.
Perceptyx helps healthcare organizations create listening programs that will facilitate the best practices in employee experience and engagement. From crowdsourcing insights to developing always-on listening models, we provide organizations with crucial resources for limiting turnover and attrition. To learn more, schedule a demo today.