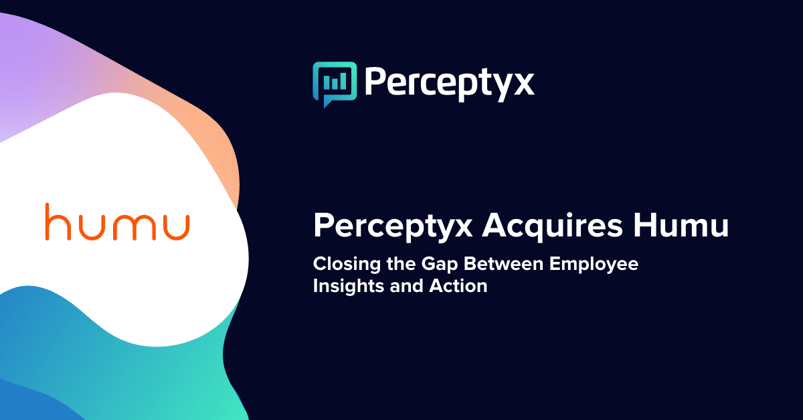 Perceptyx Acquires Behavioral Science Pioneer Humu to Close the Gap Between Employee Insights and Action
TEMECULA, Calif., August 2, 2023 — Perceptyx, the leading employee listening and manager effectiveness platform, has acquired Humu, a technology company that uses science-based 'nudges' to influence positive behavior change and improve business performance.
Hundreds of large enterprises already use Perceptyx to capture employee insights and identify the right next steps to deliver an exceptional employee experience aligned with their most important business outcomes. But a pervasive challenge remains: how to activate this wealth of people insights to successfully drive action and influence positive change at all levels of the organization. For many, the burden of creating, executing, and measuring post-listening action plans falls to middle managers, a population already suffering from increased workplace anxiety and burn-out.
To address this challenge, Perceptyx will integrate Humu's extensive library of behavior nudges into its People Insights Platform, allowing organizations to deliver personalized nudges to both leaders and employees, customized to the behavior each individual or team wants to improve. Perceptyx will be the first company to enable a "nudge" process that engages the entire workforce to take action and make work better.
"Listening tells you what employees need — what makes them feel energized and engaged. However, HR leaders have always struggled to see consistent and effective action by managers on those insights. We believe AI is the key to solving that problem at scale. By adding Humu's ground-breaking nudge technology to our AI-powered platform, we can help all employees influence positive change at every level, improving both the employee experience and business results," said Perceptyx CEO John Borland.
Co-founded by former Google HR chief Laszlo Bock, Humu pioneered the use of behavioral science to deliver short, actionable recommendations that influence, or "nudge", positive behavior. Research has shown that these micro-moments are highly effective at turning intentions into action, creating an environment for success. In fact, Humu's customers have reported that 81% of employees made lasting behavior changes and companies reported a 3x improvement in financial performance.
Employee listening may reveal issues with front-line worker well-being or poor decision-making by people leaders. Solving these problems requires far more than a read-out of the survey findings or a series of isolated change initiatives. It demands consistent and ongoing behavioral change at every level. By combining Perceptyx's AI engine with Humu's nudge content, tailored and targeted nudges can be delivered to the right employees and managers at the right moment through the most effective channel. This will instantly influence their behaviors in the flow of work.
"Organizational change doesn't happen all at once. It takes time, repetition, and ideally, hyper-personalized, contextually relevant recommendations only possible with AI," said Scott Chancellor, CEO of Humu. "By combining Humu's nudge science with Perceptyx's innovative AI platform, it will be possible to deliver those specific recommendations to hundreds of thousands of employees across an organization to solve unique challenges."
As the only provider focused exclusively on employee insights and action, Perceptyx has consistently invested in optimizing every step of the employee listening process. It pioneered the concept of continuous listening via a wide range of survey formats (pulse, always-on, lifecycle, crowdsourced) and channels. It leverages AI to analyze and understand nuances in thousands of employee comments to identify appropriate actions. And with the launch of Cultivate Intelligent Coaching, it harnessed proprietary NLP and behavioral models to analyze employee-manager interactions to deliver personalized manager coaching at scale. Now, with the acquisition of Humu, Perceptyx is building on these capabilities to connect yet another dot: delivering precise and impactful guidance to every employee to drive the behavioral change needed. The deal closes the gap between signal and action in the employee experience.
"Humu pioneered the idea of using nudges for employee development, training, and well-being support," said Josh Bersin, global industry analyst and CEO of The Josh Bersin Company. "By incorporating this technology and content into its employee listening platform, Perceptyx can deliver a whole new way to drive change in an organization, effectively closing the loop between feedback and action."