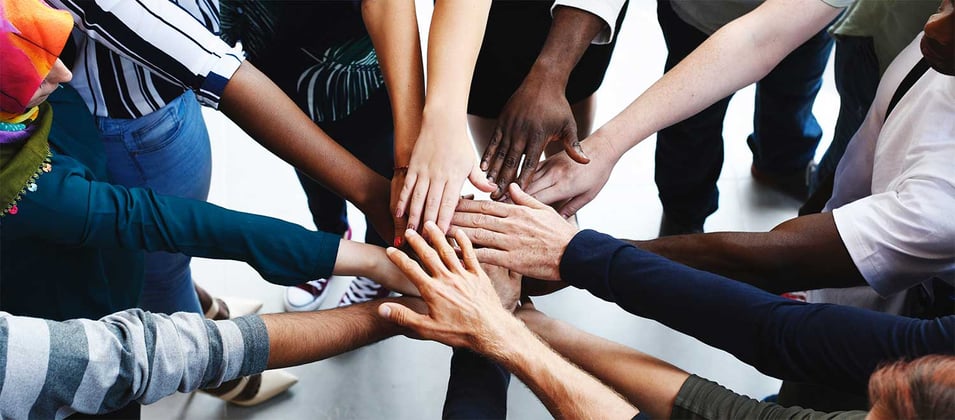 Studying Diversity, Equity, Inclusion, and Belonging in the Workplace
Tiffany Pires, M.A. & Alicia Dean
Why is it important to study Diversity, Equity, Inclusion, and Belonging (DEIB) in the workplace?
DEIB in the workplace is not a new phenomenon that organizations have suddenly become interested in. However, recent events have prompted a renewed interest in issues of social justice in the workplace for employees and employers alike. While surveys on inclusion have been utilized for years, many employers are now looking to go much deeper, to ensure that everything – sourcing, hiring, promotion, the workplace itself – matches up with their corporate values and external stance on diversity. Moreover, an abundance of research now points to the major benefits of having an organization that is diverse, inclusive, equitable and where employees feel they belong. These benefits are not simply on an individual level, but can drive positive business outcomes.
To provide customers with the best possible recommendations on this issue, Perceptyx went into the field to gather data on DEIB surveying. The goal of this effort was to offer insights and well-researched items for any customers wishing to understand the issues of diversity, equity, inclusion, and belonging in their work environment. The data show that when used with the Perceptyx Engagement Index, these items provide a comprehensive, valid, and reliable pool of data from which to draw meaningful conclusions. They are also a great starting point for any customers wishing to add additional items relevant to their specific work environments.
Patterns Emerge
As Perceptyx researchers studied survey results, several key factors relevant to DEIB success became clear:
The inclusion of the employee as a unique person, valued personally.
The impact of a direct supervisor on feelings of inclusion.
The impact of the team environment on feelings of inclusion.
The importance of feelings of belonging, security, and support.
The commitment from the organization to drive inclusion and equity efforts, and the general workplace environment.
To get a full picture of employee perceptions, it's important to study all factors in tandem. Although an organization may simply want to assess perceptions of inclusion, focusing on any of these concepts in isolation leaves out an important piece of the puzzle.
Creating Your DEIB Survey Strategy
Creating your DEIB listening strategy starts with understanding where you are as an organization. Your organization's DEIB listening strategy should be informed by the stage at which your organization is prioritizing DEIB initiatives to ensure you can gain both leadership and employee buy-in and support an effective long-term strategy. Action planning is a key component of any listening strategy, and organizations should be prepared to leverage the feedback from their DEIB survey in their action plans. For organizations that lack DEIB initiatives, action planning may be a pain point, with leaders unsure of the most effective ways to promote change.
Organizations that misalign their strategy to their DEIB internal initiatives risk:
Capturing data that they are not prepared to action on, and
Sending a message to employees that the employees are not prepared to receive.
For organizations newer to DEIB that lack a standardized approach, we recommend taking a more traditional approach to measuring DEIB, which allows you to incorporate DEIB with your engagement strategy, leveraging standard items. This allows organizations to roll DEIB action planning in with their employee engagement action planning strategy, making it easier for managers to make change within their teams.
For organizations that are more advanced in their DEIB journey, we recommend having a formalized, standalone DEIB survey that allows you to capture robust insights into the employee experience around diversity, equity, inclusion and belonging. This standalone survey not only communicates a message of DEIB as a priority but is a practice that is consistent with the organization's previously established initiatives. This means employees are more likely to take a standalone DEIB survey seriously if it aligns with the processes that are already in place within their organization.
Assessing Organizational Maturity
Many organizations wrestle with the best methods and strategies to create more equitable and inclusive organizations. Prioritizing DEIB starts with assessing your organization's level of maturity in order to tailor your approach to the needs of the organization. HR consultant Josh Bersin has identified four levels of DEIB maturity within organizations, ranging from organizations that take a more reactive approach by preventing risk to organizations that have built a comprehensive ecosystem for DEIB. While many organizations strive to reach the most mature level, the vast majority lack DEIB maturity and should take foundational steps towards fostering an inclusive culture.
Assessing inclusion and equity within your organization starts by reviewing several processes to determine whether systems are in place that prime employees for success.
Measuring organizational equity means focusing on:
Employee recruitment, hiring, retention and advancement
Employee pay and benefits
Employee experiences, engagement, and satisfaction
Leadership prioritization and resource commitment
Selecting Survey Content
Once the organization's maturity is determined, you can develop your DEIB listening strategy. Based on our research, we have identified ten content areas that are key to gaining a better understanding of DEIB within your organization. Each of these categories aligns with various aspects of DEIB and can help your organization tell the story of its employees.
Below, we have listed the definitions of the categories included within our DEIB survey.
Organizational Commitment
Organizational Commitment describes when organizations carry out the behaviors, values, or actions they have promised to undertake. An integral part of DEIB initiatives is the commitment from the top of the organization. Are leaders with power and influence adequately committing to and prioritizing DEIB across the organization? A top-down commitment is key to ensuring DEIB efforts are genuine and meaningful. Too often, organizations fail to commit to DEIB work, instead relying on less senior individuals throughout the organization to carry out DEIB efforts – employees who may lack the right resources and support to be successful. A successful DEIB strategy starts with a commitment from the top of the organization.
Manager Commitment
Manager Commitment describes the responsibility of managers to carry out behaviors or actions that adhere to organization's values and to act as a role model. Similar to Organizational Commitment, Manager Commitments focus on the manager's support of DEIB within the organization, as well as their level of care and respect for employees.
Resources and Support
Resources and Support refers to materials, staff, and other assets that can be utilized by a person or organization to function effectively. A critical aspect of employee success is access to the right resources and support in their role, as information and tools can help employees be more effective, efficient, and informed. Understanding equity in your organization, means also understanding gaps in knowledge and information, and ensuring that everyone in the organization is set up for success with the right resources.
Belonging
Belonging is a sense of security, support and value in an organization that allows you to show up as your best self and contribute in ways that are meaningful. As the recommended outcome variable in the survey, Belonging is the result of organizations that effectively implement equitable, inclusive and diverse strategies in their organization. It can help organizations better understand whether employees believe they can show up as their authentic selves, feel valued in their contributions, and can use their skills to contribute to the organization in meaningful ways.
Performance Management
Performance Management refers to the attempt to ensure employees are provided with consistent and useful feedback as well as expectations that allow them to contribute to business goals and success. For employees to be successful, they must be provided with the appropriate feedback and held accountable for their performance. This ensures that performance management is fair and consistent.
Psychological Safety
Psychological Safety is the belief that you won't be punished or humiliated for speaking up with ideas, questions, concerns, or mistakes. Psychological Safety is a key element of inclusion that ensures team members believe they can contribute both their similar and dissenting opinions to the rest of their team. It is a core element of innovation, as it provides an opportunity for differing perspectives and viewpoints to be shared without fear of rejection, criticism, or being ignored.
Teamwork
Teamwork is the collaborative effort of a group to achieve a common goal or to complete a task in the most effective and efficient way by creating an environment where different perspectives and opinions are valued and shared. Feeling like you are part of a team where diverse perspectives are valued, opinions matter, and knowledge is freely shared is an important aspect of belonging and employee experience. It provides a sense of identity, connection, and community within the organization.
Access to Success
Access to Success measures perceptions around availability and ability to achieve outcomes and opportunities within the organization. Since not everyone has access to the same opportunities, ensuring that employees are treated fairly and can achieve their career goals is a foundational element of success and advancement for employees.
Growth and Development
Growth and Development encompasses an individual's personal opportunities to improve their skills and advance their career within an organization. This includes both the opportunity and support from managers for skill and career development.
Anti-discrimination
Anti-discrimination measures the perceived presence of discrimination in the organization and whether the organization has created an open and honest environment where these issues can be addressed. It helps organizational leaders understand the comfort level of reporting discriminatory practices, as well as the belief that raised issues will be addressed in meaningful ways.
Perceptyx Can Measure What You Want to Improve
Taking a measured, data-driven approach when creating your DEIB survey strategy is crucial. Following the adage, "don't walk before you can run" is critical when it comes to DEIB. Asking items that delve into sensitive topics when as an organization you are at the beginning of your DEIB journey can lead to employee discomfort and unreliable survey results. Starting off with high level items that you can take swift action upon will lead to greater trust from employees, and as your organization matures, you can begin to delve deeper into more DEIB themes.
To learn more about how Perceptyx can support your organization as it makes this journey, schedule a meeting with a member of our team.
In our next blog, we will continue on our own DEIB journey by taking a look at the Best Practices for Analyzing DEIB Survey Data.