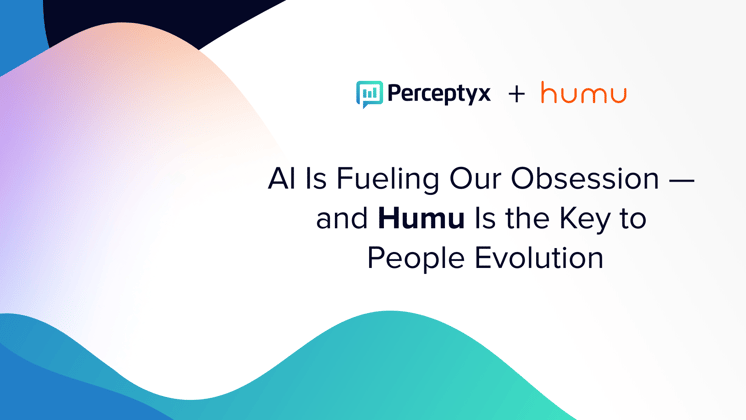 AI Is Fueling Our Obsession — and Humu Is the Key to People Evolution

At Perceptyx, we're driven by a passion to fuel a 'people evolution' in organizations through technology, using data-driven insights to inspire impactful actions and influence positive change at scale. Our dedication to this purpose led us to invest in cutting-edge technologies, such as acquiring AI-powered coaching technology, Cultivate, and developing original AI models for behavior intent. Today, we proudly announce the acquisition of Humu, a company that shares our obsession to inspire this evolution through behavior change. By combining our passion for 'people evolution' and the rapid advancements in AI technologies, Perceptyx is uniquely positioned to address critical people challenges faced by CHROs and CEOs.
Our Obsession with People Evolution
At its core, Perceptyx is a data company. Since 2003, we've specialized in designing and executing listening strategies with technology that allows large global enterprises to collect and understand an enormous amount of people data. As the field of people analytics has evolved, we've remained at the forefront with expertise in technology and original thought leadership. Partnering with Fortune 100 organizations, we have enabled them to evolve and enhance their people practices.
The traditional goal of people analytics has been to achieve a state of predictive or prescriptive analytics (Figure 1). However, most organizations have yet to fully realize this objective.

Figure 1: Traditional People Analytics Maturity Progression (adapted from Gartner)
In today's workplace, it's not enough to just predict the issue — insight without action is useless. In fact, this is the principal challenge of most employee listening programs: taking action. Organizations need help to execute the prescribed action and then measure the impact (Figure 2).

Figure 2: Modern People Analytics Must Lead to Outcomes and Show ROI
Today, the goal of people analytics is measurable outcomes and impact that ultimately result in positive ROI. In today's service- and software-dominated economy, taking action that drives change in people at scale is mission-critical because people are the driving force behind business value (Figure 3). Today's business challenges require the continual progression of our people to succeed. Whether it's retaining, attracting, reskilling, upskilling, or engaging employees, businesses must continuously evolve their workforce to achieve favorable outcomes.

Figure 3: Undeniable Value of People for Modern Business (Intangible Assets)
To us, it's not enough to just be a people analytics company. If organizations can't quickly and effectively take action on those analytics and influence positive change with and for their people, they won't solve their biggest challenges — which is why we're so passionate about 'people evolution!'
Leading with AI
AI is a game-changer, and it's a big part of our product strategy to help organizations achieve this goal of taking action and measuring impact. The AI team at Perceptyx originated from Cultivate — an AI company I co-founded along with Samir Meghani, VP of Engineering, and Andy Horng, Head of AI & Data Science — which was incubated in Samsung NEXT in 2017. Cultivate's obsession with understanding digital communication data (email, chat, calendar) led to the development of natural language processing (NLP) models that analyze unstructured text, with an intense focus on the content of messages, to provide deeply personal metrics for the individual user.
This required solving the challenge of understanding tremendous volumes of unstructured text. The team leveraged cutting-edge developments in AI technology and NLP and learned to process voluminous data in real time. This led to the development of an ability to assess individual behaviors at scale, allowing them to create an AI coaching engine to deliver highly personalized and contextually relevant recommendations to users about their behavior, ultimately helping them be better leaders.
Following the acquisition by Perceptyx in early 2022, the integration of Cultivate's underlying AI technology into the core Perceptyx platform has been a primary focus, resulting in the creation of today's AI Insights Engine. This engine serves as the foundation for our next-generation People Insights Platform, introduced at our Insights Conference in April. But this is only the beginning — AI continues to drive our product strategy forward.
Generative AI in the HR Technology Market
As we continue to leverage AI in our next-generation platform, we're exploring new AI-centric technologies like generative AI and ChatGPT. Generative AI is transforming workplace technology, with products and features built around the ChatGPT API. Integrations with ChatGPT enhance user experiences inside web browsers, (e.g., GPT+), coding environments (e.g., CodeGPT), or as an accessible tool within chat and email channels (e.g., CoPilot, etc) providing structured responses pertaining to various tasks.
Constructing these integrations requires not only building a smooth user experience around the API but also fine-tuned, domain-specific knowledge on how to effectively "prompt" GPT to provide useful, structured responses pertaining to the task at hand.
For many information workers, this means we now have tools that can instantaneously take us 50-90% of the way to task completion. This is especially true if the task is text-based (e.g., drafting emails or creating internal documents) or programming-based (e.g., implementing a new web design, refactoring existing code). It's now a lot easier to draft an email, submit a performance review with a critical yet constructive tone, or provide clear documentation for your new code.
Generative AI is set to impact HR technology, significantly reducing the time needed to complete tasks without compromising quality. It empowers information workers, especially in roles that require extensive interaction with large datasets, such as recruiting. ChatGPT interfaces are already emerging in talent acquisition vendors like SeekOut and Beamery.
At Perceptyx, we're exploring the application of chatbot interfaces to enhance working with survey response data, especially large datasets like comment analytics, or helping HR leaders be better storytellers when communicating the results of employee feedback. Additionally, we aim to make our AI models accessible to customers through our analytics suite with AI as a Service (AIaaS).
We continue to explore how the underlying technology of GPT can be harnessed in more innovative ways for people analytics. We know that people analytics is HR's biggest skill gap — AI can bridge skill gaps by making people analytics more accessible and interpretable to a broader audience, or provide just-in-time insights to front-line managers in the flow of their daily tasks.
Our commitment to this evolution is driving ongoing engineering investment to combine data, insights, and AI in a way that enables organizations to take action and create positive change in their people, leading to greater success and resilience.
Personalization and Prompting
While AI technologies like ChatGPT promise significant productivity improvements, they may not have the same impact on behavior change, a crucial aspect of 'people evolution.' Changing behavior involves influencing how individuals think, feel, and act which in turn affects resilience, fostering connection, instilling a sense of belonging, and motivating employees. These elements of engagement, often measured through surveys, consistently correlate with various business outcomes and are critical for success.
For example, our research shows that a main driver of being a good boss is that your people feel you value their opinion. Do you remember to ask them to speak up in meetings? Do you empower them to have a voice? These are not easily solved by a chat interface as they are human-to-human behaviors. In this case, AI is not solving for something logical or rational (productivity), but trying to improve something emotional (behaviors). This is also why leadership soft skills are so impactful to a company, and yet the most challenging to improve.
Two primary challenges arise when using generative AI to address behavior-related issues: lack of personalization and the need for prompting. Generative AI is not a personalization process, but a statistical process, meaning that the model will give you the most statistically likely response a group of people in aggregate would provide to a prompt, not how specific individuals would respond. This may be helpful in training (i.e., what you do in a simulated situation), but it's harder to follow through in one's day-to-day behavior. It is not personalized to you and thus is harder to put into action.
The other challenge is the need to prompt. ChatGPT is an interactive system, which means it requires a manual command for every task, and thus the user has to know what to ask for in the first place. This is difficult in behavior change situations as many times the individual doesn't know what to look for in their own behavior or in a mountain of survey analytics. That is why the #1 thing CEOs want from executive coaching is self-awareness: tell me what I need to know.
The Perceptyx AI Insights Engine
But the field of AI is more than just chatbots, and we're obsessed with leveraging AI to solve these two critical challenges of generative AI. We're developing the Perceptyx AI Insights Engine to address these challenges head-on, aiming to personalize insights and provide intelligent nudges to foster behavior change at scale, both of which are unique in the marketplace:
Personalize

- Connect and analyze data across many inputs within the Perceptyx platform (survey data, business data, behavior data, etc.), and then personalize the data to each individual, giving every employee personal people analytics.



Nudge

- Without needing to be prompted, intelligently nudge each individual with insights and action recommendations to help drive change at scale, all while learning and measuring the impact on business outcomes.
This personalized and nudging approach is critical in supporting managers because we know they're struggling. Generally, HR leaders tell us their managers are failing at taking action on survey feedback. Part of the problem is that the manager is one of the only levers that HR leaders have to take action. Typically, HR leaders will analyze survey results, work with leaders to create a set of cascading action plans, and then provide training for managers to then take action and drive change. This is, of course, seemingly extra work for the manager who is already in a state of workplace anxiety and burnout, which leads to two common outcomes and a negative feedback loop.
Organizations struggle to take action and managers don't complete action plans.



Managers feel less supported by their company as they don't have the tools to be successful at taking action on survey results, despite the pressure to do so (Figure 4).
At Perceptyx, we're using AI to break this cycle.

Figure 4: Manager's Perception of Organizational Support (RedThread Research, 2022)
Humu: The Key to Unlocking People Evolution
The integration of Humu, a pioneer of workplace nudges, with the Perceptyx AI Insights Engine further enhances our approach to this evolution. Humu's vast library of over 2,000 behavioral nudges, backed by scientific research and targeting more than 90 different behaviors, aims to influence behavior change across the organization. Instead of solely relying on managers for bottom-up action planning, the AI-powered nudge engine will enable an approach that gradually influences mindsets and attitudes that lead to positive change in workplace culture. This means HR can now engage the entire workforce to take action.
Through this integration with Humu, the AI Insights Engine can identify the most crucial behaviors and intelligently deploy nudges to impact change, delivering an approach to motivate and mobilize change unparalleled in the market.
Instead of only relying on managers to develop action plans, a CHRO will be able to deploy an AI-powered nudge engine to intelligently influence change at an organizational level. Leveraging the personalization capabilities from Cultivate's AI coaching engine, the nudges are intelligently delivered based on individuals' personal data and preferences, relevant to their daily relationships, and can be measured for behavior change. This feedback loop will allow the AI to become more intelligent on when to send nudges and which behaviors are the most impactful drivers of business outcomes, finally enabling organizations to realize value from the "prescribe - action - evaluate" loop needed to see impact, and ROI on their people investments.
Figure 5: Impactful Analytics
This synergy between Perceptyx's industry-leading platform to listen and analyze employee experience data + Cultivate's recommendation and AI models + Humu's behavior nudges + ongoing investments and engineering in the latest AI technology is fueling our obsession to help organizations deliver impact through an exceptional EX. By engaging the entire organization in the action process, backed by advanced AI analytics, we aim to close the gap between insight and action, significantly influencing positive behavior change for a better employee experience and more productive organizations.
The acquisition of Humu marks a pivotal step in our commitment to 'people evolution,' driving impact for people and organizations using AI and behavioral science. The combined expertise of Perceptyx, Cultivate, and Humu creates an unparalleled approach to empower organizations in driving lasting, positive change across their workforce.