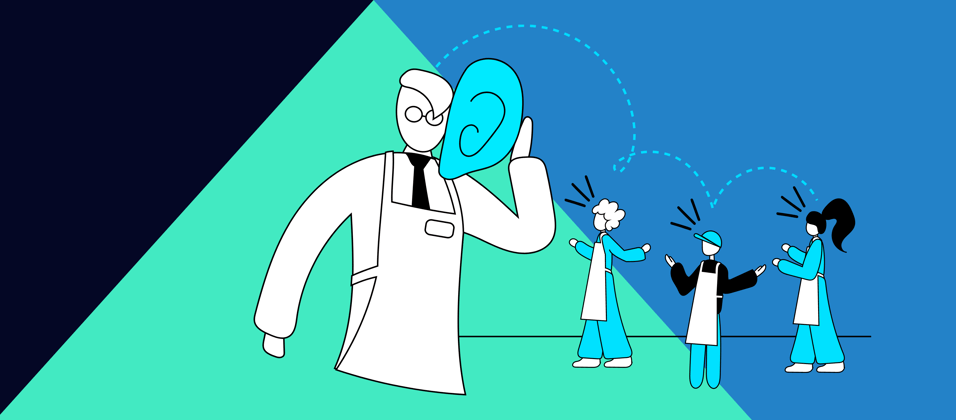 Perceptyx Addresses All 4 Critical Capabilities for Best-in-Class VoE
In today's fast-evolving workplaces, leaders seeking to differentiate and elevate their organizations must forge genuine connections with their employees. Leading research shows that the best companies are doing this by listening to their employees more often, on more topics, and in more ways than ever before.

Per the most recent 2022 Gartner® Market Guide for Voice of the Employee Solutions, "Many organizations struggle to measure voice of the employee and take effective action to improve employee experience." As described by Gartner, Voice of the Employee (VoE) solutions "collect and analyze a broad set of employee opinions, perceptions, and influences that affect the employee experience." This critical data is gathered through a variety of products and channels, then used to "deliver insights with actionable guidance to help improve employee engagement, experience, productivity, and performance."
At Perceptyx, we understand the how behind VoE as well as any listening partner in the marketplace. In fact, according to Gartner 2022 Market Guide for Voice of the Employee Solutions, only Perceptyx addresses all four essential VoE capabilities:
Employee Listening Surveys

Manager Enablement

EX Insights Management

Professional Services Focus
As important as the how is — and it is very important for organizations that have not yet implemented a best-in-class VoE strategy — the why behind this is equally important, and informs everything that Perceptyx has done to develop and refine its comprehensive listening portfolio.
The Listening Process Starts With a Continuous Conversation at Scale
At Perceptyx, we believe the listening process starts with a continuous conversation at scale. When we say "continuous conversation at scale," we mean a virtuous cycle of engaging your people in an ongoing dialogue, throughout the employee lifecycle, to drive meaningful actions. Done well, these conversations help leaders see how their people strategy drives their business strategy — and vice versa. This enables HR to take on an increasingly strategic role by providing the data on how these decisions drive business outcomes, and which actions can be most impactful for both their people and the business.
Organizations increase the scale of their continuous conversation when they include more people, more listening channels, and more moments across the employee lifecycle — both in the activity of listening as well as the democratization of insights and action. Typically, this level of scale doesn't happen at once — and Perceptyx understands this, having developed a flexible listening maturity model that takes partner organizations through the four stages of listening maturity needed to fully unlock the power of the four capabilities highlighted by Gartner. As organizations add these components over time, they gain the insights needed to make smart people and business decisions with speed and confidence. In time, the continuous conversation at scale becomes a dynamic roadmap for driving better productivity and profitability.
A continuous conversation at scale provides a treasure trove of feedback about the key factors influencing the entire people experience. However, leaders need to contextualize this wealth of input to put the feedback and action into context. Leaders gain this context when the EX Insight Management capability allows them to "connect the dots" between operational data and people data. As Gartner notes, "features include delivery of sophisticated analytics to analyze and connect employees' work-related journey moments." Then they can pinpoint what matters most and where to take action first. Also, they can see where to focus resources and energy to drive the greatest positive change for both their people and the business.
The Perceptyx Advantage: VoE Capabilities in Action
The Perceptyx platform unlocks the full power of VoE for driving business decision-making. Ask, Sense, and Dialogue are our listening products. Ask is scheduled and helps organizations listen at a point in time. Sense is always-on and allows HR leaders to listen at specific moments that matter in the employee journey (such as new employee onboarding). Dialogue is our in-the-moment conversation product, enabling organizations to use crowdsourcing and voting to collect feedback and ideas about how, where, and when to take action.
Cultivate — our product that delivers both 360 Feedback and Intelligent Coaching — is the manager enablement component of our solution, but it's not disconnected from our listening products. Instead, it functions like an actioning framework for building and nurturing those manager best practices that ultimately contribute to positive experiences in the employee lifecycle.

Through Cultivate, we can connect employee experience (EX) to leadership behaviors and actions, encouraging all managers to adopt the best practices of top performers. Backed by cutting-edge research, Cultivate's passive listening functionality — an AI-driven behavioral model that observes a manager's digital communications to provide private feedback about how they're interacting with their team — works like a "Fitbit for managers," raising awareness, nudging managers toward more helpful interactions, and offering recommendations and educational content that support real behavior change.
EX Insights Management is the ability to connect the dots between the Employee Experience (EX) and many other business outcomes. Customer Experience (CX) is one example, but this extends beyond customer satisfaction. A good EX can encourage or facilitate good CX, but a truly happy customer isn't happy merely because they had a good experience when purchasing the product or working with customer support. The happiest customers have reached this level of satisfaction because the product or service they purchased is innovative, meets all of their needs, and delivers incredible value. This type of experience can happen when the organization is better able to innovate and build quality products.
However, not everyone in the organization is able to immediately impact CX. EX affects the tangible and intangible elements of an entire organization and warrants direct focus, investment, and action in its own right. A good EX will extend beyond CX to increase profitability, innovation, and performance through its ability to attract and retain the best talent while encouraging high levels of engagement and allowing people to do their best work in an environment that fosters trust in leadership, psychological safety, work-life balance, and career development.
Capabilities in Focus: Perceptyx's Professional Services
The fourth capability identified by Gartner as necessary for VoE, professional services, which we believe represents a significant differentiator for Perceptyx, distinguishing our approach from other listening partners that focus entirely on their "technology stack" or "tools." Our expertise arises from a deep roster of industry veterans who have built and executed extremely sophisticated listening strategies for many of the world's largest companies, including 30% of the F100.
In this sense, professional services refers to all of the people in a listening partner involved in supporting the customer, not just those building their solutions. Perceptyx's three core teams — our Professional Services (PS) team, our team of I/O psychologist consultants and researchers (People at Work), and our Customer Outcomes (COM) team — partner with our customers, collectively bringing the knowledge, resources, and support to ensure world-class outcomes. Based on where partner organizations find themselves along the listening maturity curve, we can calibrate our partnerships to provide primarily user-driven or DIY solutions all the way up to full white-glove service.
A sampling from our extensive library of case studies shows how some of our most strategic and mature customers have used listening to empower their people:
Partner with Perceptyx to Move Forward in VoE
As the global leader in Employee Experience and the only vendor to provide all four VoE capabilities mentioned in Gartner Market Guide for Voice of the Employee Solutions, we believe Perceptyx can partner with you to design and execute an employee listening strategy that delivers world-class results. Our comprehensive employee listening solution equips organizations with the advanced technology, people analytics, domain expertise, and professional services to engage, nurture, and retain your people as the driving force behind every business strategy.
To read the full Gartner report, download the Market Guide for Voice of the Employee Solutions. To learn more about how Perceptyx can harness all four VoE capabilities to help your organization start a continuous conversation at scale, schedule a meeting with a member of our team.
GARTNER is a registered trademark and service mark of Gartner, Inc. and/or its affiliates in the U.S. and internationally and is used here in with permission. All rights reserved.Gartner does not endorse any vendor, product or service depicted in its research publications, and does not advise technology users to select only those vendors with the highest ratings or other designation. Gartner research publications consist of the opinions of Gartner research organization and should not be construed as statements of fact. Gartner disclaims all warranties, express or implied, with respect to this research, including any warranties of merchantability or fitness for a particular purpose.