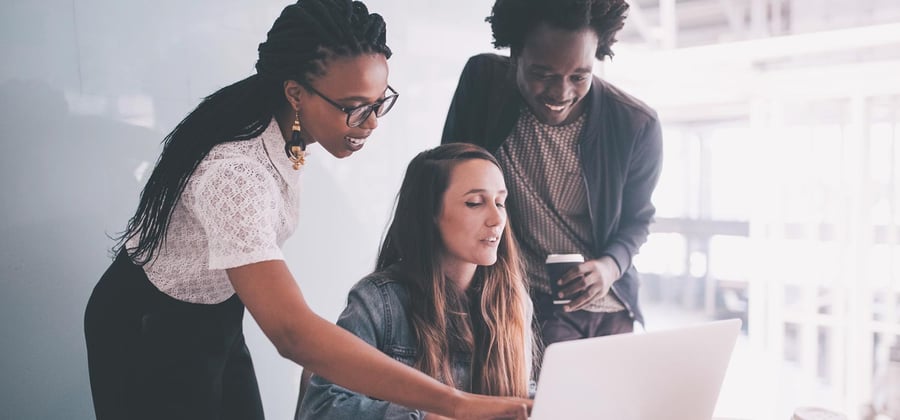 The Employee Experience Playbook
As the focus on employee engagement has grown over the past several decades, an important point is often overlooked: Engagement is an outcome, the result of the entire employee experience. It is one metric, alongside many others, that help us uncover opportunities for improving the total work experience.
The employee experience is defined by everything from the physical work environment to the relationship between employees, management, and executives, and even includes factors not directly connected to the job—health, finances, family, and social life—all of which impact employees' total well-being. While a positive experience has always been important to reduce turnover, in our current tight labor market it becomes a real differentiator in attracting key talent.
The six chapters in our playbook are focused on how you can optimize your survey program to reveal important insights throughout the total employee experience. The critical starting point to optimizing your survey program is through defining: What is your company's culture, what type of talent do you need, and what type of experience do you need to create to attract and keep that talent? Once you've answered these questions, applying the principles outlined in the following chapters will help you build a listening program that provides fresh insights along the journey.
The chapters are organized around pivotal events (the moments that matter) in the employee experience, and provides information on the questions you can ask to get the insights you need.
There are several themes that recur throughout the guide; communication is the most important. Continuous listening and open communication are crucial for gaining the insights needed to fine-tune the experience, and create an environment of high engagement and productivity.
Another major theme is taking action. There is perhaps no greater way to build trust with employees than through taking action on employee feedback data. As you'll read in this guide, the act of following up with specific and appropriate actions, no matter how small, communicates to employees that they have a voice, and that they can make a difference. Too often we see companies fail because of a lack of action (or failing to communicate how actions are connected to survey feedback).
The final theme is evolution. Just as the employee experience is a journey building on what has come before, improving the experience is an evolutionary process informed by continual feedback. Improvements build upon one another through a cycle of asking, listening, and taking action—and then asking again.
Central to the themes above is the need to ask the right questions, of the right people, at the right time, so you can see what matters most to employees and take action to retain key talent.


A Word Of Caution: Beware The Allure Of A One-Size-Fits-All Approach
Through the evolution of technology, HR now has access to a broader set of tools and technologies than ever before. As recently as a decade ago, the annual census survey was HR's primary tool for understanding how the employee experience impacts engagement. Today, companies have access to a host of new options powered by artificial intelligence and machine learning. Many newer technologies (e.g.: passive sentiment analysis of email and other digital communications) promise to be the silver bullet of engagement we've all been waiting for, but is that true? Can these advancements replace more traditional forms of measurement and analysis?
At Perceptyx, we believe that every company is unique—as are the challenges they face. In our experience, healthy organizations think holistically about their employee experience listening program, incorporating a unique range of technologies and practices to understand and take action on these challenges. Companies should consider tools that deliver deep diagnostic data along with agile measurement practices around periodic events, with insights and nudges that can help encourage action. Just as there is no magic pill to cure all ills, no one-size-fits-all methodology or technology will work for every organization.
This playbook incorporates a wide range of modern tools available to HR to promote better organizational health—by enhancing the employee experience to increase engagement and productivity.

The playbook follows the employee journey step-by-step, from before it begins until after it ends, to encompass all stages of the employee experience.
Chapter 1: Get Engagement From The Get-Go: The Candidate And New Hire Experience
The employee experience begins before the job does. This chapter explores ways to create a positive candidate experience, and how to set up new hires for success in the onboarding process.
Chapter 2: A Fresh Take On Annual Employee Engagement Surveys
The annual census survey of all employees has fallen out of favor in some quarters. This chapter details why the criticisms of the annual survey are inaccurate. Census surveys continue to be critically important to gaining insight into the employee experience, and form the foundation of a modern People Analytics practice.
Chapter 3: Continuous Listening: Listen During The Employee Moments That Matter
A number of pivotal moments in the employee journey have a large impact on the total experience. Here's how to craft a continuous listening strategy that allows you to measure and make improvements to the experience.
Chapter 4: Continuous Dialogue: Enhance The Experience Through Transitions
Promotions, mergers, reorganizations, and downsizing are some of the most stressful events for employees. This chapter explores how to enhance the employee experience during times of change and uncertainty.
Chapter 5: Employee Exits: Opportunities For Improving The Employee Experience
Collecting data from departing employees can serve as a postmortem for the entire employee experience. Here are the questions you need to ask and how to ask them to provide insight into the employee experience and where it needs improvements.
Chapter 6: Company Alumni Programs: How To Enhance Your Company's Network
In today's age, employees move jobs and organizations quite quickly. Keeping in touch with former employees ensures that critical talent remains connected to the business. This chapter offers strategies to help you stay connected to employees who have moved on.
Begin designing your plan to enhance the employee experience and increase engagement with Chapter 1: Get Engagement From The Get-Go: The Candidate And New Hire Experience.