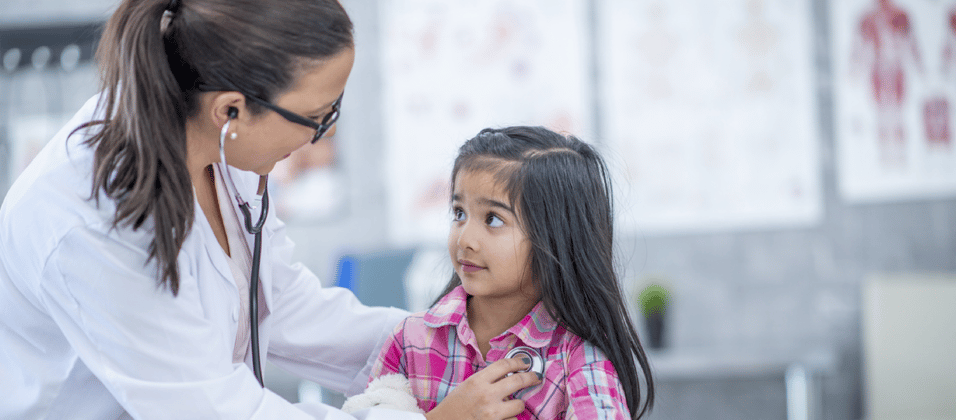 Listening to Nurses on the Journey to ANCC Magnet Redesignation
Dayton Children's, a pediatric acute care children's teaching hospital, understands the value of listening to its more than 3,900 employees. In fact, its world-class employee experience had earned it a #1 ranking on Forbes' Best Employers by State for 2022.
As the organization approached the timeline to recertify for ANCC Magnet status — a crucial designation that denotes nursing excellence — it saw an opportunity to not only integrate its employee experience and nursing excellence surveys but also improve the process for both its nurses and the administrative team charged with managing the redesignation.
In a session hosted by Perceptyx Director of Client Counseling Lauren Beechly, Ph.D., Dayton Children's Hospital VP and CHRO Adele Johnson-Kebe and CNO Jayne Gmeiner shared the details of the organization's employee listening journey, including their process for measuring employee experience and RN satisfaction. They also discussed how they brought employee feedback channels together to improve team engagement, reduce time away from patient care, and drive high-impact actions across the organization.
Here are some of the highlights of that session, which you can watch here. You can also read Dayton Children's customer story to learn more about the specifics of ANCC Magnet redesignation.
The State of Healthcare Employee Engagement in 2023
Lauren Beechly, Ph.D., Director of Counseling: "Perceptyx's healthcare benchmark database provides insights into how healthcare employee experiences are changing by studying perceptions measured nationally across more than 500 healthcare systems and 3.5 million healthcare employees. One metric Perceptyx monitors using this database is employee engagement since engagement has a critical impact on healthcare business outcomes including safety metrics and patient advocacy."
"What we saw in terms of the trend is early in 2020, as the pandemic was picking up across the United States, engagement rose across the board for everyone. We saw this not only in healthcare, but also in other industries. We've seen this in other crises, with people banding together. We saw senior leaders communicate differently and more frequently. We saw a huge effort in terms of employee safety and wellbeing, and we saw these initial perceptions rise."
"This was short-lived and engagement quickly declined. Employee experience quickly declined and for most, by the end of 2020, we saw that it was below pre-pandemic levels. Even the best of the best saw that, by the end of 2021, it was below pre-pandemic levels."
"Leaders wanted to know where this would stop. When are we going to see that pivot up? In the summer of 2022, our refreshed data offered great news and a sense of renewed optimism. We saw for most healthcare organizations that the decline had stopped. It wasn't moving up yet, but it had stabilized. And for the best of the best, we'd seen a pivot in the right direction."
"You can see that top decile sharply shooting up well above pre-pandemic levels in terms of engagement and overall experiences. However, as our data was refreshed at the end of 2022, we saw that optimism start to decline again. We can see now more than ever that we need to be listening to our employees. We need to understand where we can take action, improve their experiences, improve their commitment, and reinvest in our people to not only help them thrive but also drive better business outcomes as well."
"Where can we focus our action? Based on our data at Perceptyx, five key areas continue to emerge as the biggest opportunities in healthcare today as it relates to that employee experience. These are staffing perceptions, wellbeing, safety of our team members as well as patients and visitors, valuing the voices and listening and acting on employee feedback, and then providing a vision for the future. A recent article I wrote contains more data and more recommendations related to each of these top opportunities. We have to be listening and then acting on that data at scale to understand how to improve employee experience."
At Dayton Children's, Every Interaction Counts
Adele Johnson-Kebe, VP and CHRO, Dayton Children's: "At Dayton Children's, we firmly believe that each moment counts with how we interact with our patients, how we interact with our families, and how we interact with each other. The following organizational values guide us each and every day:
Safety: We make safety our first and most important priority.

Compassion: We deliver compassionate family centered care to all we serve.

Ownership: We are the pediatric experts and act knowing that every patient, visitor, and hospital is our collective responsibility.

Collaboration: We work collaboratively to care for our children, their families, and each other.

Innovation: We continuously innovate to make Dayton Children's even better today and into the future.

Equity: We strive for an environment in which all feel welcomed, valued, and fairly treated in order to reach their full potential.
"Dayton Children's has enjoyed remarkable growth within an environment of a declining pediatric population in our region. We've enjoyed a 500% increase in our number of talented expert physicians, a 300% increase in revenue, a 223% increase in our overall workforce headcount, a 42% increase in our average daily census, and a 36% increase in the number of subspecialties that we offer to our patients and communities. These numbers confirm how committed we are to the relentless pursuit of optimal health for every child within our reach."
"Dayton Children's is a mosaic of employees who bring together a variety of backgrounds, styles, perspectives, values, and beliefs to serve children, families, and each other. We strongly promote an inclusive environment by using intentional behaviors that encourage each person to bring their best self to work each day, and to contribute their very best to our mission, vision, and values. We leverage an inclusive mindset in our ambition for a more inclusive and equitable future where everyone feels valued, understood, and welcomed. We take tremendous pride in the diversity of our teams. To offer one small but incredible data point that drives home this belief, over 52% of our specialists are female."
The Power of Continuous Employee Listening at Dayton Children's
Adele Johnson-Kebe: "We work hard to gain feedback from employees to help shape our communication and our culture, a process that ranges from rounding on the units to formal engagement surveys to a segment on our intranet that we call the rumor lane, which is designed to gather anonymous feedback, questions and concerns. All of these actions are efforts to listen intensely and with a focus on improving our work environment. During COVID, we had to pivot to ensure employees were following a changing list of procedures. We were doing thrice-weekly online meetings with CEO Deborah Feldman to ensure we were constantly communicating."
"We did many things to support our staff during that time period — providing furlough pay, paying employee healthcare premiums, offering COVID PTO, and launching a 'COVID Cares' fund that distributed more than $400,000 to staff impacted by COVID. While COVID isn't gone, we are implementing a plan to reinvent internal communications to further listen to our leaders and employees about what they need to continue providing an outstanding patient experience. All of this work is guided by a strategic plan to reinvent the path to children's health supported by our mission, vision, and values."
Listening to Nurses
Jayne Gmeiner, CNO, Dayton Children's: "We did a survey period last May, running from May 4 through May 25, and it was the first time we had taken the opportunity to integrate the core questions that we are responsible for as a Magnet organization into our employee engagement survey. This covers fundamentals of quality care, leadership access and responsiveness, autonomy, interprofessional relationships, RN-to-RN teamwork in collaboration, professional development, and then adequacy of resources and staffing."
"We wanted to make things simpler for our nursing staff so we would be able to communicate results back to them more quickly. We also wanted to increase our participation rate by combining everything into one survey opportunity. We were successful on both fronts. We had a 76% participation rate across the entire system, encompassing all surveyed employees, and the survey on average took 12 minutes and 22 seconds. From a nurses-only standpoint, it took 14 minutes and 40 seconds so we added about two minutes and 20 seconds for our nursing team to complete those core questions. From a perception standpoint, we found that we continued to improve our highly favorable results in regard to how respected how our employees felt, which was very important for us. We also continued to really work on employee recognition, and we did see some gains in that area."
"Our nurses had a response rate of 74%, which we were excited about. I am very proud to share that all Magnet survey categories were above that benchmark. We clearly saw our quality to be above the nursing benchmark. Confidence and evidence-based practice being utilized was above benchmark, along with our commitment to providing a safe environment for care. Our RN teamwork definitely demonstrated a higher score compared to our benchmark, which again we were very proud of at the time of this survey. And our access to information and equipment was above that benchmark in a very positive way."
Pediatrics Sets the Benchmark for Employee Engagement and Patient Experience
Jayne Gmeiner: "Pediatrics sets a whole new benchmark for both employee engagement and patient experience scores, so this was an area of opportunity for us. We definitely heard and know that recognition is a key driver of employee engagement. We also had staffing concerns brought forward to us. That is an area where we continue to work with our talent acquisition, employee engagement, and HR partners."
"One of the things about our Perceptyx survey that I have been impressed with over the last couple of years is the ability to get data in a very quick way. I could easily see where we are with our nursing benchmark and our children's hospital average for those key requirements from a Magnet standpoint. That was essential, as we are on our journey for re-designation, and having this information available to us was critical."
"We had data by unit. I have data by manager. I can slice and dice information in a fast way that helps us lead and listen in a better way, which has been vital to our continuous improvement. Through this effort, we also expected each of our managers to share their results with their employees. Our goal is for them to see that we are sharing the results, have them help us build our action plan in response to the results, and then continue to follow that action as the year progresses."
A More Mature Employee Listening Strategy
Jayne Gmeiner: "All of us know that one survey a year is not going to give you the pulse check you need for employee engagement. Therefore, one of the things we expect of our nurse leaders is that every month they touch a percent of their employees with a rounding effort. We have been doing that for the last several years, and it's something I continue to measure every month."
"We also expect our leaders to demonstrate appreciation by writing notes of appreciation to our employees. We have a great system here that we call "Above and Beyond" that allows us to recognize our individuals based on our values. That helps drive recognition of our values while giving recognition, on a point system, to our employees."
"As nursing leaders, we know that wellbeing and safety matters to our teams. We were hit by the 'tridemic' in fall 2022, with RSV, COVID and flu causing surges that ensured we were running well above 100% capacity for about eight weeks. Those things continue to stress and strain not only our direct care staff but those that help lead our staff, so listening to all levels is vital to our employee engagement."
Click here to watch the complete discussion with Perceptyx and Dayton Children's on-demand. You can also read the full case study of our work with Dayton Children's, including its ongoing Magnet redesignation efforts here.
Perceptyx Can Help Your Healthcare Organization Achieve World-Class PX and EX Outcomes
Perceptyx has deep expertise and proven success in helping healthcare organizations apply employee listening and people analytics to deliver a world-class employee experience.
For more information on how your healthcare organization can utilize our platform and products to help support Magnet designation, safety, employee well-being, and more, schedule a meeting with a member of our team.