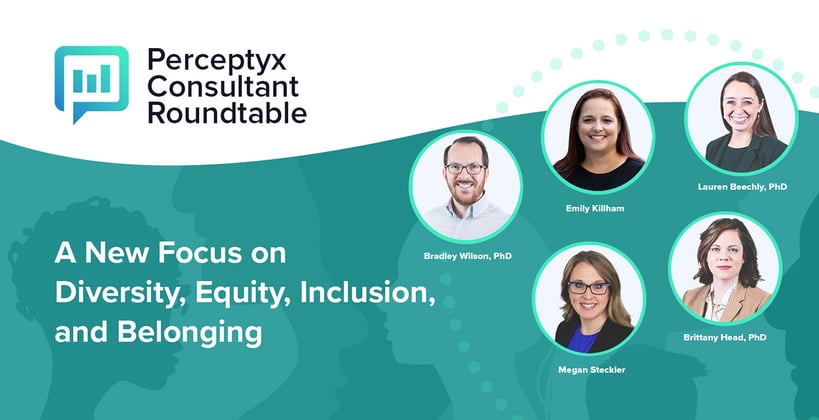 A New Focus on Diversity, Equity, Inclusion, and Belonging: Perceptyx Consultant Roundtable
While the last two years have been extremely hard for people and organizations, there may be at least one silver lining. People have started to look at the world a little differently and realize they want and need more out of their workplaces. Organizations are, in turn, listening more closely and acting.
One clear message being delivered to organizations of all sizes is the need for a greater, more targeted focus on diversity, equity, inclusion, and belonging (DEIB). The Perceptyx team is seeing more and more organizations add DEIB questions to their employee surveys, while others are implementing new programs such as dedicated ERGs and task forces charged with making specific recommendations to leadership.
Our consultants (Director of Research and Insights Emily Killham, Directors of Client Consulting Lauren Beechly and Megan Steckler, Director of Consulting Excellence Bradley Wilson, and Senior Consultant Brittany Head) addressed this topic in their recent roundtable and here's a snapshot of their discussion. (Check out additional team insights on employee engagement and the impact of COVID and employee attrition from our earlier roundtable posts.)
Our Top 4 DEIB Takeaways
1. Many organizations are still in the early stages of implementing DEIB plans and programs, and even more are unsure about where to start. The best option to begin by asking employees what they think is important, where the company has room to improve, and what they want to see the organization do in response. As Lauren states, "I know many organizations have had an increased focus on issues of diversity, equity, inclusion, and belonging recently, and for a lot of these organizations, they're young in that journey and they don't know where to start. And so, some organizations have been crowdsourcing, asking, 'Where do you think we should start in terms of improving inclusion?', and very quickly getting actions that many agree are a great place from which to start that journey."
But while it's important for these organizations to ask the right questions, they must also make sure there is consistency about what they're asking across the employee population. This will help the company gather enough data to understand implications across all employee groups, and put them on the path to success.
2. Scores of DEIB survey items are improving. Even though it's still early days for many of our customers, they are making progress, and employees are recognizing that. This, in turn, motivates organizations to continue this important work and reach their goals. The benefits for both individuals and the organization at large are clear: Perceptyx research has found that employees in organizations free from discrimination are twice as likely to look forward to going to work and half as likely to be physically or mentally exhausted after the workday.
3. DEIB is becoming a clear driver of engagement. Previous research has shown that younger generations (like Gen Z) are searching for jobs at organizations focused on DEIB, but now we're also seeing it impact engagement scores, especially around intent to stay.
4. Organizations must set precise expectations when asking DEIB questions on employee surveys. Employees may be skeptical about providing some demographic data for fear of how the information will be used or concerns that it could have negative implications for their employment. That's why organizations must be clear about why they are asking certain questions, and equally transparent about how the data will be applied. Communicate clearly about what actions will result from survey data, and why responding is important. This will help establish the necessary level of trust and comfort employees need to answer honestly.
Stay Tuned for the Final Installment…
The Perceptyx Consultant Roundtable has shared lessons learned on employee engagement trends, COVID-19 and its impact well-being, rising attrition rates, and of course, DEIB and how organizations are handling this important topic. In the final installment, we'll hear how organizations can align their employee listening strategy to impact key business outcomes.