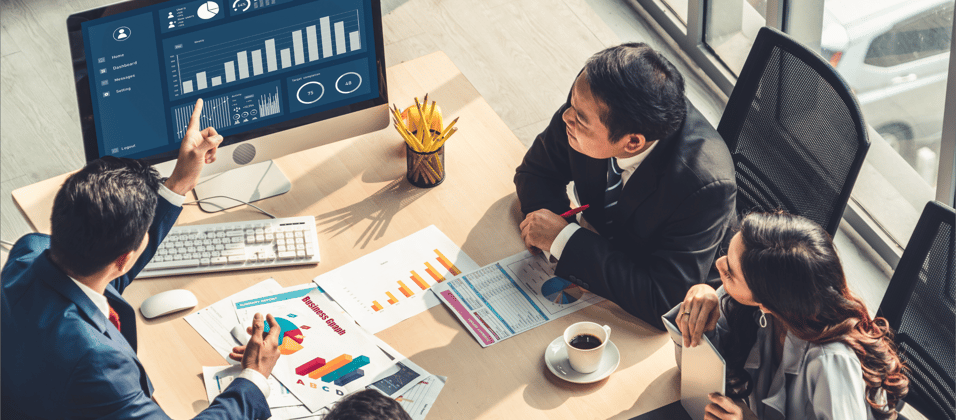 Making Better Decisions with People Analytics

As organizations look for ways to improve decision-making around performance, talent management, and the employee experience, the field of people analytics has grown exponentially. According to research conducted by The Josh Bersin Company with support from Perceptyx, companies that leverage people analytics are 5.6 times more likely to achieve their employee experience and business outcome objectives. Given that obvious benefit, it should come as no surprise that 61% of companies increased the size of their people analytics teams in 2021.
Here are just a few examples of the ways that HR data analytics can be used to improve business decision-making:
Streamlining recruitment and onboarding processes,
Improving payroll management,
Supporting

diversity and inclusion efforts

,
Examining benefits for cost-effectiveness, and
Measuring the success of training and development activities
In this post, I'd like to demonstrate how data captured via a strategic survey program can be put into action, touching on areas such as employee engagement and predictive analytics, as well as how data-driven insights can be transformed into compelling narrative storytelling.
Digging Deeper into Engagement
Consider the following indicators of engagement that can be captured in people analytics data:
Intent to stay
Referral behavior
Pride in organization
Intrinsic motivation
A low score on any of these measures would be an indication of disengagement. For example, an employee may intend to stay in their job but have little pride in the company, satisfaction in their work, or willingness to recommend the company to others.
To get an accurate picture, all of these indicators have to be considered, since no single one can tell the whole story about an employee's level of engagement. Sometimes the reason for a drop in engagement is easy to discern. For example, a company might be going through a major restructuring, causing scores to dip until the organization stabilizes and employees adjust to the new normal.
Even then, however, all the engagement scores will reveal is that employees feel stressed due to the change. A strategic survey program can uncover the reasons why and point towards improvements, making it a crucial contributor to a people analytics practice. To get answers about what is driving engagement scores lower or higher, it's necessary to measure all the factors that shape and define the employee experience and, in turn, drive engagement scores.
Data-Driven Decision-Making: The Case for People Analytics
Without data, policies can be reactionary and implemented to the detriment of certain populations. The ability to not only gather data but also understand it and extrapolate the reasons behind it delivers many benefits for an organization.
By using data to inform decision-making, policies can be made proactively and rooted in the facts — making it far easier to get buy-in from all levels of the organization. The benefits don't stop at better decision-making, either; data analytics also helps organizations track key performance indicators (KPIs) such as:
DEIB metrics,
Performance reviews,
Attrition rates,
Wage and benefit data, and
Candidate data.
Here's how Ahold Delhaize — a Dutch multinational retail and wholesaling company — worked to understand how store engagement affected store financial performance. Perceptyx analyzed two years of engagement data and three years of financial performance data across six brands and 1,900 stores. The findings spoke to the power of high engagement:
Top-performing stores experienced 70% higher net sales, 6.25% higher underlying operating margin, and 20% lower shrink (any type of loss, from missing money to inventory that should be present but isn't actually on hand or saleable)
Less engaged stores were 2.3 times more likely to be weaker financial performers, costing the organization $500 million in lost net sales
In the case of Ahold Delhaize, Perceptyx was able to assign a concrete dollar value to the data.
From Reporting to Predictive Analytics
Organizational leadership needs the right data, presented in the right way, in order to optimize decision-making. Certain metrics take us beyond merely reporting past performance to predict future outcomes. Examples include:
Attrition rates/employee churn:

By analyzing lifecycle or

exit survey

data, HR leaders can determine indicators of attrition and better predict when employees may leave as well as

why

these employees are leaving. It can also help identify areas that need improvement and potentially help lower

attrition rates

in the future.



Employee engagement:

Data captured via an effective employee listening program will identify drivers of and barriers to

employee engagement

. An organization will then be able to improve action planning by

removing barriers

and focusing on the metrics that encourage engagement, resulting in increased productivity and better business outcomes.



Leadership success and performance management:

Data can help determine how well leaders are managing their teams as well as how well teams and individual employees are performing. Companies can tap into the behaviors of leaders with engaged and productive teams as well as those who may need to improve to inform leader development programs. By examining trends by team or department, companies can better understand what management success looks like and how to reward those characteristics. Additionally, data can identify who lives by the company values, is succeeding in their roles, and is likely to be interested in growth opportunities.
Storytelling with Data
Data is just a collection of numbers until it is given narrative form. Telling a story with people analytics data can help leaders understand organizational challenges and opportunities.
Consider a hypothetical situation in which 2020 annual census responses predicting turnover are applied to 2022 census survey data. If machine learning algorithms predict the organization will experience between 1,200 and 1,800 terminations over the next 6-12 months and "career opportunities" remain a top driver of an employee's intention to stay on the current census survey, then a narrative emerges: Action planning can focus on career development and advancement, as reinforced in Perceptyx's recent research on the link between compensation and attrition, as a way to stave off these unwanted departures. This predictive data can also help you dive into specific demographics to uncover any hotspots requiring targeted intervention.
As you prepare to tell these stories, keep this simple formula in mind. A compelling narrative requires:
Business context: What is the current market situation or situation within your organization?
Problem/hypothesis: What is the issue you are attempting to address and what proposed explanation do you have for this problem?
Data available: What metrics are at your disposal for testing this hypothesis and arriving at actionable conclusions?
Tell the story: Explain to key organizational leaders how all of this fits together while offering a proposed action plan for achieving quantifiable improvement.
Perceptyx Can Help You Tell The Right Stories with Data
Perceptyx has helped some of the world's largest organizations tell human-centered, people-first narratives by connecting people and business data through our comprehensive employee listening platform. To learn more about how we can partner with you, schedule a meeting with a member of our team.