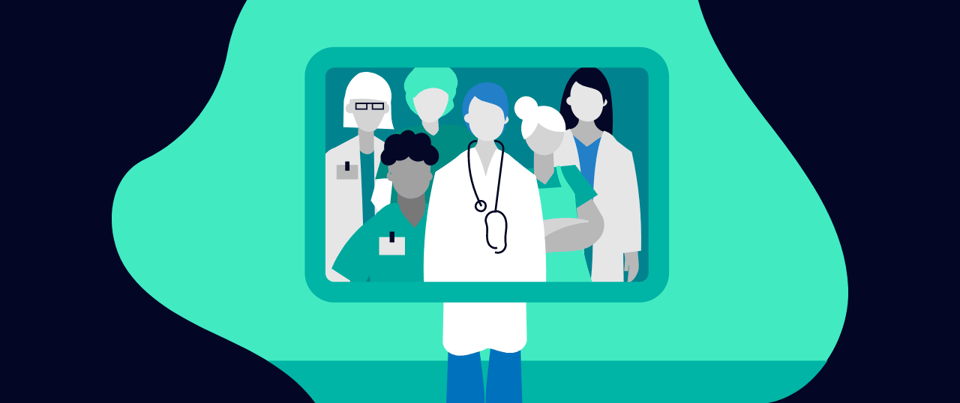 Measuring Nurse Satisfaction: A Research-Backed Approach to Magnet Status

In the high-stakes environment of healthcare, quality nursing care isn't just desirable, it's required. For organizations striving to achieve the gold standard of nursing excellence — Magnet recognition by the American Nurses Credentialing Center (ANCC) — Perceptyx offers a specialized solution: our Magnet-approved Nursing Satisfaction Survey. This survey is designed to measure seven core aspects of nursing satisfaction and is backed by rigorous validity evidence.
In this article, I'd like to discuss why Magnet recognition is highly sought after, then provide an overview of the topics our survey covers as well as an explanation of the value of integrating employee surveys.
---
A Brief History of Magnet Recognition
Before diving into our survey's specifics, it's crucial to understand the context within which it operates. Developed by the ANCC, the Magnet Recognition Program aims to identify and celebrate healthcare organizations demonstrating superior nursing practices and outcomes. As of January 2023, just under 10% of more than 6,000 U.S. healthcare organizations hold this esteemed credential. According to an article in the Journal of Nursing Administration, "the attainment of Magnet status is an external signal that quality, service, and patient-centered care are visible and alive in the organization."
Originally founded in 1990, the Magnet program has roots in a 1983 study by the American Academy of Nursing's Task Force on Nursing Practice in Hospitals. The goal of the study was to identify environments where the best, most qualified nursing talent is attracted and retained. The study outlined 14 "Forces of Magnetism" — characteristics that make healthcare environments more attractive to qualified nurses and that contribute to quality patient care. These 14 Forces were condensed into Five Model Principles upon which the current Magnet model is built:
Transformational leadership
Structural empowerment
Exemplary professional practice
New knowledge, innovation, and improvement
Empirical quality results
The Impact of Magnet Recognition on Employee and Patient Experience Outcomes
The benefits of Magnet recognition are significant and go beyond a badge for receiving the designation. Research has consistently shown that nurses in Magnet facilities are 18% less likely to be dissatisfied and 13% less likely to experience high levels of burnout. Moreover, they are less likely to leave their current roles. This translates to improved patient experience and safety, as satisfied, engaged nurses are more proactive in preventing adverse events that could harm patients and inflate hospital costs.
The financial implications can't be overstated, either: The cost of a nurse leaving their role can range from $22,000 to more than $64,000. In a time when healthcare organizations across the industry face challenges in adequate staffing — as well as other issues highlighted by both outside reporting and internal Perceptyx research — having the Magnet designation helps mitigate risks such as these. Hospitals with turnover rates exceeding 20% encounter further negative consequences, such as elevated hiring costs and diminished return on assets. By comparison, healthcare organizations that seek Magnet status and have highly qualified and satisfied staff may positively impact patient safety and prevent other adverse events that could both harm patients and increase costs. Measuring the Five Model Principles enables healthcare organizations to strive for clear measures of success and take action in areas that are known to increase the number of satisfied, qualified nursing staff that positively impact organizational outcomes.
Organizations interested in Magnet recognition must submit electronic applications with both qualitative and quantitative evidence of exceptional patient care and outcomes. If the evidence meets the rigorous standards of excellence, ANCC will then proceed with a site visit before any voting by the commission occurs. Once achieved, the Magnet recognition lasts for four years and can be renewed upon reapplication. Through its Nursing Satisfaction Survey, Perceptyx enables organizations to easily integrate this requirement for Magnet submission into regular employee listening events, streamlining the process and making the cultivation of a workforce of highly qualified nurses a more attainable goal.
A Closer Look at Perceptyx's Survey
Partnering with ANCC since 2014, Perceptyx fine-tuned its Nursing Satisfaction Survey to coincide with ANCC's updated guidelines as of 2022, thus ensuring that organizations could utilize it to apply for Magnet recognition or maintain approval. The survey consists of 24 items measuring seven core areas of Registered Nurse (RN) satisfaction:
Fundamentals of Quality Nursing Care
Leadership Access and Responsiveness
Autonomy
Interpersonal Relationships
RN-to-RN Teamwork and Collaboration
Professional Development
Adequacy of Resources and Staffing
While minor adjustments to the survey's terminology are permitted to better align with an organization's specific language, the ANCC mandates that the survey be administered in its entirety for it to meet Magnet requirements.
An Overview of the Power of Integrated Surveys
As noted above, Perceptyx enables the seamless integration of our Nursing Satisfaction Survey into our other employee listening events, providing organizations an efficient, holistic approach to employee well-being. By bundling employee surveys such as Nursing Satisfaction Survey together into one seamless experience, organizations can gain richer insights into employee sentiments while minimizing disruption to critical business operations, all while taking nurses off the floor and away from patients for the least time possible.
Benefits of integrating multiple discrete, point-in-time surveys into a single listening event include:
Greater listening event participation:

Listening to more voices is critical to ensure diverse perspectives are understood, to help more employees feel heard, and to ensure insights and actions are representative of the entire population. Integrated surveys produce much higher participation than stand-alone pulse surveys within healthcare organizations with average participation exceeding 70% for integrated healthcare surveys compared to only 56% participation when administered separately. This is especially evident with safety culture surveys, with the

Agency for Healthcare Research and Quality

reporting a 48% average participation nationally for hospital safety culture surveys alone, far below the average participation achieved when integrating multiple, topical surveys into one listening event. Several factors can contribute to this increased participation including the amount and type of internal communication about the listening event, the amount of encouragement from leaders to participate, the level of clarity on how feedback will be used, the desire to provide input on at least one of the topic areas assessed, and the elimination of confusion from employees who might mistakenly believe they already responded to a new survey administered at a separate point in time.




Fewer business disruptions: Integrated surveys divert attention from mission-critical work only once, rather than multiple times when surveys are administered separately at different points in time. Organizations with largely deskless workers or hard to reach populations such as clinical staff within healthcare organizations can especially benefit from gathering a wide variety of feedback at a single point in time, diverting attention only once and minimizing disruption from patient-facing tasks.



Richer insights:

By gathering multiple types of perceptions at a single point in time, leaders can understand how these different perceptions relate to each other without confounding factors, such as time, having a potential influence. This provides more comprehensive insights and confident actions. For instance, measuring aspects like access to senior nursing leadership and nurses' intent to stay in their roles can offer interconnected insights. Assessing these factors concurrently allows organizations to identify targeted strategies that could improve both nurse satisfaction and retention rates. If these variables were measured at separate intervals, it would introduce the likelihood of confounding factors, making it more challenging to pinpoint causal relationships. By focusing on nursing-specific issues, the organization not only addresses immediate concerns but can also learn how these concerns intersect with other institutional priorities, such as safety culture and staff well-being.





Ease and speed of integrated insights:

Integrated surveys are reported as discrete listening events within a single application in

Perceptyx's People Insights Platform

, allowing for clear understanding of a particular focus area (e.g., clearly understanding nursing perceptions for Magnet). Analysis within the reporting site through integrated dashboards and intuitive functionality also allows for immediate understanding of how perceptions across these discrete surveys relate to each other, quickly and easily surfacing a more comprehensive understanding of employees' experiences and needed actions.




Simplified governance: Frequent listening adds a layer of complexity as organizations balance the need to continuously listen and act with the need to ensure stakeholders are following organizational-wide guidance on how to listen and what to listen about. Integrated surveys streamline the governance process by combining multiple discrete surveys into a single listening event.
Perceptyx Can Help Your Organization Cultivate the "Best Bosses Ever"
Perceptyx's specialized survey doesn't just measure nursing satisfaction — it provides you with the data-driven insights needed to cultivate it. Our deep expertise and proven success in healthcare employee experience make us an invaluable partner for organizations aiming to achieve Magnet recognition and, ultimately, elevate the standard of nursing care.
For more information on leveraging Perceptyx's platform and products to support your healthcare organization's Magnet designation, safety initiatives, employee well-being, and more, schedule a meeting with a member of our team.