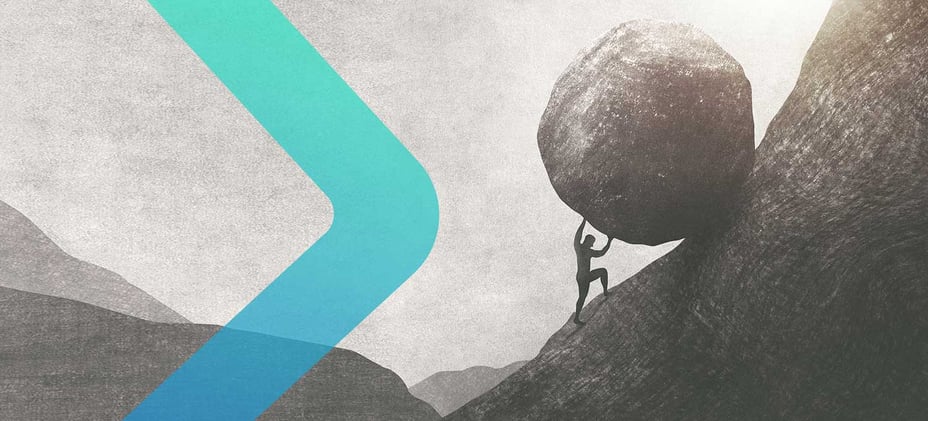 Resilience: How can Organizations and Employees Strengthen Their Resilience During Unprecedented Times?
Now is the time for us to flex our muscles for resiliency. As the COVID-19 pandemic continues to sweep the globe and uproot much of what made life seem "normal," employers and employees face hard decisions. In this tidal wave of uncertainty, do we resist the waves of change, clinging rigidly to old routines and expectations, or learn new skills and set new goals to successfully navigate and conquer these unfamiliar waters?
What Is Personal Resilience?
Personal resilience can be the difference between bouncing back and growing from challenges, or failing to rise to the occasion when life presents us with major obstacles. Resilient individuals are: self-aware, self-regulating, have strong self-efficacy, look at situations from multiple perspectives, engage in problem solving, tap into interpersonal connections, and believe in a positive future. (Karen Reivich, Ph.D, University of Pennsylvania, "Positive Psychology: Resilience Skills" course (1, 2)).
However, in a world impacted by COVID-19, many of us will need to strengthen our resilience muscles as we begin to encounter the new, unforeseen stressors in our lives.
Four Ways to Strengthen Personal Resilience:
Focus on what you can control. This can be an opportunity to stake a claim in creating positive outcomes as a result of the challenges we face today. Ask yourself, "What can I do to make this better now and in the future?" By really thinking about what you can do and the difference you can make—however small—you start to define a purpose and direction.
Remind yourself that this is temporary. Viewing the current events as a blip in time can help us develop a more stable perspective and clearer cause-and-effect thinking.
Frame it as a challenge and not a threat. Seek to regulate your emotions so you can begin working on what it will take to address the issue. By keeping this from becoming a purely traumatizing event, we create the opportunity to grow through and from it.
Connect. Take time for self-care and sharing with others, both of which can be sources of strength and energy. It is also important to ask for help when you need it, as oftentimes people do not know what you need until you tell them.
For additional strategies on how to enhance your personal resilience see this blog by Nick Hayter.
Remember, resilience is a universally valuable tool, and one we can carry with us into any situation.
What is Organizational Resilience
Resilience is not limited to individuals; it also applies to organizations. Leaders can foster organizational resilience with the goal of emerging from a crisis stronger than when they started. To do this, leaders must model resilient behavior themselves and actively encourage it within their organization:
Be visible and relevant. Employees may be facing major changes in standard operating procedures or work arrangements, or dealing with worries about job security. Leaders should provide timely messages to address these concerns and act based on real-time data. Employees will feel supported when they see leaders who care about them and empathize with what they are facing. This is true whether the concerns employees face are immediate or long-term, personal or professional. Senior leaders need to inspire by sharing authentic communication with employees during this time. Their messages need to convey "I hear you," "I understand this is hard," "I care," and "We will get through this together."
Build on past successes. Share stories of how your organization and individual departments have been resilient in the past. Remembering past successes will build confidence for future performance.
Embrace the challenge. Looking back to the efforts your organization made before anyone knew we would be in a pandemic situation, it is likely that your company spent considerable time building operational excellence. You created strategies to train your workforce and build engaging workplaces so you could be agile and adapt to new and better opportunities. Unknowingly, this has been preparation for the "Next Normal." Now is the time to build those agile muscles and become more resilient. Think about it as taking your morning jog from a treadmill to a more challenging outdoor trail. This mindset will help pull your organization ahead when the market becomes more active.
Redefine your space. The outcome of this crisis doesn't need to be rebuilding from rubble. You can instead rebuild from a new place of strength to create a new launchpad to the future. You might consider using this time to:

Experiment with novel ways to engage existing and past clients.
Update the employee experience (EVP).
Refresh existing training and employee development processes.
Evaluate and prioritize mission-critical work for each department.
Rethink how managers are empowered and expected to motivate and engage teams.
Enhance HR support for the organization in both large and small ways.
Focus on how senior leadership can inspire and exude confidence, and continue to attract talent.
We're here to help.
Perceptyx has designed and deployed a series of COVID-19 surveys that are available at no charge; we are also developing other resources to not only help you get through this, but rise above it. Here are some solutions leaders can apply right now to become more resilient:
Use our pandemic surveys and real-time benchmarks to understand the evolving employee experience and meet employee needs as they emerge. Show employees they are still valued by providing support when and how they need it. Help employees feel heard by listening, and then close the loop by sharing results and actions. This will help them feel they belong and are important parts of the community.
Empower managers with real-time capability to gather, interpret, and take action on their team's data. The Perceptyx OnDemand tool is perfect for creating ad hoc surveys to gather timely team data. And from a wider perspective, empowering more distributed authority during times of crisis. Clients who have chosen to continue with their planned survey strategy (pulses, census measurements) will improve their analytics capability during the crisis, further positioning them to emerge stronger and even more connected.
Use people analytics already built into the Perceptyx platform to enhance understanding and coordination. For example, who is working from home and responded unfavorably to engagement items and resource items on the pulse last week? What were their comments? How can we best help them? Those answers are just three clicks away in the Perceptyx platform.