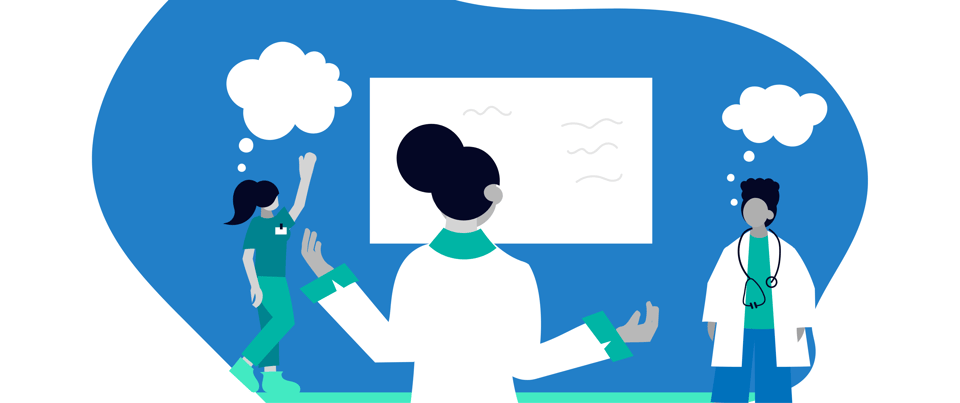 Diagnosing the Link Between Employee Experience and Patient Experience

In 2021, Perceptyx conducted research validating the important connection between employee experience and patient experience. Employee experience broadly describes what it's like to work in the organization and how employees feel about their experiences at work, while patient experience involves assessing how well the healthcare system is engaging in the behaviors of high-quality care that are important to patient outcomes. The world has changed significantly since that research was published -- well-being declared a top priority by the Surgeon General, technological advancements, historically low operating margins, and a startling rise in workplace violence incidents. These changes necessitate further exploration of this relationship to understand what aspects of the employee experience may have changed from two years ago.
In our previous work, Perceptyx research found evidence of three primary employee experience drivers of patient experience: Safety Culture, Recognition, and Collaboration. Given the environmental context during that period, specifically relating to the impact of the COVID-19 pandemic, these drivers aligned with the broader evidence and focus of the time.
Looking back at the past year, employee experience shifted for the healthcare industry. In the summer of 2022, a sharp increase in engagement and employee experience was observed; however, these improvements were not long-lived and by the end of the year, the industry experienced the second steepest decline in engagement and experience. Historically, top-performing healthcare organizations had been able to weather these shifts, maintaining relatively stable performance, but by the end of the year, even the top decile was experiencing sharp declines.
The Healthcare Academy released research during their 2023 spring forum showing that C-suite priorities also shifted from the previous year. Tight operating margins and labor shortages were leading to new strategies emphasizing cost containment and an increased focus on sustainable recruitment and retention of the workforce. Furthermore, diversity, equity, inclusion, and belonging (DEIB) is playing an important role as talent pools shrink to talent puddles, emphasizing the need to explore innovative and creative recruitment strategies. Technological disruption, primarily caused by swift advances in artificial intelligence, also made clear the need to reconsider how work is designed and define the new dynamic where employee performance is enhanced through AI assistance.
Connecting the Drivers of Employee Experience & Patient Experience
Engagement
At Perceptyx, engagement is measured by four key components: pride in the organization, intent to stay, advocacy behavior, and intrinsic motivation.
The research findings consistently demonstrate a strong correlation between employee engagement and patient experience. Through an analysis of HCAHPS data from 2021 and corresponding employee experience (EX) data, it is evident that higher levels of engagement are frequently associated with a higher HCAHPS Star designation. Hospitals that achieved a 4 or 5-star rating demonstrated engagement scores approximately 7% higher than those with a 3-star rating, and approximately 12% higher than hospitals with a 1 or 2-star rating.
Advocacy
Furthermore, the research indicates that specifically advocacy, measured by an employee's likelihood of recommending the organization as a good or great place to work, plays a significant role in this relationship. Hospitals with a 4 or 5-star rating had advocacy scores approximately 17% higher than those with a 3-star rating, and approximately 34% higher than hospitals with a 1 or 2-star rating.
Other Engagement Facets
Additionally, other facets of engagement, such as pride, intent to stay, and intrinsic motivation, also showed notable differences across star ratings. A 4+ star rating demonstrated an 18% higher score in pride compared to a 1 or 2-star rating. Intent to stay exhibited a 9% higher score for a 4+ star rating compared to a 1 or 2-star rating. Similarly, intrinsic motivation showed an 8% higher score for a 4+ star rating compared to a 1 or 2-star rating. These findings highlight the significance of employee engagement, advocacy, and other key components in shaping the patient experience within healthcare organizations.
How Employee Experience Influences Patient Experience
Upon further analysis, three important employee experience elements emerge as strong influencers of patient experience:
Leadership, especially of those at the highest level of the organization
Safety culture
Valuing employees
Having a strong safety culture and ensuring employees are valued are consistent aspects of the work experience observed in previous research. However, this most recent research uncovered the rise of a new key factor linking employee experience to patient experience — the power of strong executive leadership.
Senior Leadership
Historically, the focus on sustaining a positive employee experience has predominantly centered around frontline leadership; however, based on the environment, it will be important to focus on instilling trust and confidence in higher levels of leadership, as well. Over the past year, we have witnessed a significant influx in senior leadership changes, with CEOs experiencing some higher rates of departure than in the past. Although this has stabilized somewhat this year, Deloitte recently found 75% of C-Suite leaders are seriously considering quitting to take a less stressful job, which demonstrates this trend is tenuous. Benchmark performance indicates that favorability in the area of senior leadership has traditionally been moderate, and it frequently emerges as a key driver of employee retention and engagement.
Research demonstrates that organizations with a more positive patient experience tend to have a workforce that exhibits confidence in their senior leadership and possesses a clear understanding of the organization's vision.
To address these findings and enhance senior leader effectiveness, an action-oriented approach is recommended. One potential avenue for improvement is through executive leadership development initiatives. These programs can help cultivate the skills and competencies of senior leaders, enabling them to effectively lead and inspire their teams. Some organizations have leveraged technology to elevate behavioral insights to support the development of leaders. Additionally, implementing 360-degree feedback processes can provide valuable insights and feedback for senior leaders, allowing them to gain a comprehensive understanding of their strengths and areas for development. By taking these actions, organizations can foster an environment where senior leaders are better equipped to support their workforce, leading to improved employee experiences and, in turn, positively impacting patient outcomes.
Safety Culture
Safety is undeniably a fundamental value within the healthcare industry. It is linked to high-reliability practices and principles, highlighting the critical importance of ensuring safe care environments for patients. Notably, when employees actively advocate for the organization as a safe place to receive care, it often aligns with patients' own perceptions. This connection between employee advocacy and patient sentiment underscores the significance of cultivating a robust safety culture within healthcare organizations.
To drive improvements in the provision of safe, high-quality care, one actionable step is to first capture employee sentiment about the safety culture within the organization. At Perceptyx, we offer a Leapfrog-approved Safety Culture Survey that is quick, actionable, and can be utilized across both clinical and non-clinical populations. It provides valuable insights into areas that are directly connected to a strong safety culture, such as psychological safety, teamwork and collaboration, and continuous improvement. By identifying specific areas for improvement known to impact safety culture, healthcare organizations can develop targeted strategies to enhance these critical aspects.
It is also crucial to gather insights and ideas directly from the frontline staff, as they are the ones who are uniquely positioned to identify challenges and propose solutions to delivering safe, high-quality care. Their frontline perspective provides valuable input for organizational decision-making and process improvements. By actively engaging and involving frontline employees in the process, healthcare organizations can tap into their expertise and empower them to contribute to a safer care environment. This collaborative approach fosters a culture of continuous learning, innovation, and accountability, ultimately strengthening the overall safety and quality of care provided.
Appreciation & Recognition
Feeling valued and recognized have consistently emerged as top drivers of employee engagement, highlighting their foundational connection to a more favorable employee experience. It is important to dispel the common misconception that recognition and feeling valued are solely connected to compensation. In reality, most instances find that feeling heard, appreciated, and having a sense of belonging have a far greater positive impact on feeling valued than monetary rewards. To improve the sense of feeling valued and recognized, organizations can leverage the ability to crowdsource and prioritize actions. This solution proves helpful as it addresses the common challenge faced by leaders who are often unsure about how to enhance this aspect of the employee experience. Rather than assuming that employees are primarily interested in increased compensation, organizations can gather insights and ideas from their workforce to understand their specific needs and preferences. As one CEO said when quoting The Beatles during a results review with his Executive Leadership Team, "Money can't buy you love."
Many organizations are now implementing new or enhanced recognition programs that encompass both formal and informal recognition. These programs aim to create a culture where employees feel valued and appreciated for their contributions. Formal recognition initiatives may involve the establishment of hubs or online spaces that provide a platform for employees to publicly express gratitude and recognize their colleagues' achievements. This not only allows individuals to feel recognized and appreciated but also encourages a positive and supportive work environment. Additionally, informal recognition plays a crucial role in making employees feel valued. One-to-one interactions and team meetings provide opportunities for managers and colleagues to acknowledge and appreciate each other's work in a more personal and authentic manner. By incorporating both formal and informal recognition strategies, organizations can cultivate an environment where employees consistently experience a strong sense of value and recognition, contributing to a positive employee experience overall.
An Urgent Call to Action
Over the past year, priorities for leading healthcare systems have shifted to an intense focus on operating margins which emphasizes the importance of finding efficiencies and demonstrating value. At Perceptyx — an organization committed to helping organizations and people thrive — our healthcare customers are gaining deep insights into their own culture's impact on their patient outcomes, including patient experience. Using an evidence-based approach, we've uncovered new insights into the value of investing time and resources aimed at leadership development, embedding a strong safety culture, and valuing employees. Healthcare organizations excelling in these are generally able to provide a more positive patient experience through a highly engaged workforce that are advocates of the organization.
To check out our deepest dive yet into the world of healthcare, download our 2023 special report, State of the Healthcare Employee Experience. If you're keen to harness these insights for your organization, schedule a meeting with us.