Continuous Listening: RingCentral's Employee Life Cycle Strategy

By Bradley Wilson - July 03, 2019
When RingCentral partnered with Perceptyx in 2017, it was with the goal of gaining greater predictive power and the insights needed to inform rapid action in a company that had experienced explosive growth. Leaders recognized that the organization's rapid scaling efforts meant they did not have the visibility and understanding of the employee experience needed to support a high-functioning, innovative organization well into the future. While RingCentral's tremendous growth indicated a company doing a lot of things right, it also highlighted the risks associated with shifts in corporate culture or the employee experience at critical milestones in the employee life cycle.
Prior to partnering with Perceptyx, RingCentral only had anecdotal accounts of the employee experience, in the form of written employee stories. Realizing they needed hard data to guide decisions, the company worked with Perceptyx to design a comprehensive listening program. The program measures the employee experience through all stages of the employee life cycle in the organization. By linking data across surveys, leaders gained the ability to predict—and quickly react to—workforce trends.


Download our free guide, Continuous Listening: A Guide To Developing The Right Strategy For Your Organization, for tips on designing a continuous listening approach that addresses your company's biggest challenges—and supports your strategic goals.
Continuous Listening Through An Employee Life Cycle Strategy
Together, Perceptyx and the RingCentral HR team designed a survey program to support employee life cycle management. In 2017, they introduced the company to the RingTones Employee Listening program. The program now consists of:
An onboarding survey administered within two weeks of the employee start date and again 60 days later
A biannual pulse survey to measure employee engagement and key elements of the employee experience
A growth survey for employees who have received formal training
Exit surveys and attrition analysis to determine how the profiles of former employees might be dissimilar from their organizational role—which would influence and predict attrition
RingTones captures data about all the most critical points of the employee life cycle in human resource management (HRM). Collecting the data through the Perceptyx platform allows linkage and cross-analysis of surveys, enabling greater predictive power. Data generated by RingCentral's pulse surveys have been useful in conducting attrition analysis; by comparing to prior surveys and the aggregate scores of those who have left the organization voluntarily, the pulses can almost serve as a form of exit interview conducted months before an employee leaves.
"Democratizing the data" was a key goal for the HR team at RingCentral. They wanted to enable business unit leaders and executives to better manage their local departments as the company continued to grow. Working with Perceptyx, the company created a cross-functional platform that works for HR and every other business unit, allowing improved employee life cycle management across the entire company.
Using the Perceptyx platform, leaders and managers have the ability to customize the data. The platform makes the gathered data simple for leadership to use—the interface, the user experience, and the ability to have the survey translated and interpreted are critical to the success of RingCentral's continuous listening program. With the toolbox, managers can pull up the data analysis most relevant to their unit and begin to implement needed changes immediately.
Result: Company-Wide Engagement
RingCentral's strategy of linking data across surveys to listen during the moments that matter in the HR employee life cycle has paid big dividends.
Linking onboarding and engagement surveys has quantified the impact and importance of fostering a sense of belonging in new employees. People who are highly engaged have a more favorable response to the belonging question, the most important measure of diversity and inclusion.
Onboarding Opportunities
Analytics showed that highly engaged employees displayed a significantly greater sense of belonging during the onboarding process. It was also determined that belonging was an outcome of three critical experiences in the first 60 days with the company:
Coaching: managers provided feedback to help improve performance
Collaboration: new joiners were made to feel they were part of a team
Contribution: new joiners had the opportunity to contribute and believed their new jobs made good use of their skills and abilities
The organization also learned that new employees who had gained an understanding of RingCentral product and service offerings during onboarding had significantly higher engagement due to an increased feeling of connection to the company, even if they worked in non-customer facing roles or functions. This insight was the basis for including additional information about RingCentral products and services in onboarding for all new employees.
Attrition Prediction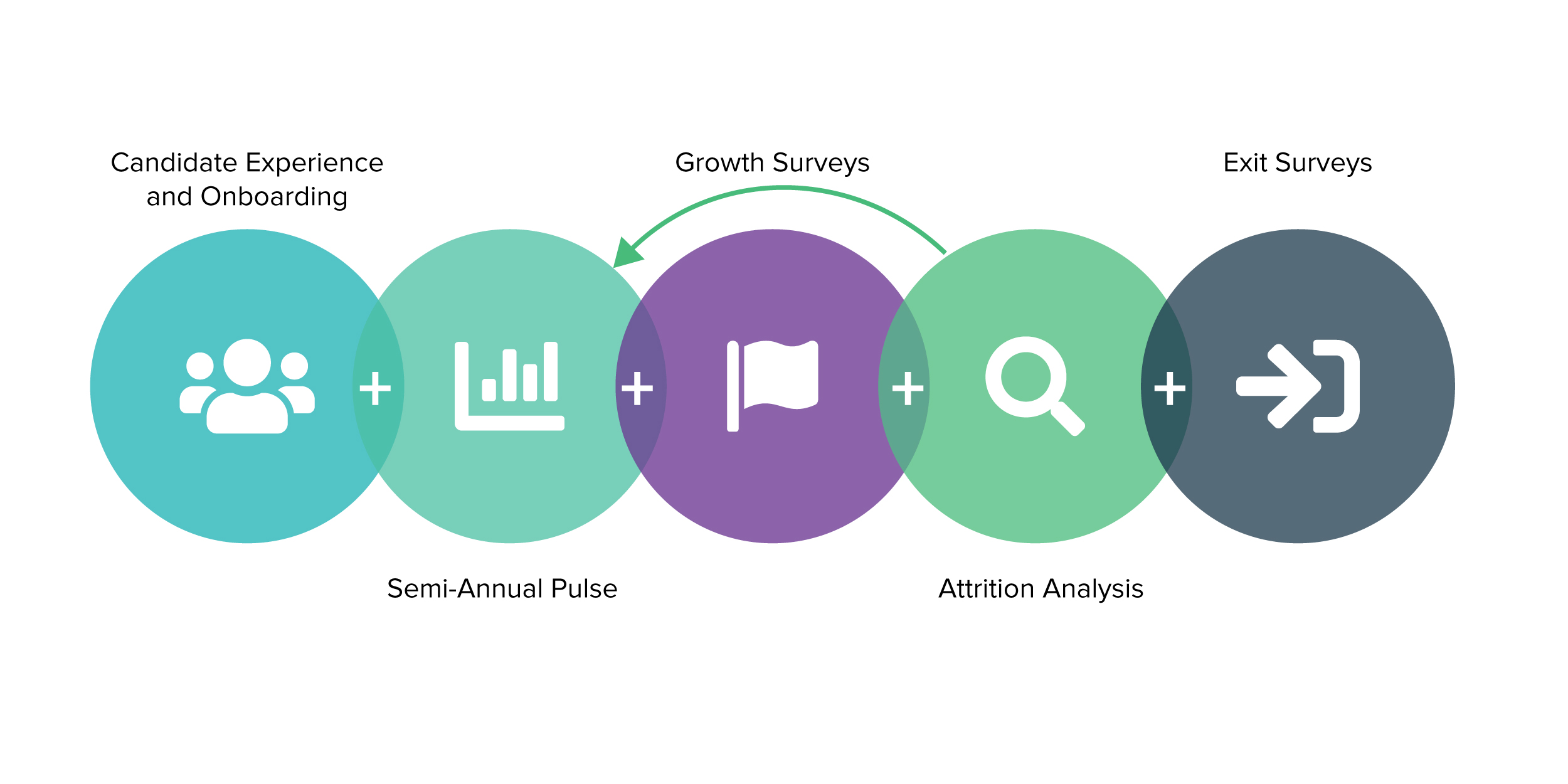 As shown in the model above, attrition analysis links exit survey data back to data from RingCentral's biannual engagement pulse survey. This linkage has enabled the creation of an attrition risk profile, revealing hot spots in specific demographics.
By analyzing historical data and comparing it to recent data, Perceptyx was able to predict the number of employees who would voluntarily leave within six months and the reasons why they would leave. This offered RingCentral an array of options for increasing retention. Perceptyx identified populations with higher numbers of "at risk" employees and delivered recommendations for targeted actions to reduce voluntary attrition and its negative impact on the business.
Listening Innovations
Like many organizations, as RingCentral has grown, communication and collaboration between departments has emerged as an area ripe for improvement. Perceptyx partnered with RingCentral to create a visual representation of the critical cross-functional intersections. The matrix highlights how each business unit rates the others on quality of work and responsiveness.
RingCentral employees were asked to identify up to three business units they work with on a regular basis and provide feedback on their experience with those units. With color coding of the data, the matrix shows where cross-functional intersections are positive and where there may be some friction points. Feedback collected from open-ended comments gives leaders additional visibility into possible root causes for low scores, so appropriate action can be taken for improvement. Trend data provides an additional level of insight as the nature and quality of organizational relationships change over time.
Company-Wide Engagement
A year prior to starting onboarding surveys, opportunity for career and personal growth was the number one reason new hires accepted offers of employment with RingCentral. The most recent data from new hires shows that reputation as a great place to work, which previously held the number four rank, is now tied with growth opportunities as the number one reason for joining the company. The investment into building a good employee experience has been so successful that word-of-mouth has spread the company's good reputation beyond its walls. RingCentral's continuous listening program has enabled insight-driven actions to improve the employee experience—and the company's ability to attract talent.
RingCentral has been strategic in designing a continuous listening program to measure the moments that matter in the employee life cycle. Linking those moments across the Perceptyx platform tells a much more compelling story than separate onboarding, exit, and engagement surveys can convey. The Perceptyx platform allows segmentation of demographics and comparisons to onboarding, exit, or other surveys with a few clicks, delivering insights that can only be acquired by taking a higher-level view. In the employee journey, every experience has an impact on future perception of the organization. (Tweet this!) The journey is linked, so it doesn't make sense to look at segments of it in isolation. As RingCentral's experience has shown, there is much to be gained by integrating the data to fill in the details of the story.
Want to see what a continuous listening approach integrated into your employee life cycle might look like?
At Perceptyx, we know that a one-size-fits-all approach to listening is not very effective. That's why we customize surveys and listening strategies to meet the needs and strategic goals of each organization. Our platform makes it easy to integrate data from many sources to gain deeper insight into the employee experience. Request a demo—we'll show you how the power of people analytics can help your company address its biggest challenges.