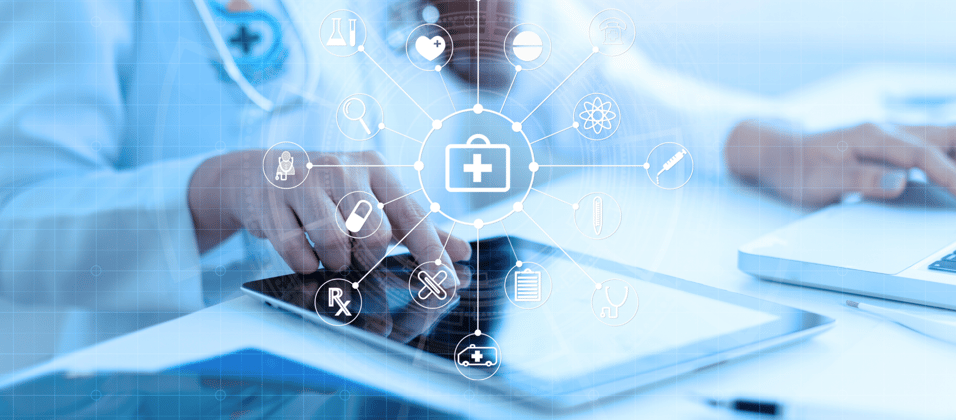 New Findings Show How Great Health Systems Boosted Employee Engagement
Lauren Beechly, Ph.D. & Ellen Lovell, Ph.D.
Perceptyx's recent report Healthcare Employee Experience in 2022: A Data-Driven Perspective analyzed our national healthcare database of 3.2 million healthcare workers from 485 health systems to determine why employee engagement in the healthcare industry has declined more over the past three years than in other industries. After a rise in early 2020, engagement declined below pre-pandemic levels for most healthcare systems by the end of that year, with the top 75th percentile falling below pre-pandemic levels by mid-2021 and the best-in-class systems dipping slightly below pre-pandemic levels by the end of 2021.
A Growing Gap in Employee Engagement Across Healthcare Systems
This remains critical information, but the latest data adds an important and exciting update to this evolving story. Most healthcare systems have, as of July 2022, stabilized at record low levels of engagement, with the 50th percentile stopping the descent and leveling off at the low levels experienced six months earlier. Although declining engagement has paused for most, opportunities remain as pride, motivation, commitment, and advocacy remain at record lows.
Meanwhile, the best systems – those in the top 75th and 90th percentiles – have rebounded, with the 75th percentile returning to pre-pandemic levels and the 90th percentile exceeding pre-pandemic levels and almost reaching the early high levels recorded in July 2020.
What this tells us is that the best healthcare systems are rebounding stronger than before, even as the gap between average healthcare systems and the top-percentile systems continues to grow.
Using this data as a starting point, we wanted to discuss what the best systems are doing to elevate their employee experience and employee engagement. What can your healthcare organization do to ensure it benefits from this positive trend?
Eliminating Barriers to Employee Engagement: Actions Taken by the Best
In our recent healthcare report, we identified five barriers – staffing, well-being, safety, culture of listening, and optimism – that could impede the improvement of employee engagement and the overall employee experience. Here, we would like to look at some of the best practices the top healthcare systems have used to reduce these barriers.
To address issues related to staffing, organizations can:
Embrace the "

Great Attraction

": Stop focusing on the "Great Resignation" and start focusing on the opportunity to attract the best talent needed to achieve your business goals. Understand why employees want to work for your health system and communicate that strong

employee value proposition

to both internal employees and external markets. For example, your organization may provide a strong focus on employee well-being, a compelling organizational purpose, benefits that align with current employee priorities, opportunities for career growth, or highly skilled leaders. Clearly articulating why individuals should work for your organization and the unique value your organization provides is essential for employers who want to attract and retain the best talent today.


Utilize brand ambassadors: Northwell Health, which has partnered with Perceptyx, often refers to its talent acquisition team as "brand ambassadors" and encourages them to communicate a

clear and compelling employment value proposition

to the wider community, emphasizing what makes their organization the best place to work. Northwell Health's brand ambassadors also proactively connect with veterans, mid-career talent, other organizations where layoffs have occurred, and retirees who may be interested in returning to work. This proactive approach of reaching out to the community ensures the organization shares their compelling brand with as many people as possible, building the strong talent pipeline needed to address staffing needs.


Conduct panel interviews:

UCHealth

, another Perceptyx partner, found that nursing leaders were spending all their time involved with hiring. While some loved this work and excelled at it, others found it frustrating and a distraction from the rest of their mission-critical tasks. After identifying those leaders who had both passion and expertise for hiring, UCHealth utilized them to make hiring decisions for the entire facility – which improved the quality and efficiency of hired personnel and freed up many nurse leaders to focus on other mission-critical activities.


Ensure clinical staff are operating to the fullest extent their licensing permits: Many leading health systems are carefully evaluating what tasks certain roles are performing. For example, clerical tasks such as patient paperwork or discharge can be performed by a

dministrative staff, community health workers, or volunteers, allowing nurses and doctors to operate at their top of license, focusing on the work they are uniquely qualified to perform.
Explore

gig work, flexible scheduling, and internal agencies

: Employees

value flexibility

today, however that flexibility may look for their particular role. Giving team members the ability to have a greater voice in when and where they work is one way to improve flexibility while also attracting and retaining staff who may desire or need alternative schedules.
To address issues related to well-being – a barrier with a major impact on retention – organizations can:
Be GROSS (Getting Rid of Stupid Stuff): The American Medical Association (AMA) has offered guidance to reduce "unnecessary daily burdens" – unneeded tasks that can increase workloads and lead to stress and burnout. The AMA defines "stupid stuff" as everything from irrelevant training requirements, well-intentioned but unhelpful risk management processes, and excessive overinterpretations of health information privacy requirements such as HIPAA. Organizations should evaluate their administrative, clinical, and managerial tasks to determine which of these tasks should be retained and which can be discarded without negative consequences. Unsure where to start? Crowdsourcing ideas from team members on what tasks could be modified or eliminated is a great way to quickly identify and prioritize daily burdens.

Create a psychologically safe culture: Creating a safe space for employees to seek out and receive well-being support ensures the right support is available when needed. One way to build a psychologically safe environment is for leaders to model open communication. For example, an executive at a leading healthcare system shared his own mental health story to help foster a safe space for discussing stress, well-being, and mental health. This open dialogue resulted in many other colleagues feeling safe to share their own experiences and greater use of well-being resources and support.
To address issues related to safety, organizations can:
Utilize safety nurses: Safety nurses typically do not have their own patient load but instead serve as an extra, expert resource to assist with patient care. Safety nurses are especially helpful for mentoring less tenured nurses, ensuring safe and high quality care is consistently provided.


Measure safety perceptions from all: All employees play a critical role in creating a safe work environment for patients and team members. Measuring how team members perceive their safety culture is critical to ensure all perspectives are heard and to further improve safety outcomes. While most healthcare organizations do assess safety culture today, many measures are designed for specific populations, causing some team members to be excluded. To combat this challenge,

Perceptyx partner BJC Healthcare

identified key safety domains such as psychological safety, teamwork, and continuous improvement that apply to all employees. By reimagining a more inclusive safety measurement, the organization was able to understand perceptions from all employees. The shorter survey also reduces time diverted from other mission-critical tasks and allows for more frequent measurement to gauge progress.
To improve their listening cultures – which can also significantly improve retention – organizations can:
Involve employees in decision-making: Involvement in decisions is critical for improving engagement and retention but all too often decisions are made with little to no input from those most impacted. In fact, Perceptyx research finds only 50% of healthcare workers believe they are involved in decisions that impact their work.

UCHealth

reversed this trend using Perceptyx's Dialogue crowdsourcing platform to involve nurses in identifying the traits needed in a new Chief Nursing Officer (CNO). This feedback was used to help prioritize certain traits for the selection process and provided nurses with the opportunity to have a voice in the hiring of their next leader.
Round with clear follow-up: Connecting directly with employees is a great way for leaders to learn about firsthand ideas, barriers, challenges, and opportunities to improve day-to-day experiences. Although leader rounding is a common practice for many healthcare organizations, it is important that leaders follow up their listening with meaningful action. For example, Atrium Health's SVP and CHRO Vishal Bhalla shared a leader rounding strategy that includes clear expectations for leaders to follow up 4 weeks later using a stoplight approach: green for actions taken, yellow for actions in which help or more information is needed, and red for ideas in which action will not be taken at this time. This approach clarifies how employee feedback was used and demonstrates employee ideas were heard and valued.


Listen continuously:

Continuous listening

and action lead to better business outcomes, including engagement. Data also suggest healthcare organizations overall listen less frequently compared to other industries. Organizations that frequently listen to employees through multiple channels gather rich feedback to continuously make improvements. By listening at different times to different people with different methods about different topics, leaders gather the insights needed to make evidence-based decisions with greater speed and confidence.
To increase optimism – yet another key driver of retention – organizations can:
Reconnect with purpose: Employees want to hear a meaningful vision for the future articulated by leaders – and need to know how their work fits into this bigger picture. Many organizations that are experiencing rising engagement are clearly communicating a meaningful purpose, describing why employees' work matters and how their actions contribute to the greater good. Reconnecting employees with meaningful work is critical to building higher engagement and retention.


Hire a retentionist: Employee engagement rises when individuals can anticipate a successful future for themselves within the organization. One way to help employees see this bright future is to connect them with growth opportunities. To do this, many organizations are leveraging "retentionist" roles, dedicated HR professionals who proactively connect individuals with growth opportunities within their organization. For a variety of reasons, conversations about career growth with managers and leaders can be difficult. A dedicated retentionist can work with employees to find places for them within the organization, helping individuals continue to advance their careers while also retaining individuals within the health system.
Perceptyx Can Help You Learn from the Best
Perceptyx helps healthcare organizations create listening programs that will facilitate all these best practices in employee experience and engagement. From crowdsourcing insights to developing always-on listening models, we provide organizations with crucial resources for raising morale and reducing attrition. To learn more, schedule a demo today.